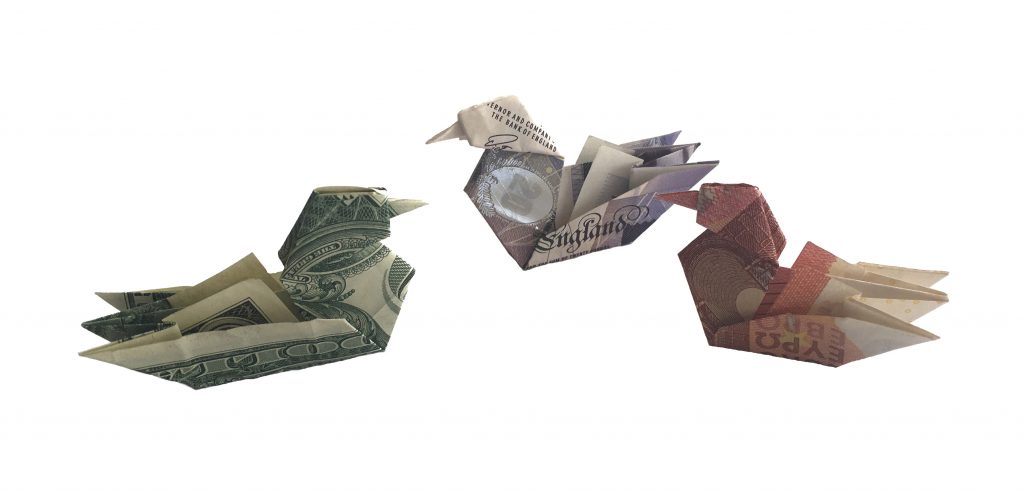 If it looks like a duck, and quacks like a duck, we have at least to consider the possibility that we have a small aquatic bird of the family anatidae on our hands
-Douglas Adams
About the Money Origami Mandarin Duck
I came across this quote from Douglas Adams again earlier this week and decided to fold an origami duck. My last post was a flamingo, so this is a good way of continuing the bird theme with a bit of a twist – another money origami model.
I've done a couple of other money origami folds on this blog before – the baby buggy, the dollar cross, and the his and hers origami clothes. Like those, this Mandarin Duck is simple to make, and very quick. It's a good way of leaving memorable tip in a restaurant! This model is designed by Gay Merrill Gross.
Note: This post contains affiliate links.  See Disclosure below for more information.
Folding the Money Origami Mandarin Duck
As you can see in the picture, most banknotes will do.  The three ducks pictured are made from (left to right), a US $1 bill, a UK £20 note, and a 10 euro note. Each of them produces a duck with slightly different proportions and wing shape, but they all look great. The dimensions of the final models are:
$1 bill duck – about 6.5cm (2.5in) long and 4cm (1.5in) high
£20 note duck – about 5.5cm (2.25in) long and 4cm (1.5in) high
10 euro note duck – about 5cm (2in) long and 3.5cm (1.4in) high
There are no complicated folds needed to make this money origami duck, so it is a very child-friendly design to make. The most difficult part of the whole folding sequence is the two reverse folds that make up the tail, but it's pretty obvious how to do these.
It takes about five minutes to make your first duck, but after you should get quicker after that. I made all three of these in about ten minutes.
Money Origami Duck Instructions

Instructions for the money origami Mandarin duck are available in Gay Merrill Gross's book Moneygami, which is available through Amazon.  This has a selection of different models that can be made out of banknotes from around the world. Some dummy notes of the right proportions are included.
Get Involved
I'd love to hear your views on these money origami ducks.  Feel free to let me know what you think in the comments below, or you find can me on Instagram or Twitter. Check out my Pinterest boards too!
You can also subscribe to the mailing list by entering your email in the box below:
Disclosure: This post contains affiliate links. This means we will receive a small commission for some purchases made using links in our blog with no additional cost to you. Please be assured we would not promote any product unless we believe that our readers will also benefit. The commission does not influence the editorial content of this site.
Origami Expressions is a participant in the Amazon Services LLC Associates Program, an affiliate advertising program designed to provide a means for sites to earn advertising fees by advertising and linking to amazon.com, amazon.co.uk, amazon.ca. Amazon and the Amazon logo are trademarks of Amazon.com, Inc. or its affiliates.