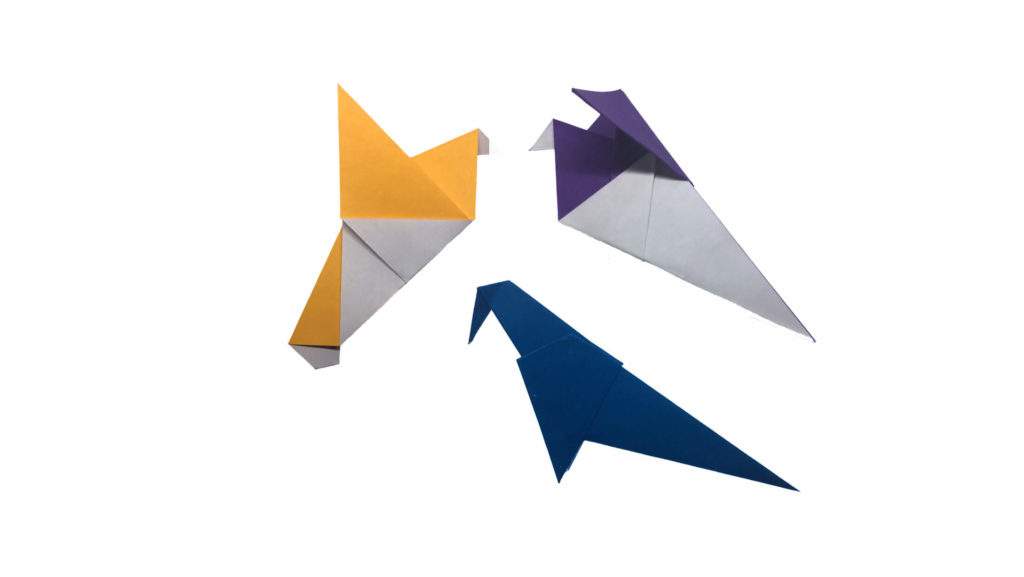 "Some days you're the pigeon, some days you're the statue."
-J. Andrew Taylor
Note: This post contains affiliate links, please see disclosure for more information.
About the Origami Pigeons
I had an idea. I'd fold a couple of different interpretations of the same subject, preferably simple ones that anyone can fold. This would show that there are many different ways of folding the same thing, that origami is accessible and there's always another way of looking at things.  So I decided to fold three different traditional origami pigeons.
I have a confession. I don't like any of them.
It's been a long time since I folded any of these models, and as soon as I started making them I realised why. All three of them are slightly disappointing. Thankfully, all of them can be modified to improve them a bit with very little effort.
Like all traditional models, these are easily folded in about five minutes from any square piece of paper. I've made the models in the picture above from 15cm x 15cm (6in x 6in) origami paper from Folded Square. 
Click here to check the price and availability of the paper on Amazon.
The Traditional Origami Pigeon / Origami Dove
The yellow one in the picture above is sometimes called a pigeon, sometimes a dove, so for the purposes of this post, it's a pigeon!  This is a bit of an odd model because it's not immediately obvious the first time you fold it which way up it's supposed to go! That's a pretty serious failing. Once you have got it the right way up, it's clear that the proportions are awry.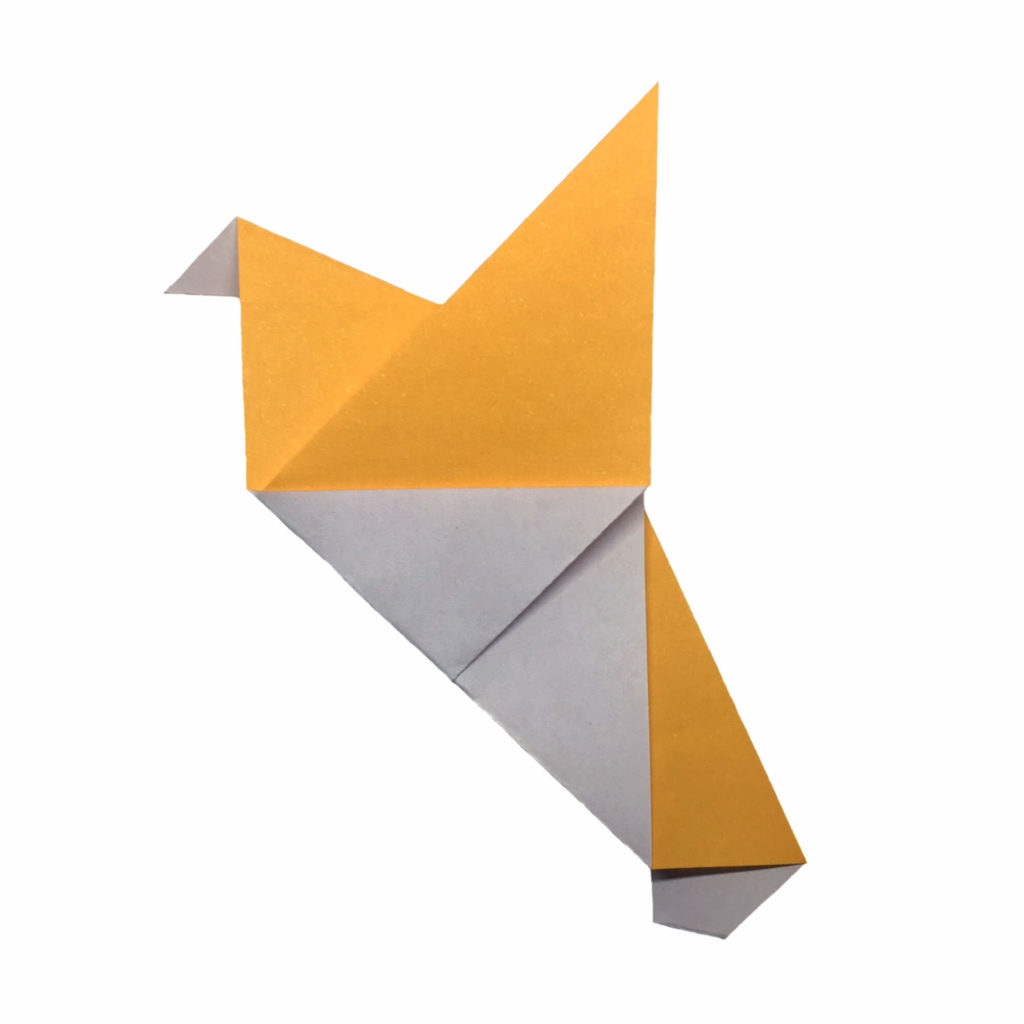 My suggestions to fix this model are:
Add a couple of reverse folds to the tail, one on either side to thin the tail slightly
Bend the head back over itself as a gentle outside reverse fold to the head, and leave the head as a gentle curve. This creates the impression of a beak
Gently curl out the wings to create soft folds that look like the wings are flapping.
Traditional Origami Pigeon 2
There are so many things wrong with this model – where do I start? I don't like the position of the wings. I don't like the length of the tail. I don't like the proportions of this paper pigeon model. I don't like the tail – it looks unfinished. Thankfully, with a bit of tweaking, it can actually look pretty good!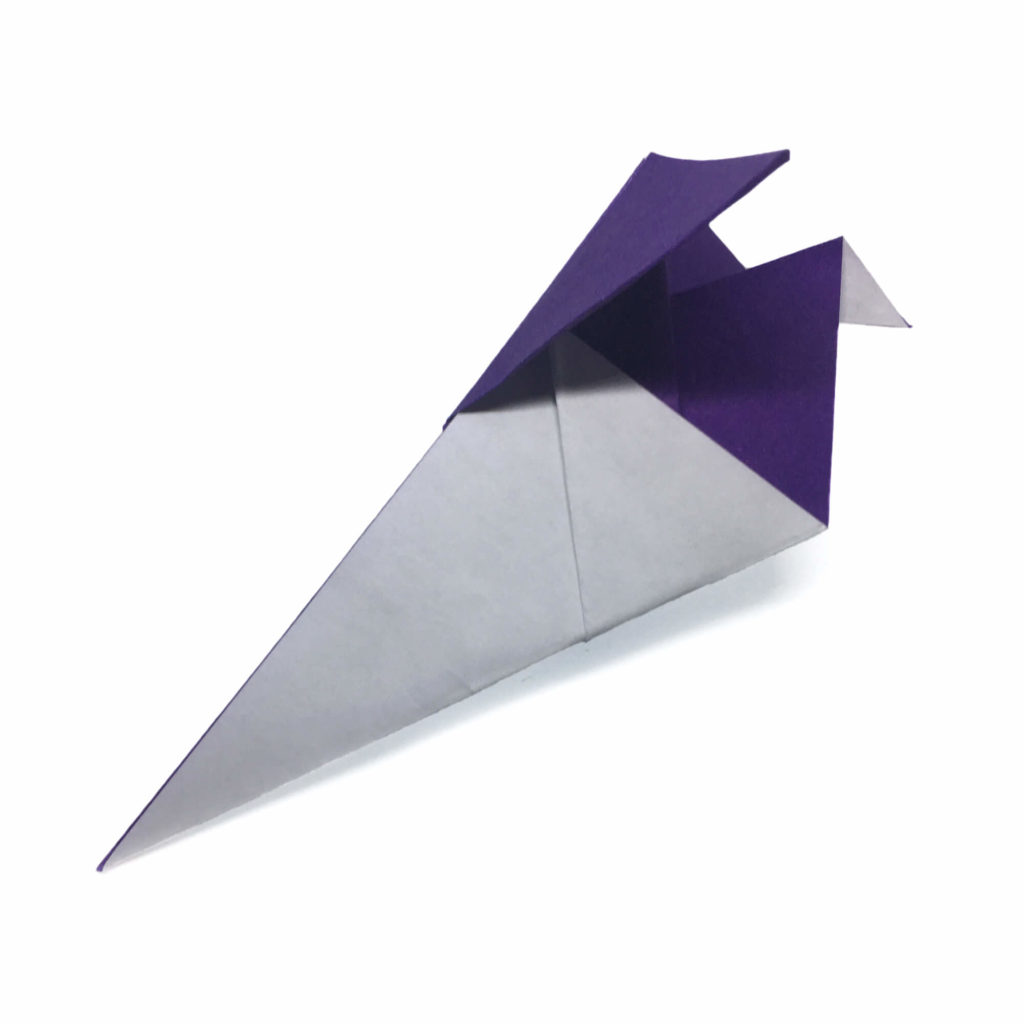 My suggestions for this one are:
Fold the bottom half of the wing forwards towards the head and allow the top half of the wing to open out. This gives the model a bit more sense of drama
Crimp the tail (reverse fold the tail inside and back out again). It's personal taste how much, but if you get the crimp right, you'll have a better proportioned tail, and you can position it at a much nicer angle.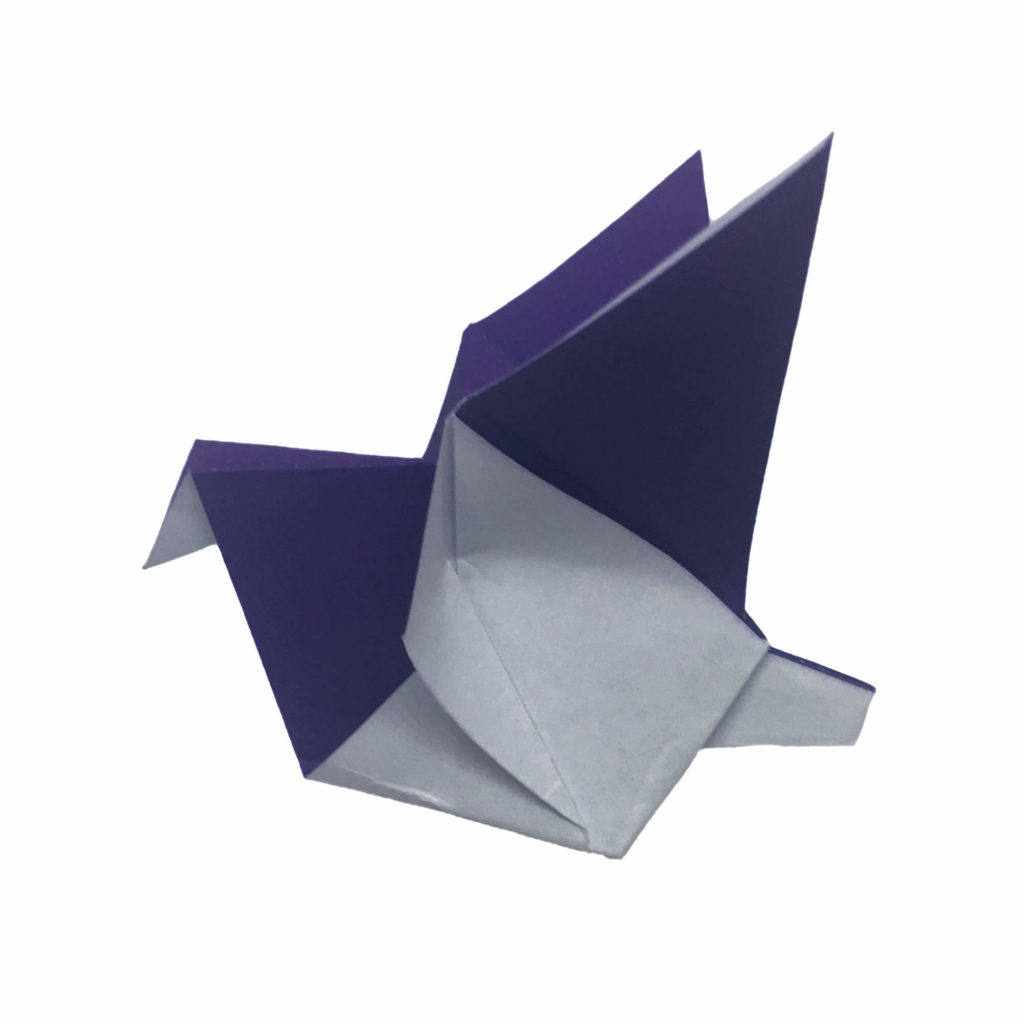 The Origami Flapping Pigeon
This one is my favourite. The proportions of this one aren't actually that bad – in the sense that it actually looks like a bird – although it's a bit of a stretch to call it a pigeon. The neck and tail are too long for the wings.
It's an action model, so I'm prepared to forgive this one its failings.  If you pull the head and tail, the pigeon flaps its wings.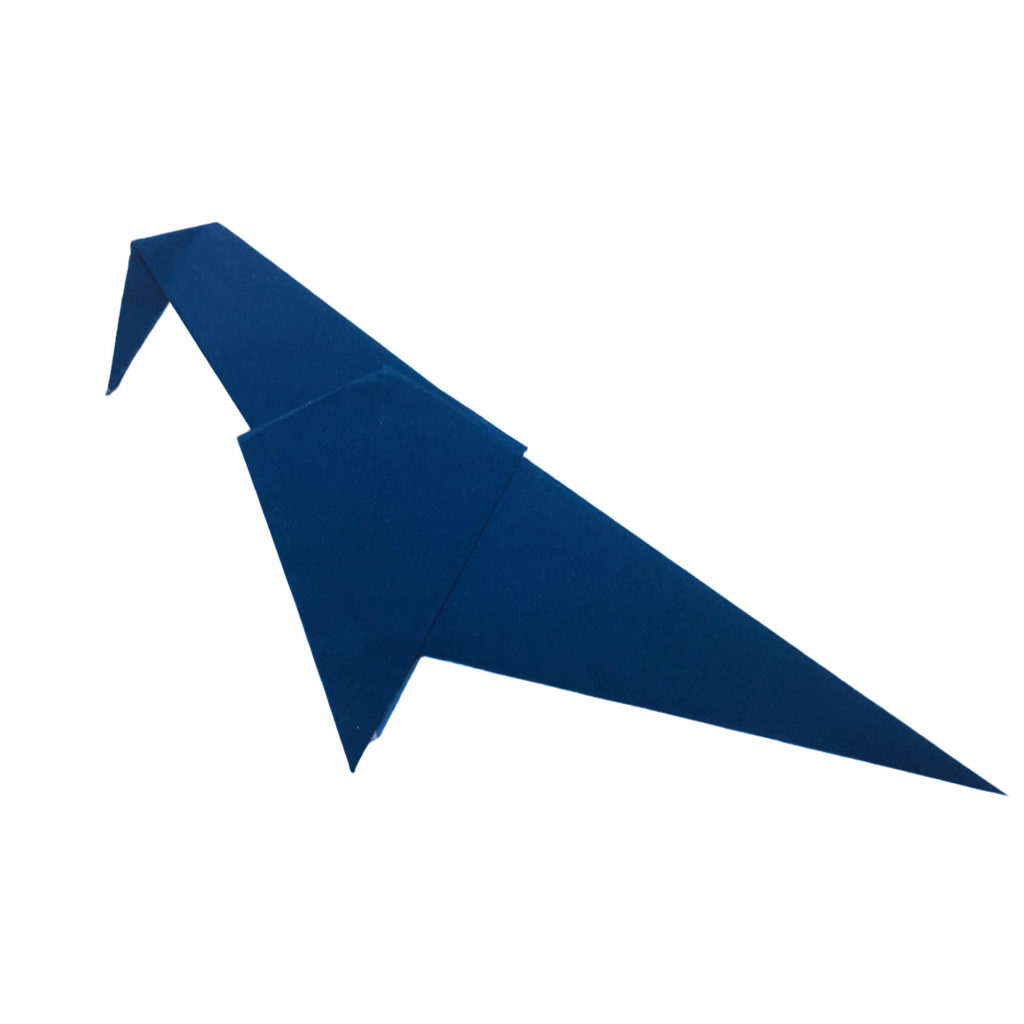 If you're prepared to give up the flapping motion, there are a few things I think you can do to change this model. I'm not sure they are an improvement though. The pigeon looks more like a duck. See what you think:
Crimp the whole model in half slightly, so that the neck and body aren't in a straight line.
Crimp the tail to shorten it, and add a reverse fold at the end to get rid of the point. Add two small reverse folds at the base of the tail to get rid of the corners.
Fold the flap on the bottom of the wings forwards towards the head to allow the wings to open out slightly.
Fold the head back around the outside and crimp to form a beak.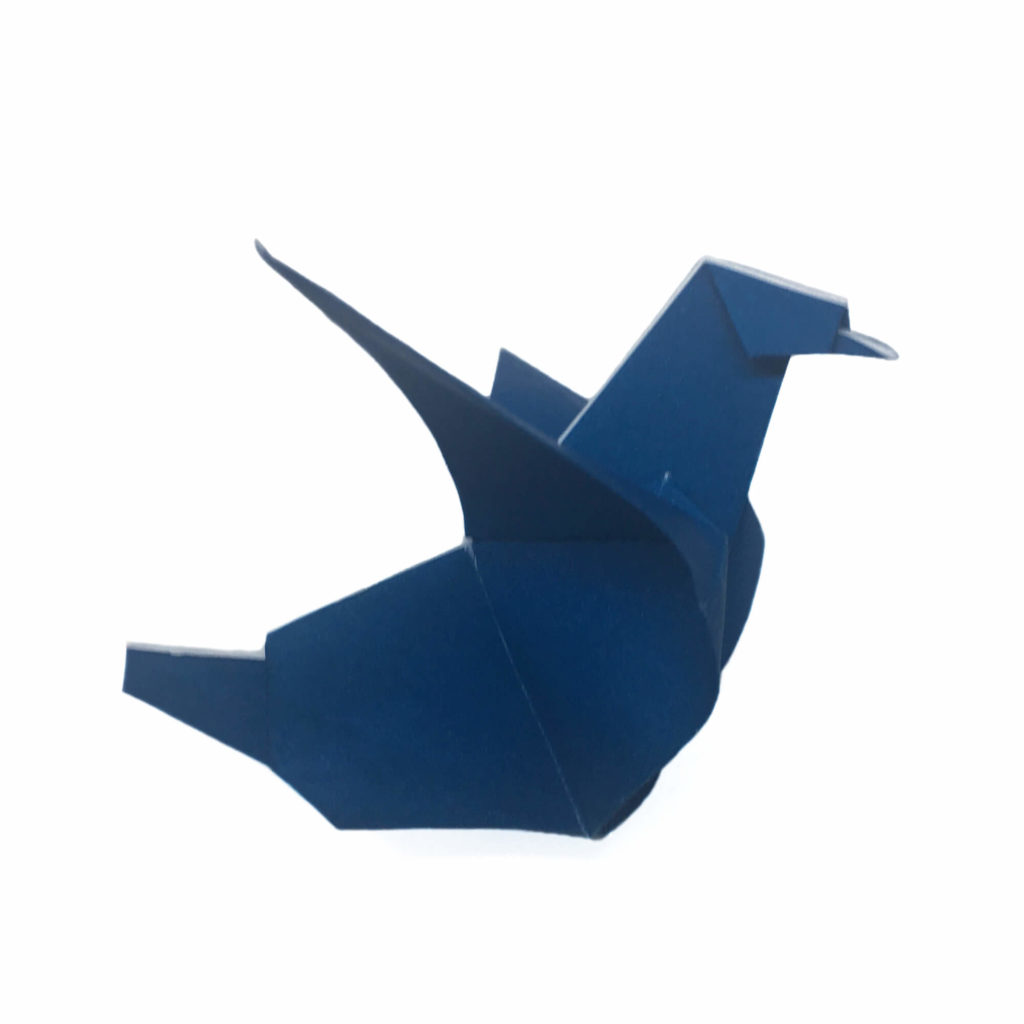 Traditional Origami Pigeon Instructions
I will create video tutorials for these three origami pigeon models and diagrams for download when I get around to it, but for the moment, there are diagrams available on David Petty's website.  Unfortunately, David Petty died a few years ago.  However, his website is still being maintained by Nick Robinson.  Thanks to Nick for his efforts on this.
Get Involved
I'd love to hear your views on these origami pigeon models – maybe you prefer the origami dove.  Feel free to let me know what you think in the comments below, or you find can me on Instagram or Twitter. Check out my Pinterest boards too!
You can also subscribe to the mailing list by entering your email in the box below:
Disclosure
This page contains affiliate links and I may receive some small commission for purchases made through the links on this page. This hasn't affected my decision to recommend a product – I value my personal and professional reputation and would not endorse a product or supplier I did not believe in. There is no additional cost to you for purchasing through this page.
As an Amazon Associate, I earn from qualifying purchases. Origami Expressions is a participant in the Amazon Services LLC Associates Program, an affiliate advertising program designed to provide a means for sites to earn advertising fees by advertising and linking to amazon.com, amazon.co.uk, amazon.ca. Amazon and the Amazon logo are trademarks of Amazon.com, Inc. or its affiliates.