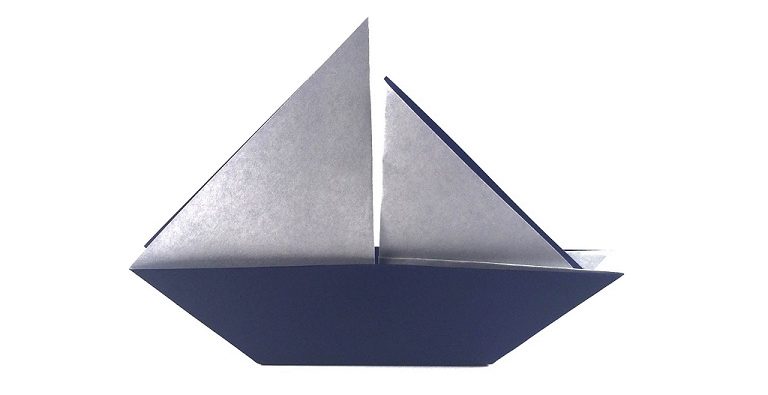 "Better drowned than duffers if not duffers won't drown."
-Arthur Ransome, Author of Swallows and Amazons
An Easy Origami Sailboat
The Traditional Origami Sailboat is an elegant model that is simple to make.  This design is not 3D, so unlike the Sampan, I posted instructions for recently, it won't float.  Some of you might recognise this model as the logo for OrigamiUSA.
Note: This post contains affiliate links.  Please see disclosure for more information.
Folding the Traditional Origami Sailboat
This is a simple origami model so it's perfect for beginners.  Like most traditional origami, it can be folded out of just about any paper, although it looks best made from paper that is coloured differently on each side.  I have used Kami coloured on one side for the model pictured because I like the white sails against the coloured hull of the boat.
The traditional origami sailboat can be folded in less than five minutes.
Origami Sailboat Instructions
The origami sailboat is one of the models included in my new book, Origami Made Simple.  The book is designed for people that are new to origami so it includes written instructions along with the diagrams.  The 40 models in the book progress in difficulty with each chapter, starting at 10 steps or less, up to a maximum of 25 steps.
Order Origami Made Simple in the US here.
Order Origami Made Simple in the UK here.
More Origami Sailboats
Once you have mastered the traditional origami sailboat, you might like to try your hand at other similar models, like these:
A Money Origami Sailboat that is folded out of a dollar bill.  Get the instructions here.
A Business Card Origami Sailboat.  Get the instructions here.
Get Involved
I'd love to hear your views on this easy origami sailboat.  Feel free to let me know what you think in the comments below, or you find can me on Instagram or Twitter. Check out my Pinterest boards too!
You can also subscribe to the mailing list by entering your email in the box below:
Disclosure:
This page contains affiliate links and I may receive some small commission for purchases made through the links on this page. This hasn't affected my decision to recommend a product – I value my personal and professional reputation and would not endorse a product or supplier I did not believe in. There is no additional cost to you for purchasing through this page.
As an Amazon Associate, I earn from qualifying purchases.  Origami Expressions is a participant in the Amazon Services LLC Associates Program, an affiliate advertising program designed to provide a means for sites to earn advertising fees by advertising and linking to amazon.com, amazon.co.uk, amazon.ca. Amazon and the Amazon logo are trademarks of Amazon.com, Inc. or its affiliates.