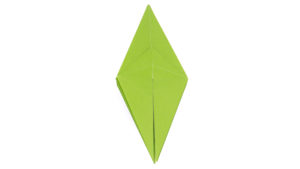 Origami bases are often the starting point of models and projects. The Origami Frog Base is one of a group of traditional bases that are used in both traditional and more modern origami designs. It gets its name from the traditional origami frog that can be made from it.
It basically consists of four long flaps joined to a short one. At first glance, this would make it ideal for making four-legged animals or human beings (one flap each for legs, arms, and head). Most people have tended to use the Bird Base instead of the Frog Base as the small flap on the Bird Base is not as thick as it is on the Frog Base, which makes it easier to work with.
Frog Base Crease Pattern
Like the Bird Base, the crease pattern for the Frog Base occurs frequently as a component in the design for much more complicated origami designs. It is worthwhile becoming familiar with it even at an early stage as this builds the confidence to work with crease patterns over time. By learning some of the 'building blocks' that make up the crease patterns of more complex models, it will be easier to interpret and understand these crease patterns.
Origami Frog Base Diagrams
| Step | Diagram |
| --- | --- |
| 1. Start with a Preliminary Fold. Diagrams here | |
| 2. Fold the top flap on the left to the centre line and unfold | |
| 3. Squash-fold the flap | |
| 4. Repeat steps 2 -3 on the remaining three large flaps | |
| 5. Fold the top flap on the left to the centre line and unfold | |
| 6. Fold the top flap on the right to the centre line and unfold | |
| 7. Fold the paper in half and unfold | |
| 8. Petal fold the top flap | |
| 9. Like this | |
| 10. Turn the model over | |
| 11. Repeat steps 5 – 8 | |
| 12. Repeat steps 5 – 8 on the other flaps | |
| 13. You have completed the frog base | |