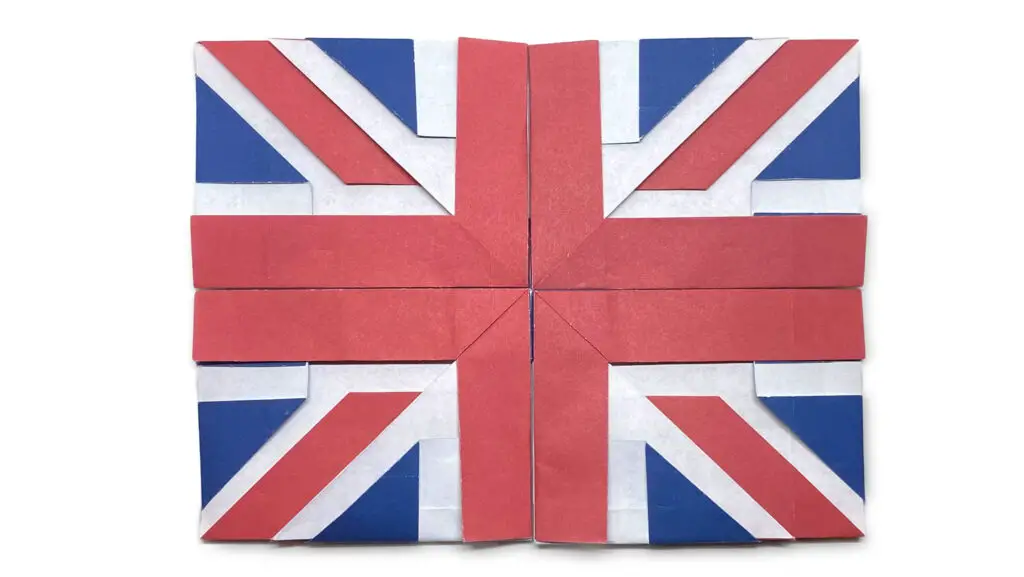 "Man in Hat sits on Chair"
-Private Eye magazine headline, coronation souvenir issue May 2023
Coronations and calendars
Apparently there are these things called 'calendars'. They help you remember key dates because you can write on them, or put entries in them for digital versions. I only mention this because King Charles III's coronation has been scheduled for some time and I bet it's in his calendar.
Note: This post contains affiliate links. Please see disclosure for more information.
It wasn't in mine however (I guess the invite got lost in the post), so that's why I'm writing a blog post about coronation origami the day before Coronation Day. It kind of took me by surprise a bit. Then again, Christmas is usually celebrated on 25th December – and I completely missed writing a blog post for it even though that is in my calendar so I guess that's not much of an argument really.
Anyway, it's here, I've got a blog post out by Coronation Day (just), and it's something appropriately themed – a Union Jack Flag.
The Origami Union Jack
Right about now, someone reading this (assuming anybody does) is thinking to themselves that 'it's called the Union Flag, it's only called a Jack if it's being flown on board a ship'. Since the Admiralty themselves have referred to it as the Union Jack since the flag was first invented and issued a circular in 1908 to say it can be officially called Jack regardless of the location of the pole it's waving from, I'm happy to run with that: it's a Union Jack.
The Union Jack lends itself well to origami because of the straight edges and bold colours. Getting the right proportions of the red, white and blue is a challenge though and because there are three colours it can't be made from one piece of paper. This origami version was designed by Mick Guy, one of the most respected figures in the British Origami Society and former President, and diagrammed in 2015.
It's actually in four parts – each one using one sheet of paper that's red on one side and white on the other, and another that's blue on one side and white on the other, for a total of eight sheets in the final model. All of them are the same size squares, although the blue ones have a quarter strip cut off on two adjacent sides part way through the folding sequence to get the proportions right.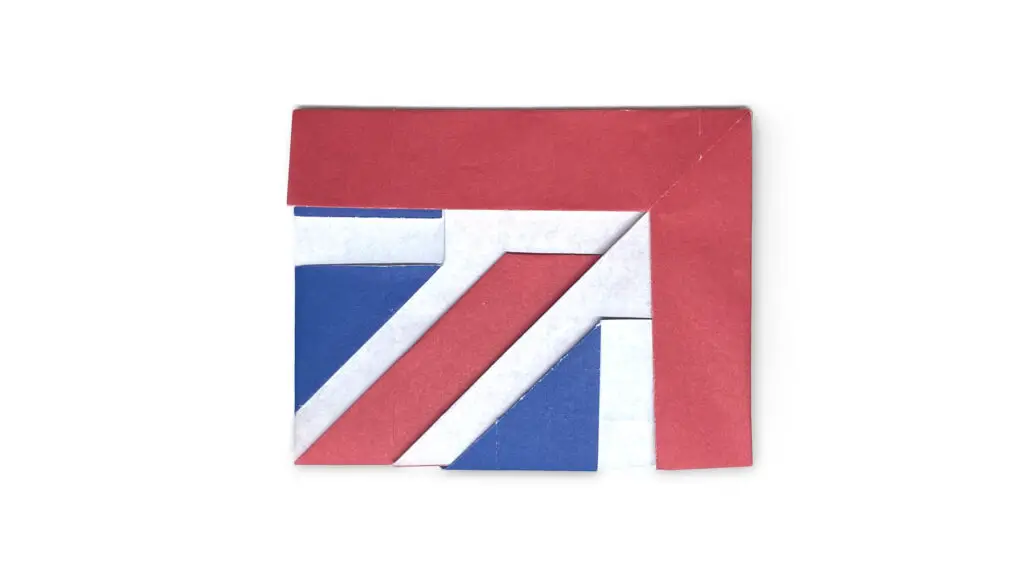 Folding the Origami Union Jack
Once you've gathered your eight sheets of paper, this model will take about half an hour to fold. You can do it a lot quicker than that, but it's worth spending the time on each quarter to get the folds as accurate as possible so that the finished flag is symmetrical. Ordinary 15cm (6") square kami will produce a flag that is 17cm (6.25") wide and 13cm (just over 5") tall.
This is not a difficult model to fold, although it does need careful, accurate folding. There is only one reverse fold and one swivel fold in each unit, so the steps are pretty simple and kid-friendly.
Diagrams for the Origami Union Jack
The diagrams for this model are freely available on the British Origami Society website here. They are also included in the Model Collection for the BOS 50th Anniversary Convention, held in Stratford in 2017.
There is actually another Union Jack model in that Model Collection – a Union Jack tessellation. People who like doing tessellations might appreciate giving that a go, but for my money, this is about as good as an origami Union Jack gets.
If you are interested in other coronation-themed origami, you might like these crowns that I wrote a blog post on around the time Queen Elizabeth passed away.
I hope you enjoy folding this origami Union Jack. I'm off to make sure there's nothing else I need to put in my calendar before I miss it.
Get Involved
I'd love to hear your views on this origami Union Jack by Mick Guy.  Feel free to let me know what you think in the comments below, or you find can me on Instagram, Facebook, or Twitter. Check out my Pinterest boards too!
Disclosure:
This page contains affiliate links and I may receive some small commission for purchases made through the links on this page. This hasn't affected my decision to recommend a product – I value my personal and professional reputation and would not endorse a product or supplier I did not believe in. There is no additional cost to you for purchasing through this page.