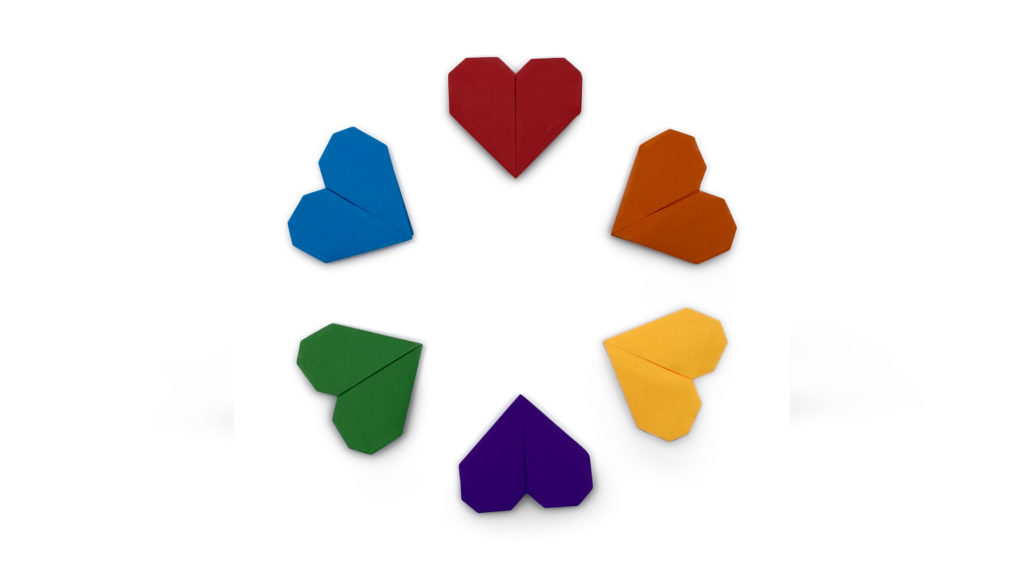 "Life contains but two tragedies. One is not to get your heart's desire; the other is to get it."
George Bernard Shaw, Irish Playwright
An Origami Heart is not just for Valentine's Day
Unsurprisingly, you see a lot of origami hearts around the middle of February each year for Valentine's Day. They are fun things to give to a loved one, table decorations or stuck to the front of a card.
It's one of those iconic symbols that everyone recognises. That's why it was used for a large art project I was asked to get involved with recently, using origami to spread a positive message to align with Pride month.  Learn more about the project here.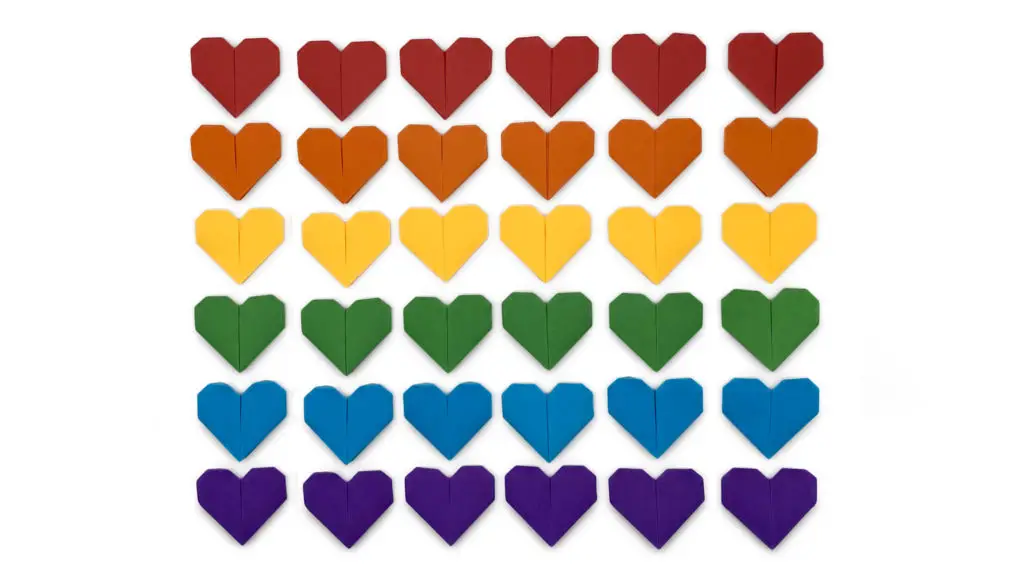 Note: This post contains affiliate links.  Please see disclosure below for more information.
Good for Beginners
This is one of the most beginner-friendly models you are going to find, because you don't have to fold very accurately! None of the corners are visible on the finished model, so the odd misplaced folds isn't going to make a massive difference between friends.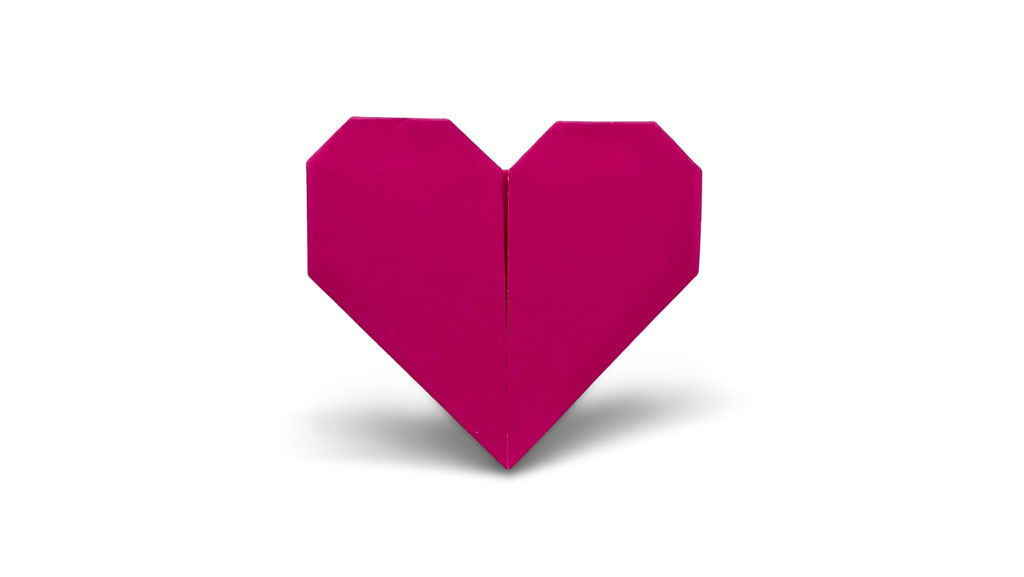 As long as you can keep both sides reasonably symmetrical, you'll end up with a pretty good result. That means it's also a good origami model for kids, who don't always have the ability or patience to fold perfectly precisely.
Folding the Traditional Origami Heart
This is a really easy one to make! Having made several hundred of these over the last few weeks, I can make one in under two minutes. I've shown quite a few people how to make it, and I reckon anyone can make their first traditional origami heart in less than 10 minutes, and a second one in about 4.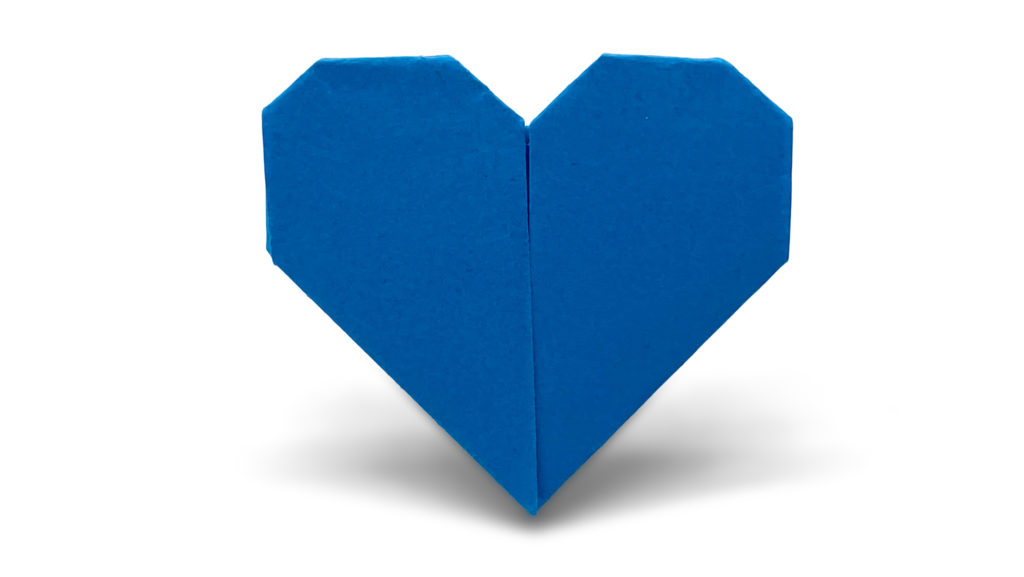 There's only one mildly tricky fold in the whole sequence, and even that's pretty simple. It's actually quite a satisfying move as well, as that's when the model actually starts to look like a Heart.
A standard size sheet of 15cm (6in) square origami paper will create a heart that's 7.5cm (3in) wide, and 6.5cm (2.5in) tall. Pretty much any square sheet of paper will do though. Only one side is visible on the final model, so it doesn't matter whether the paper is coloured the same on both sides or not. Red or pink would be traditional I suppose, but why not try experimenting a bit? Why not fold a heart with polka dots on it? Or stripes?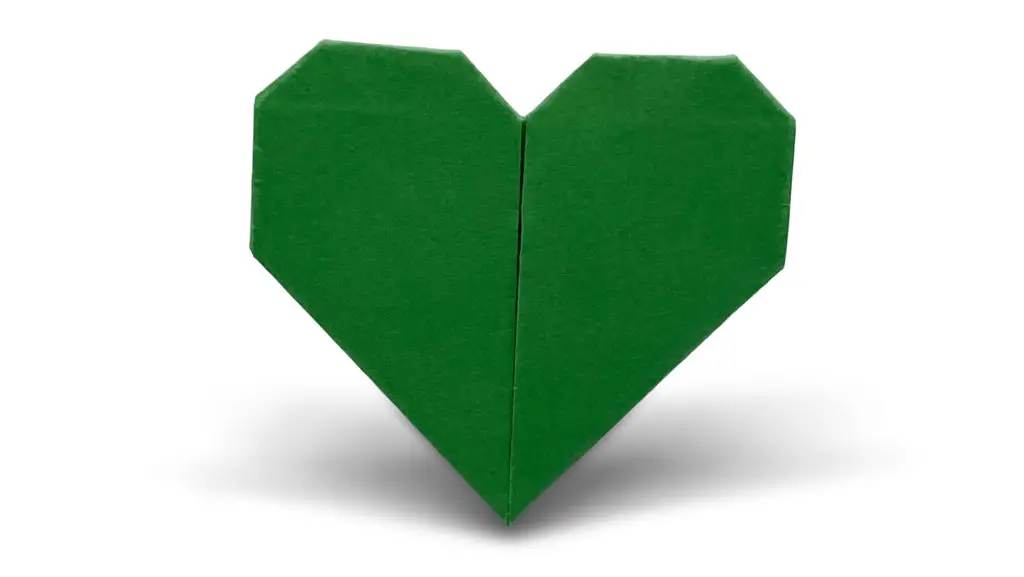 If you're from the United States of America and feeling patriotic, you might like to try making this one in the colours of the US flag! It would be perfect for July 4th or Flag Day.  The instructions downloadable on the link below include a printable template for making an origami heart with The Stars and Stripes.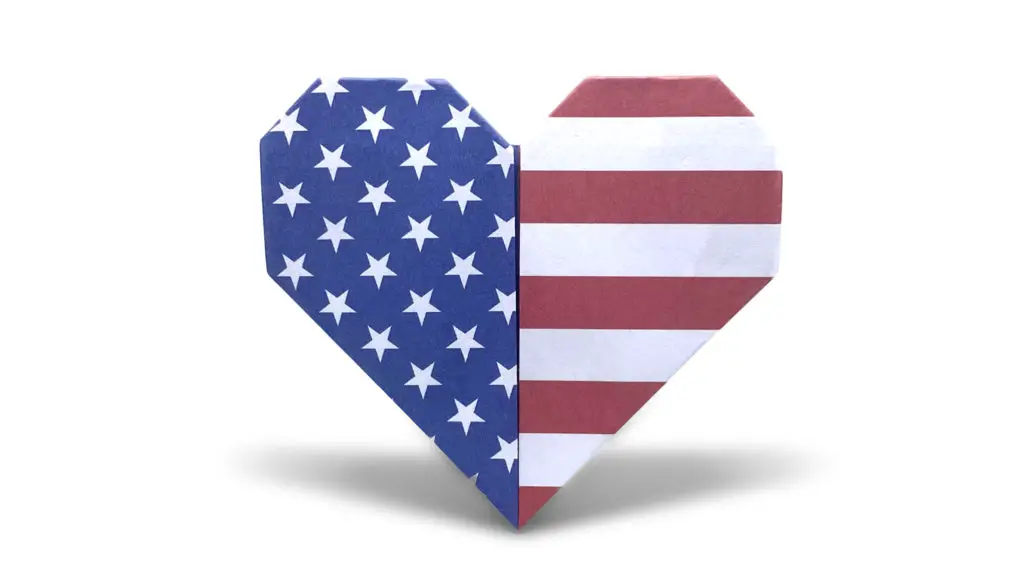 You can also see more origami paper options from Folded Square (my favourite supplier for standard origami paper) here.
Traditional Origami Heart Instructions
If you like to fold from diagrams, you can download these instructions I have put together for folding the traditional origami heart. This will subscribe you to the mailing list for this site, so you'll get notified of future updates and posts to the site. These diagrams also include a template for folding a heart using the design of the US flag.
If you prefer to fold from video, I've got you covered there too! Below you'll find the video I put together showing how to make this heart model.

For more inspirations and tutorials, check out my YouTube channel here and be sure to subscribe so you don't miss the next video.
Other Origami Heart models
If this design has inspired you, there are plenty of other origami hearts you can try! Robert Lang has an excellent Origami Valentine model. This is a high intermediate design. For something simpler, try Home is Where the Heart Is.
The late Francis Ow is known for several different models, but he made origami hearts something of a speciality. His website Owrigami.com is still available and is now curated by Nick Robinson. Note that it's on an HTTP link rather than a more secure HTTPS one, so if you're using Google Chrome to access it, the browser will probably bring up a screen warning of all kinds of impending doom. It shouldn't be a problem though. Hit 'continue to site' and you'll be fine.
Around the time that lockdowns became widespread across the world, Sara Adams of HappyFolding.com put a video up on her YouTube channel showing 14 different heart and home models. I've included that video here – you might like to take a look. I recommend checking out the rest of her channel as well. She's got some great models and tutorials available.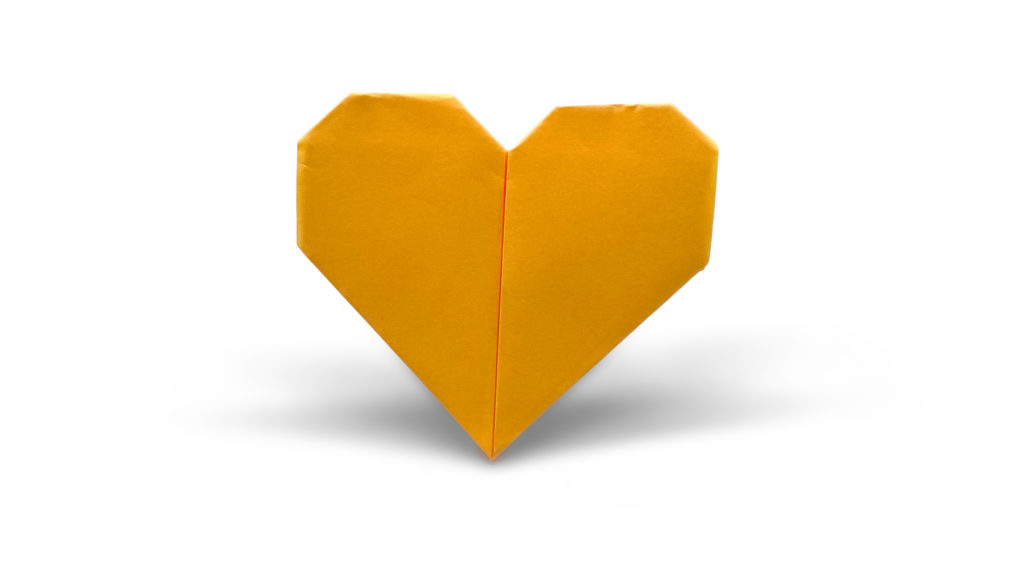 Get Involved
I'd love to hear your views on this easy traditional origami heart.  Feel free to let me know what you think in the comments below, or you find can me on Instagram, Facebook, or Twitter. Check out my Pinterest boards too!
You can also subscribe to the mailing list by entering your email in the box below:

Disclosure:
This page contains affiliate links and I may receive some small commission for purchases made through the links on this page. This hasn't affected my decision to recommend a product – I value my personal and professional reputation and would not endorse a product or supplier I did not believe in. There is no additional cost to you for purchasing through this page.
As an Amazon Associate, I earn from qualifying purchases.  Origami Expressions is a participant in the Amazon Services LLC Associates Program, an affiliate advertising program designed to provide a means for sites to earn advertising fees by advertising and linking to amazon.com, amazon.co.uk, amazon.ca. Amazon and the Amazon logo are trademarks of Amazon.com, Inc. or its affiliates.