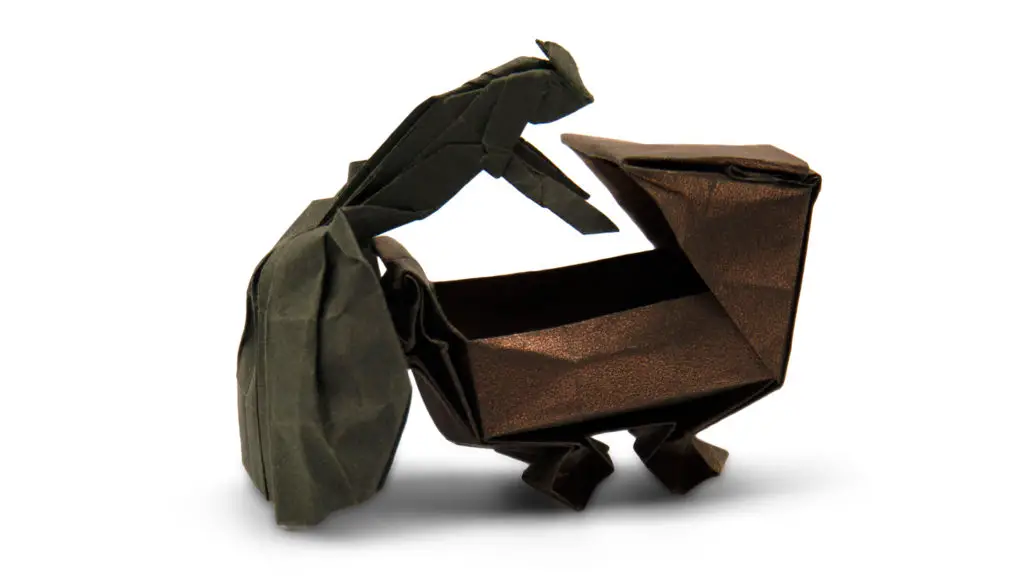 "Mother is the name for God in the lips and hearts of little children."
-William Makepeace Thackeray, British novelist, author and illustrator.
It's that time of year again
One of the things I like to do when picking out things to fold and write about here is to find models that fit with a specific date, celebration or time of year. Unfortunately it doesn't always work out. This time though – I'm on track – just! This Sunday is Mothers' Day in the United States, so here's a model to go with that theme.
Note: This post contains affiliate links.  Please see disclosure for more information.
Actually I'm not on time at all. I meant to do this post for Mothers' Day in the UK but that was in March and I missed it. Still, nobody will notice if we don't tell, and it's in good time for this weekend. Happy Mothers' Day!
About Mother Love
I'm returning to one of my favourite themes and designers for this one – celebrating old origami models that don't get enough airtime, and the works of Neal Elias in particular. This is Mother Love – one of his most popular designs. Dave Venables, Elias's friend who compiled the anthology of Elias's creations The Origami of Neal Elias says this is one of the models that he has been asked to teach most frequently.
Neal Elias created quite a few models with several subjects made out of a single sheet of paper, and this is one of them. I've folded a few others – you might like to take a look at Llopio's Moment of Truth, Andrew Segovia, Boy on a Rocking Horse, Siesta, and The Last Waltz as well.
The construction of Mother Love is very similar for all these multi-subject models I've made – a rectangular sheet of paper, box pleated with an Elias Figure Base at one end. The clever bit is what happens at the other end with the other subject, and the bit in the middle where they join together without it looking like a mess that's just been smashed together.
In this case, the baby carriage isn't actually Elias's design. It was created by Bun MacLean. Neal Elias appended a figure to it, which makes it a much more interesting model.
Folding Mother Love
This is an intermediate level model. As I said above, it's basically an Elias Figure Base with some extra stuff tacked on, so if you're familiar with box pleating, there's nothing here that should alarm you overly much.
This model is made from a rectangular sheet over paper with a ratio of 23:12. If that seems a bit weird, fold a 24×12 grid and cut one strip off. Modern-day purists that want everything made from a square will be screaming at this point, but I'm prepared to let this one off because it's such a brilliant model.
The recommended paper size to start with (before you cut one strip off) is 44cm x 22cm (17.3in x 8.6in), and the finished model will be 10cm x 7cm (3.9in x 2.7in). I made this one out of 15cm x 30cm (6in x 12in), and the final result is 7cm x 5.5cm (2.7in x 2.1in). It took me about an hour to make it.
Any paper that's reasonably thin and coloured differently on both sides will do. I used shadow fold for this one, which I got from The Origami Shop here.  The colour of the figure is a little weird, but I wanted a copper coloured carriage. Next time I'll stick some white tissue paper to the back so it ends up white and copper. 
Diagrams for Mother Love
You can find the instructions for this in the book The Origami of Neal Elias, which is available from the British Origami Society Amazon page here.  It also includes his model of The Thinker, which I also featured on the blog.
I'm not aware of a video showing how to make this. I might ask for permission to make one, but that's one for another time. Maybe I'll do it for Mothers' Day next year – assuming I don't miss it again.
Get Involved
I'd love to hear your views on this Mothers' Day origami model.  Feel free to let me know what you think in the comments below, or you find can me on Instagram, Facebook, or Twitter. Check out my Pinterest boards too!
You can also subscribe to the mailing list by entering your email in the box below:
Disclosure:
This page contains affiliate links and I may receive some small commission for purchases made through the links on this page. This hasn't affected my decision to recommend a product – I value my personal and professional reputation and would not endorse a product or supplier I did not believe in. There is no additional cost to you for purchasing through this page.
As an Amazon Associate, I earn from qualifying purchases.  Origami Expressions is a participant in the Amazon Services LLC Associates Program, an affiliate advertising program designed to provide a means for sites to earn advertising fees by advertising and linking to amazon.com, amazon.co.uk, amazon.ca. Amazon and the Amazon logo are trademarks of Amazon.com, Inc. or its affiliates.