Thanks for your interest in working with me. I am available to help with all your origami needs! Here are a few of the services I offer. Contact me to discuss your specific requirements.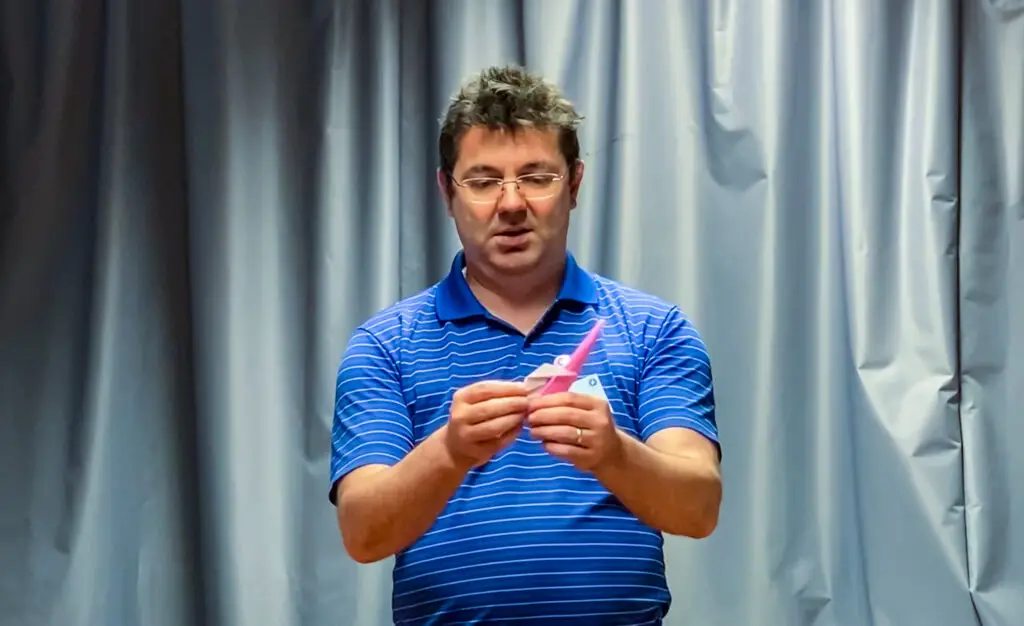 Origami Workshops and demonstrations
Origami's appeal is universal and I'm a strong advocate for 'origami for everyone'. I have successfully taught simple origami models to groups of people from school children to the elderly, and both in person and online. My approach is to deliver a workshop that is accessible to as many as possible and preserves the sense of fun and wonder that comes from creating something just by folding paper. Contact me to discuss requirements in more detail.
In person
I am available to teach workshops for both small sessions with five or six people, or larger groups of up to about 20. Models taught in larger classes will necessarily be simpler than those in smaller groups so that everyone can follow the steps easily.
Online
Origami works particularly well for online classes, as the number of people that can attend is far higher than an in person workshop. I have run origami workshops on multiple platforms, such as facebook live and Zoom, with attendees connecting from all over the world. I use specialised visualiser equipment and software to provide a high-quality, polished experience, that allows the focus to be on the origami and the interaction with people, rather than the technology.
Thematic workshops
Whether it's in person or online, workshops can be structured around a theme, such as Christmas, Halloween, Valentine's Day, or Mother's Day. Models can be selected to match this theme, and the time available, according to your requirements.
Origami and mindfulness is a theme of particular interest. This focuses less on the specific models, and more on the mental health benefits that mindful folding can bring by slowing down and focusing on enjoying folding 'in the moment'.
Demonstrations & talks
Origami is a subject that works well for events such as after dinner speeches and demonstrations, themed around the history of origami, or what's possible with paper folding. Sessions can be run using audio visual equipment on site, or provided as needed. Contact me to discuss your requirements.
One to one tuition
Some people prefer a more individual approach than group workshops. This can be a single session, a series, tailored to your needs to get you to a point where you can find your own way in origami, or a longer term 'origami mentoring' relationship. Again, this can be done face to face, or virtually, whichever works best for you.
One to one sessions make an excellent gift for someone who's never tried origami before and wants to 'dip their toes in'. Contact me and we can discuss what you're looking for in more detail.
Origami Designs and commissions
Individual models can be created on request. These will be priced based on the time taken to design the model, as well as the time taken to fold it, and any expenses, such as paper, postage, etc.
Please allow sufficient time when requesting commissions. Although I will do my best to accommodate quick turnarounds, this will depend on the complexity of what's asked for, and time available. Contact me to discuss your requirements.
Origami Photography
This is where paper folding and photography meet! Whatever you fold, when you've made it you will want to remember what you've created. One way of doing that is by taking a photo that presents your folded model in the best way possible. This can be by staging a scene with one or more origami models, putting the model in the right setting, such as in amongst flowers or the grass, or on a plain background with a nice shadow.
I can help you create something that shows your origami model off in the way that you are looking for with the photographic equipment you have available. You do not always need expensive gear. Some of the photos on this site were taken while I was travelling – using a smartphone in a hotel room. This can be either an in-person session, or an online consultation. Whether it's a single photo, or a selection based around a concept, I can help you achieve it.
Of course, not everyone wants to take the photo themselves. If you prefer, I can photograph your model(s) for you. A kind of origami photo shoot if you like! Although some of the photos here are done with a smartphone, I have a range of professional quality photography and videography equipment that I use in my work and can bring to bear on your project too. Contact me and we can work out the specifics.
I look forward to hearing from you!