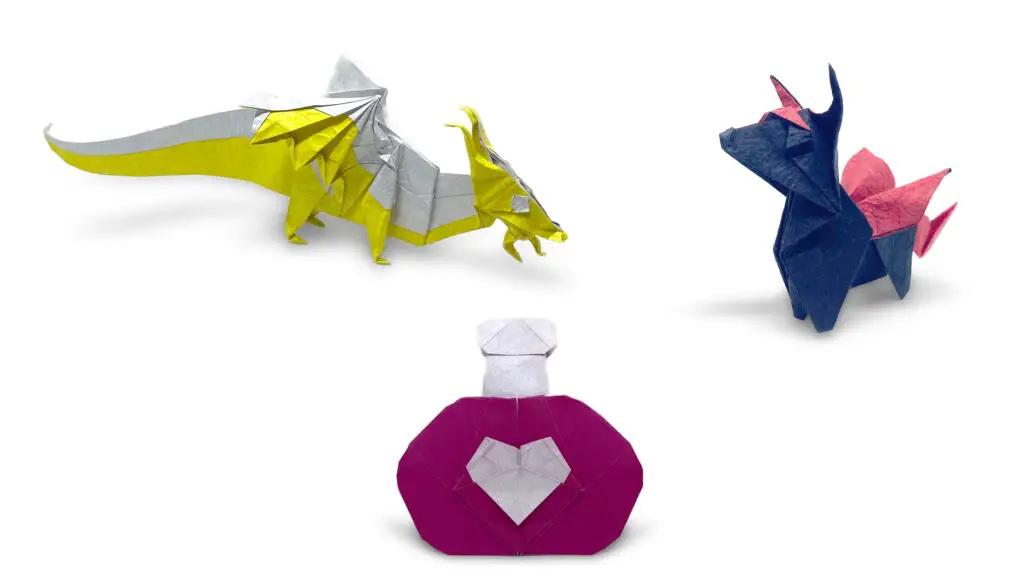 "The best fantasy is written in the language of dreams. It is alive as dreams are alive, more real than real – for a moment at least – that long magic moment before we wake.
Fantasy is silver and scarlet, indigo and azure, obsidian veined with gold and lapis lazuli. Reality is plywood and plastic, done up in mud brown and olive drab…Fantasy flies on the wings of Icarus, reality on Southwest Airlines. Why do our dreams become so much smaller when they finally come true?"
-George R. R. Martin, author of Game of Thrones
I have said before on this blog that subjects with wings, horns, claws and general spiky bits make dramatic origami models. I think this is why there are so many different origami dragons out there (and on this blog for that matter).
Note: This post contains affiliate links.  Please see disclosure for more information.
A well pleated pair of wings here, a crimped tail there, a few horns and spikes liberally distributed – creators of origami dragons have free rein to come up with something weird and wonderful. That's the principle Peter Buchan-Symons has been exploring in his book Folding Fantasy vol 1.
Peter has given me a copy of the Folding Fantasy book so that I can share my thoughts with my readers and do a giveaway.  Keep reading for all the details.
About Folding Fantasy
Buchan-Symons has clearly had a lot of fun coming up with the 13 models in this book. It generally feels like a journey into the author's creative mind as he explores where he can go with the idea of folding fantasy origami. There are a couple of models that you might expect to find in an origami book on the subject of Fantasy – such as the obligatory dragon, but also some you might not, such as a dragon-dog based on a Lee Armstrong Dog, an Alicorn, and the simplest model in the collection – a love potion.
It is a very good dragon by the way. I had the privilege of attending Peter Buchan-Symons's class at the British Origami Society's Autumn 2022 Convention where he taught a simplified version of the dragon as shown here – so thanks Peter!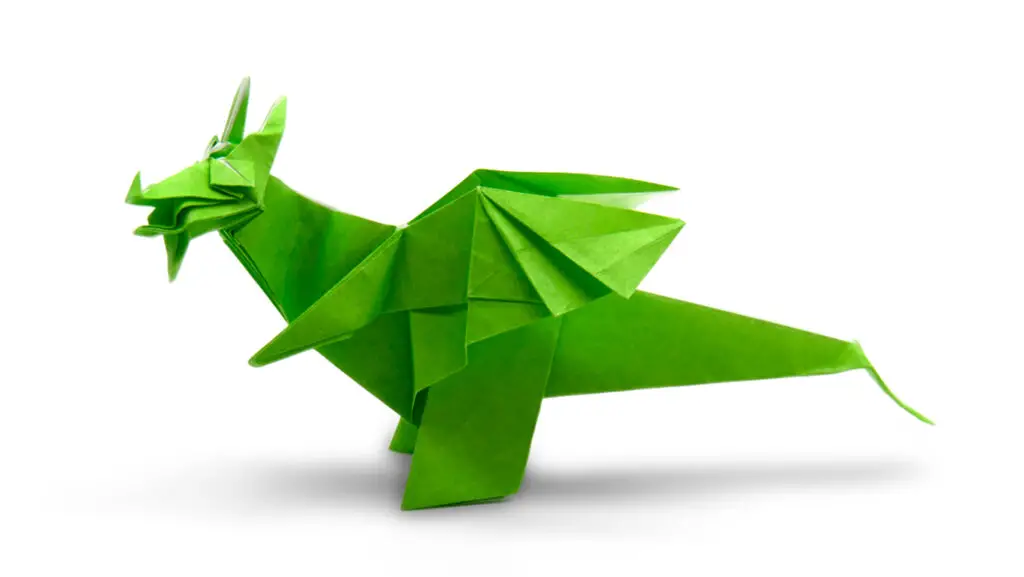 Going back to my theory that subjects with spiky bits make for spectacular origami designs, I give you exhibits A and B: Buchan-Symons's Vampire and Chimera. Full disclosure – both of these pictures are taken from the images in the book as mine came out a lot more scruffy! I could have refolded them (and I will at some point), but I wanted to get this blog post out. Thanks to Peter Buchan-Symons for giving me the ok.
The vampire is a really unusual way of tackling the subject – with wings seeming to fold around the model like a giant cape. It feels more organic and alive – which is kind of odd since vampires very definitely aren't. It's kind of their 'thing'. This model looks like it owes a lot more to old black and white movies than 'here's-another-human-figure-with-a-couple-of -wings-on-the-back-let's-make-it-out-of-black-paper-and-call-it-a-vampire.'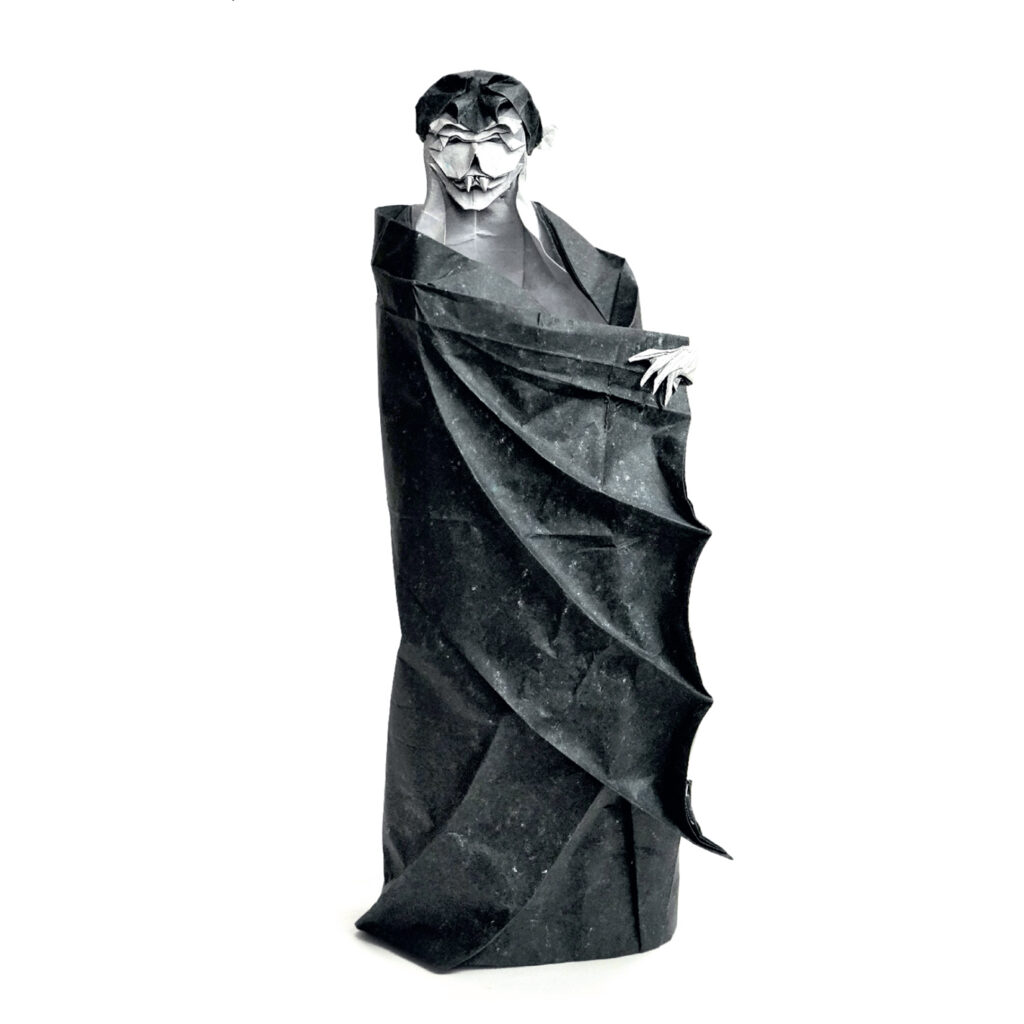 A Chimera is a mythological creature with the head of a lion, the body of a goat and the tail of a serpent. Buchan-Symons has interpreted this to mean it should have the heads of three different animals. This model has horns, hooves instead of claws and a huge mane instead of wings, but you get the idea. Dramatic stuff going on from one end to the other.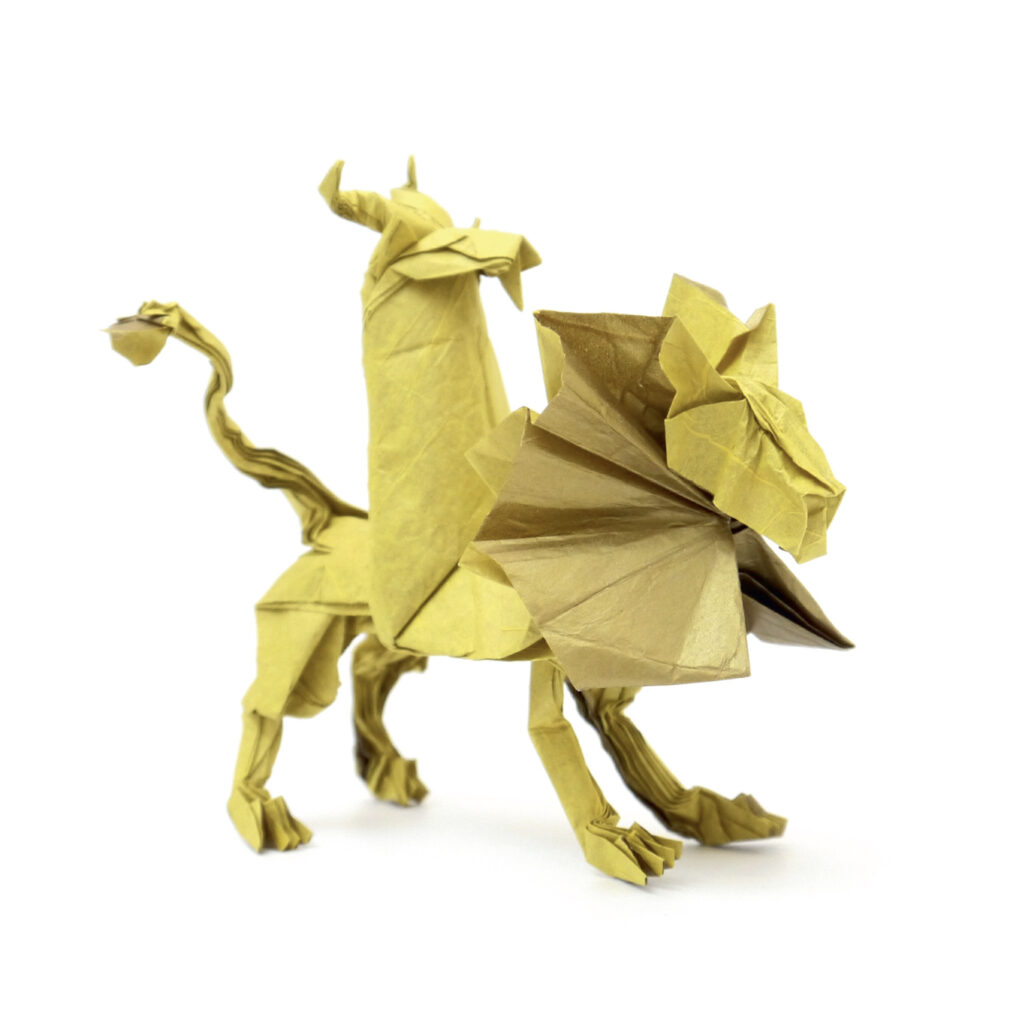 About Peter Buchan-Symons
Peter Buchan-Symons is a full-time origami designer and artist living in Oxford.  He has over 20 years of folding experience and has designed many models that have been published in books and magazines.
The Folding Fantasy Origami Book is his second book published by the Origami Shop.  His first book was A Complete Origami Nativity (available here) with 30 original designs suitable for beginners and more advanced folders.  I plan on folding them at some point!
In addition to the two books from Origami Shop, Buchan-Symons also has several smaller publications and instructions for some of his designs that are available from his website here.
Who is the Folding Fantasy book aimed at?
Well, fans of fantasy as a genre would be the obvious answer there, but it's also worth saying that this is not a book for beginners. All that dramatic flair and creativity means lots of flaps and points – and that means complexity. This is a collection of models that are challenging.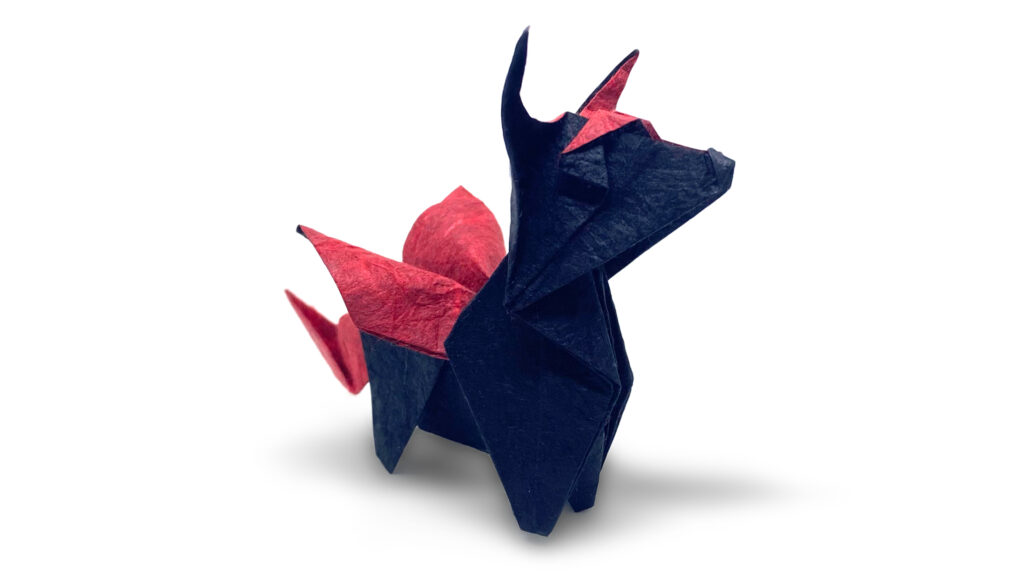 Buchan-Symons makes no apology for that, and neither should he. This book is an unashamed exploration of what's possible in folding fantasy origami models and that means accepting that sometimes lengthy folding sequences, high precision folding and complex steps are necessary. The reward for that effort comes in the quality and interest in the final model.
I have often said that simple, uncomplicated lines in origami models work really well and I stand by that, but there are times when there is no substitute for some good old-fashioned lengthy paper-mangling.  It will feel like paper-mangling at times as well!
There will be occasions when folding the models in this book when you think 'you want me to do what with this bit?!' but I don't mind that. As Marc Kirschenbaum, author of Pure and Simple Origami, says in the Foreword 'Folders with an appetite for tricky sequences will have the opportunity to put their papers through some interesting contortions', but as he also points out, 'the folding sequences are well set out, clearly explained and easy to follow'.
The models are as beautifully designed as they are diagrammed and the book is supposed to be challenging. The end results are definitely worth it.
Review of Folding Fantasy
As well as a unique collection of origami designs, some of the models in the book are accompanied by a feature called 'Behind the Design', in which the author breaks down the creative process and crease patterns behind that model. I really enjoyed reading these and I found myself wishing that all the models had one. It gave an insight into what had gone into that particular model, the creative choices that Buchan-Symons went through. These short breakdowns are as well written as the rest of the book is diagrammed.
There are several points at which the reader is invited to try experimenting with the design to create a different effect, or change the model, creating opportunities for new interpretations on that design. This of course is part of the fun of fantasy origami – there is no right and wrong and you can branch out in any different direction. It's good to see it encouraged in this book. The author makes this intent clear right at the start, suggesting in the Introduction that 'you should add your own details with confidenceand take pride in making each model your own'.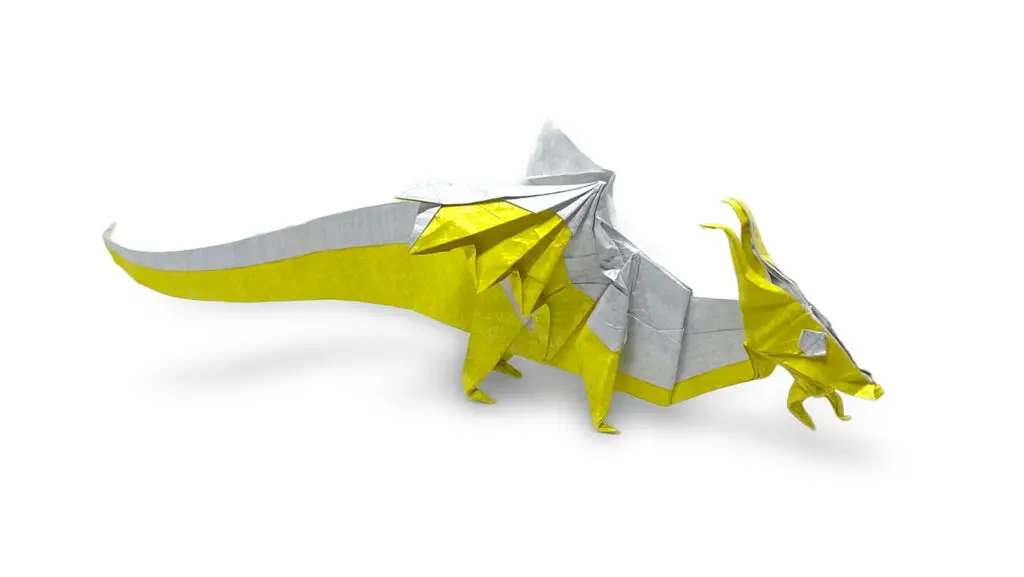 This book is published by Nicolas Terry, so naturally, it's beautiful. I have said many times before that origami is a visual medium, and origami books should look fantastic so that people are encouraged and excited to fold from them.
Terry has raised the bar significantly in this regard, and for me, has a track record of producing some of the highest quality and best presented origami books available anywhere. This book is as good as I've come to expect. Polished, well presented, colourful, with lots of white space, and very inviting.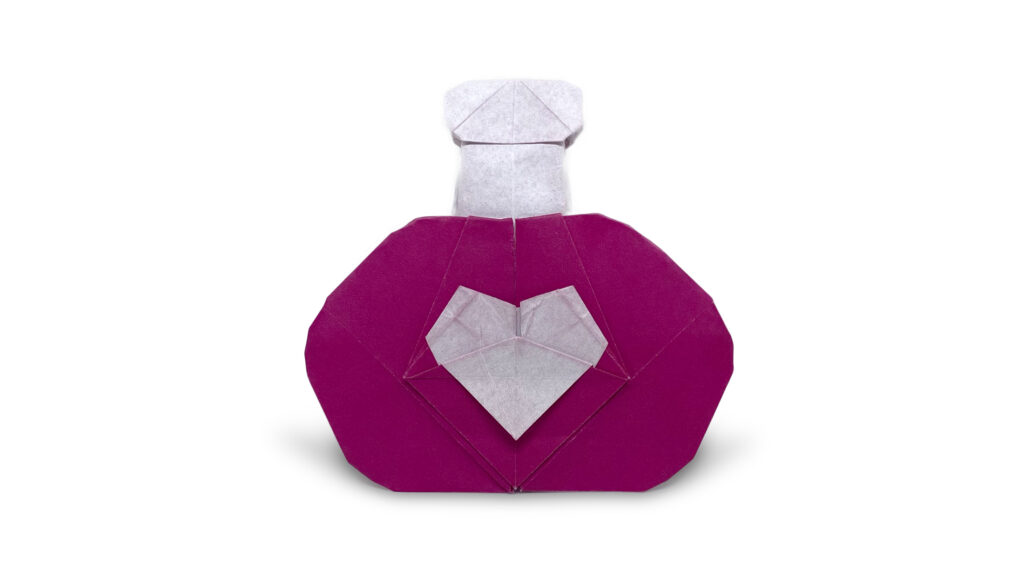 Want to Win Your Own Copy of Folding Fantasy?
Thanks to the generosity of Peter Buchan-Symons I have a signed, paperback copy of Folding Fantasy to give away to one fan of Origami Expressions.  It could make a nice gift or you can just keep it for yourself.
Enter for your chance to win here.
Sorry, the giveaway ended 23:59 USA Pacific time 10th of November 2022 ( 07:59 UK time 11th of November).  The winner will be announced via email.
Where to Buy Folding Fantasy
Folding Fantasy is available from the Origami Shop as either a paperback or an e-book by clicking this link.  There is also the option to add a selection of origami paper.
Get Involved
I'd love to hear your views on the Folding Fantasy book.  Feel free to let me know what you think in the comments below, or you find can me on Instagram, Facebook, or Twitter. Check out my Pinterest boards too!
You can also subscribe to the mailing list by entering your email in the box below:
Disclosure:
This page contains affiliate links and I may receive some small commission for purchases made through the links on this page. This hasn't affected my decision to recommend a product – I value my personal and professional reputation and would not endorse a product or supplier I did not believe in. There is no additional cost to you for purchasing through this page.
As an Amazon Associate, I earn from qualifying purchases.  Origami Expressions is a participant in the Amazon Services LLC Associates Program, an affiliate advertising program designed to provide a means for sites to earn advertising fees by advertising and linking to amazon.com, amazon.co.uk, amazon.ca. Amazon and the Amazon logo are trademarks of Amazon.com, Inc. or its affiliates.