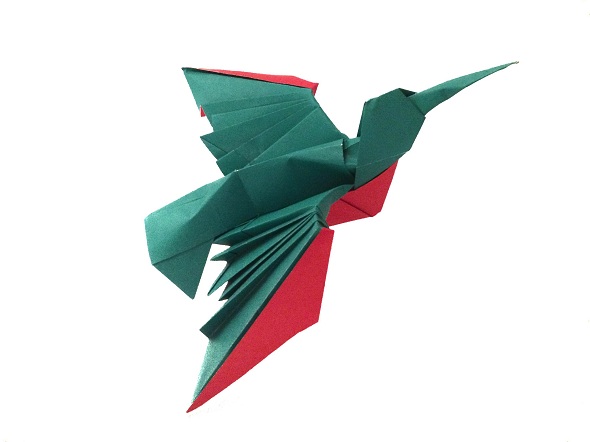 "He wasn't that good looking, he had the social skills of a wet cat and the patience of a caffeinated hummingbird"
Karen Chance
About Origami Hummingbird Model
Today's model is in response to a request! When an Instagram user called @Funnyva1entine asked me if I knew any good origami Hummingbird models I was delighted and inspired to fold one again. Hummingbirds have always fascinated me. We don't have them in Britain and I just love the idea of a bird that flaps its wings so fast you hear them rather than see them. Also, they are very pretty birds.
There are several origami designs out there that vary in terms of how complex they are, and how much they actually look like a Hummingbird! There are a couple of origami Hummingbirds I particularly like – one is the Ruby Throated Hummingbird designed by Robert Lang, and the other is this one, designed by Jesse Barr. I might review Lang's design at a later date. One of the things I like about Barr's origami Hummingbird is that the head has a better definition than Lang's. The colour change on the wing tips is also a nice effect – although I don't know how life-like this is.
My girlfriend, Anisa Alhilali, who runs the Two Traveling Texans blog, pointed out to me that one of the defining characteristics of a Hummingbird is that they flap their wings so fast you can barely see them. It is a little strange that almost every single origami Hummingbird design displays the wings very prominently. She does have a point, although I think the model would look very odd without any wings at all.  The spread wings give it the sense of being in flight.
Folding Jesse Barr's Origami Hummingbird
This is an intermediate level model, taking about 20 minutes to fold. For best effect, either use a piece of paper that is coloured differently on each side, or white on both sides.  You could make this from paper that is 15cm x 15cm, (6in x 6in) but pleating the wings effectively and narrowing the beak might become difficult with smaller paper.
I made the one in the picture above from a piece of origami paper, or kami that is 24cm x 24cm (9.5in x 9.5in). I've said many times on this blog that animal origami models look best when made from paper with long fibres such as kozo or unryu, and kami isn't the best choice. Standard origami paper is very uniform in appearance and can look bland and lifelessness. Having said that, the shape and style of Barr's Hummingbird design makes up for what the paper lacks.
Origami Hummingbird Instructions
I'm not aware of any diagrams for this model, but there is a video! Jesse Barr's friend Janessa Munt has created an excellent video showing how to make this Hummingbird.  She speaks very softly on the video, so you might have to turn the volume up on your device to hear what she's saying.

There is another video by Trahu DIY but I don't recommend this one. It's actually Janessa Munt's video with a music backing track. Unfortunately, this drowns out Munt's voice. I suspect it has probably been done without either Barr or Munt's permission.
For more information about Jesse Barr's origami, please see his facebook page.
Get Involved
I'd love to hear your views on this origami hummingbird model. Feel free to let me know what you think in the comments below, or you find can me on Instagram or Twitter. Check out my Pinterest boards too!
You can also subscribe to the mailing list by entering your email in the box below:
Happy folding!