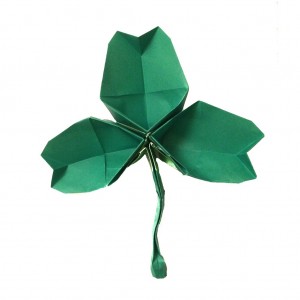 Overheard At The St. Patrick's Day Parade:
"Hey, a leprechaun. Oh, sorry mayor."
"How did I get here and where are my pants?"
"When do they drop the ball?"
David Letterman
St Patrick's Day and the Shamrock
March 17 is St Patrick's Day, so it seemed an appropriate day to post a review of Leyla Torres's fantastic Origami Shamrock design.
The Feast of St Patrick is the most widely celebrated national holiday in the world. It commemorates the life of St Patrick and his life's work, bringing Christianity to the Irish people. The Shamrock is significant because it is a widespread plant in Ireland and St Patrick used it to explain the Trinity to the Irish people.
A Shamrock is a young sprig of the clover plant with three leaves. The four-leafed clover is often identified as a Shamrock (presumably because clover with four leaves is said to be lucky), but this is incorrect.
Note: This post contains affiliate links.  Please see disclosure for more information.
About the Origami Shamrock Model
There are a couple of good origami Shamrock models available. The most widely known is this one, which is a multi-piece design, using separate pieces of paper for each leaf and the stem. This is a very simple and striking model, and if you are new to origami you might prefer to try that first.
My favourite St. Patrick's Day origami, though, is the easy origami Shamrock model I've chosen to feature here, which is by Leyla Torres. I prefer this one partly because I'm not a great fan of multi-piece origami and this is made from one piece of paper, and partly because this design has better separation of the leaves.
Folding the Origami Shamrock
This design is pretty simple to make. Although I've recommended a simple Shamrock for people just starting out in origami, this model is actually also a good one for people who are new to origami to try. It is not difficult to do, and there are a couple of steps that call for a technique called a colour change, which is quite a common process in origami.
Leyla Torres's instructions are simple, easy to follow, and everyone should be able to make this Shamrock, provided you can fold reasonably accurately. The model takes about half an hour to fold.
Any paper type will do – standard kami or origami paper is fine. Green paper would obviously be best, preferably the same colour on both sides (like this). Torres recommends paper that is at least 24cm x 24cm (9.5in x 9.5in). I would say this is just about the perfect size. Much smaller and the model will feel fiddly to make.

Origami Shamrock Instructions
You can fold your own origami lucky charm! Instructions for folding Leyla Torres's Shamrock are available on her website: Origami Spirit or you can follow along on her video here.
Get Involved
I'd love to hear your views on this or other Shamrock origami models. Feel free to let me know what you think in the comments below, or you find can me on Instagram or Twitter. Check out my Pinterest boards too!
You can also subscribe to the mailing list by entering your email in the box below:
Good luck folding the Origami Shamrock. Whatever you do with your day, Lá Fhéile Pádraig Sona Daoibh* or Happy St Patrick's Day everyone! I'm off to watch the parade.
*Apologies to any Gaelic speakers for any crimes against the language I may have inadvertently committed.
Disclosure:
This page contains affiliate links and I may receive some small commission for purchases made through the links on this page. This hasn't affected my decision to recommend a product – I value my personal and professional reputation and would not endorse a product or supplier I did not believe in. There is no additional cost to you for purchasing through this page.
As an Amazon Associate, I earn from qualifying purchases.  Origami Expressions is a participant in the Amazon Services LLC Associates Program, an affiliate advertising program designed to provide a means for sites to earn advertising fees by advertising and linking to amazon.com, amazon.co.uk, amazon.ca. Amazon and the Amazon logo are trademarks of Amazon.com, Inc. or its affiliates.