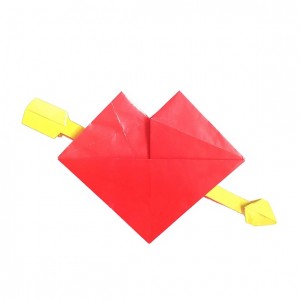 "You know you're in love when you can't fall asleep because reality is finally better than your dreams"
Dr Seuss.
Origami and Valentine's Day
Valentine's Day is one of those dates in the calendar that is absolutely perfect for origami. Whether you are looking to pull off a party-trick with a napkin on a first date, or make something dazzling and romantic for that long-term someone special, there is a huge range of origami flowers, hearts and cupid-themed models to choose from.
Note: This post contains affiliate links.  See Disclosure below for more information.
The Kawasaki Rose is probably the most famous origami flower design. There are two versions of this. Instructions for the original rose are available in Kuniko Kasahara's book Origami for the Connoisseur. Although there are several interesting models in that book, this model alone is good enough reason to buy it, and probably the reason why most people do – including me! It's available from Amazon UK and Amazon US. 
If you'd rather give your Significant Other a whole bouquet, Yoshihade Momotani has written several books on origami flowers, however I prefer the book Origami Flowers by Hiromi Hayashi, available from Amazon UK on this link, and Amazon US here.
This is not just one of the best heart designs out there, it's also one of the best Valentine's Day models as it is the classic Valentine's Day motif – the heart pierced by Cupid's arrow. This design is by Robert Lang – one of the most famous origami artists in the world. He calls it simply 'Valentine'.
This is the second of his models I have featured on this blog, the other was his Parrot. Lang is responsible for some of the most beautiful, detailed and anatomically accurate origami designs ever created. For more information on his work, please see the gallery on his website.
Folding the Origami Valentine
Some people I have shown this model to are surprised it is made from a single piece of paper. One of the reasons I like this model is that it is one of the most interesting ways of using a simple Bird Base I've seen. Like all the traditional bases, the Bird Base has been around for so long it is easy to think that everything you could possibly make from it has already been done, then along comes a model like this to remind you that there are always new possibilities in origami.
Having said it's based on a simple traditional base, this is an intermediate level design. There's nothing spectacularly complicated about it, although some of the folds can be fiddly to avoid ripping the paper, and there are a couple of colour changes which tend to make beginner folders nervous as it means turning a couple of sections inside-out. As the front and back are symmetrical, it relies on accurate folding for a polished finish. I took about 45 minutes to fold the model in the picture above.
This design looks best if you use a paper that is coloured differently on both sides – preferably red on one side for the heart. I would recommend silver or gold on the other side for a nice dramatic arrow. For maximum impact, a laminate of red foil paper backed with silver or gold tissue would be stunning.
I was intending to use exactly this combination for this blog, but I am travelling at the moment and forgot to bring it with me, so I have used a sheet of ordinary origami paper, or kami. As you can see, the results are still acceptable. I wouldn't recommend using paper smaller than 20cm x 20cm (7.8in x 7.8in). I have used paper that measures 24cm (9.5in) a side.
If you want to fold a simpler origami model, the traditional origami heart is a good option.
Diagrams for the Origami Valentine
There are two sources of instructions for folding this model. The diagrams for folding Robert Lang's Valentine are available in his excellent book Origami Design Secrets: Mathematical Models for an Ancient Art. I cannot recommend this book highly enough. I have two copies, one of which is signed by Lang. As well as the diagrams for some fantastic models, ODS unpicks the process of origami design and makes it accessible for everyone. 
Sara Adams has produced a series of four videos explaining how to fold Valentine. As always, Sara's videos are easy to follow, high quality, and produced with the kind permission of the designer. Sara's video tutorial is available on her website, or her YouTube channel.
Get Involved
I'd love to hear your views on this. Feel free to let me know what you think in the comments below, or you find can me on Instagram or Twitter. Check out my Pinterest boards too!
You can also subscribe to the mailing list by entering your email in the box below:
Good luck folding this, and Happy Valentine's Day!
Disclosure: This post contains affiliate links. This means we will receive a small commission for some purchases made using links in our blog with no additional cost to you. Please be assured we would not promote any product unless we believe that our readers will also benefit. The commission does not influence the editorial content of this site.
Origami Expressions is a participant in the Amazon Services LLC Associates Program, an affiliate advertising program designed to provide a means for sites to earn advertising fees by advertising and linking to amazon.com, amazon.co.uk, amazon.ca. Amazon and the Amazon logo are trademarks of Amazon.com, Inc. or its affiliates.