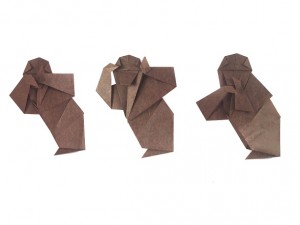 Happy Chinese New Year!
The Origami Monkey Models
Today is the Chinese New Year, and this year is the Year of the Monkey, so I thought I'd mark it with the Three Wise Monkeys. Maybe it's a little odd to mark a Chinese cultural event with the characters from a Japanese proverb, but I thought it would be more interesting to fold monkeys actually doing something, rather than just sitting there.
Note: This post contains affiliate links.
The Three Wise Monkeys are:
Mizaru, covering his eyes, who sees no evil
Kikazaru, covering his ears, who hears no evil
Iwazaru, covering his mouth, who speaks no evil.
Apparently there have been some variations on this when a fourth monkey is added with a sulking expression for 'have no fun', but I think that's a little harsh!
In Chinese astrology, each year is associated with a Chinese zodiac animal sign and one of the Five Elements: Gold (Metal), Water, Wood, Fire, or Earth. Both the sign and element of your birth year are said to affect your personality and destiny. Each year has both positive and negative characteristics. People born in the Year of the Monkey in the Chinese calendar are generally thought to be clever, quick witted, innovative and prosperous. It is also apparently one of the more unlucky years in the calendar, so if you know someone born in the Year of the Monkey, get them on your quiz team, but don't ask them to pick your lottery numbers. 2016 is a Fire Monkey year, so people born this year are supposed to be ambitious and adventurous, but irritable.
I was born in the Year of the Ox – specifically the Water Ox – and apparently I'm not likely to get a financial windfall this year, so don't ask me for the lottery numbers either.
Folding the Three Wise Monkeys
These are pretty simple origami models to fold. Surprisingly so. In fact, they are so simple that anybody should be able to do and I'm going to remember them for next time I have to teach origami to children. The only differences between the three Monkeys is the position of the hands. There is only one reverse fold in each monkey, other than that it is just a matter of simple valley folds – 'fold this bit to there'.
The Three Wise Monkeys are an Ignacio Smith design, based on Kuniko Kasahara's origamiMonkey model. Rather unusually, they start with a piece of paper that is shaped like a right-angled triangle. If you cut a square in half diagonally you get the triangle you need. Just about any piece of paper will do. I have folded these out of some hand-made Korean paper as it has more texture to it than ordinary kami, or origami paper – although that will do. The Monkeys don't take long to make – you can do all three in 20 minutes.
Three Wise Monkeys Diagrams
Kuniko Kasahara's original monkey design is available in his book Creative Origami which you can find on Amazon. Ignacio Smith has a video on YouTube showing how to make these Three Wise Monkeys, based on his variation.
More information about the Chinese zodiac, in which you can look up information on your own year is available here.
Happy New Year!
Get Involved
I'd love to hear your views on this. Feel free to let me know what you think in the comments below, or you find can me on Instagram or Twitter. Check out my Pinterest boards too!
You can also subscribe to the mailing list by entering your email in the box below:
DISCLOSURE
This page contains affiliate links and I may receive some small commission for purchases made through the links on this page. This hasn't affected my decision to recommend a product – I value my personal and professional reputation and would not endorse a product or supplier I did not believe in. There is no additional cost to you for purchasing through this page.
Origami Expressions is a participant in the Amazon Services LLC Associates Program, an affiliate advertising program designed to provide a means for sites to earn advertising fees by advertising and linking to amazon.com, amazon.co.uk, amazon.ca. Amazon and the Amazon logo are trademarks of Amazon.com, Inc. or its affiliates.