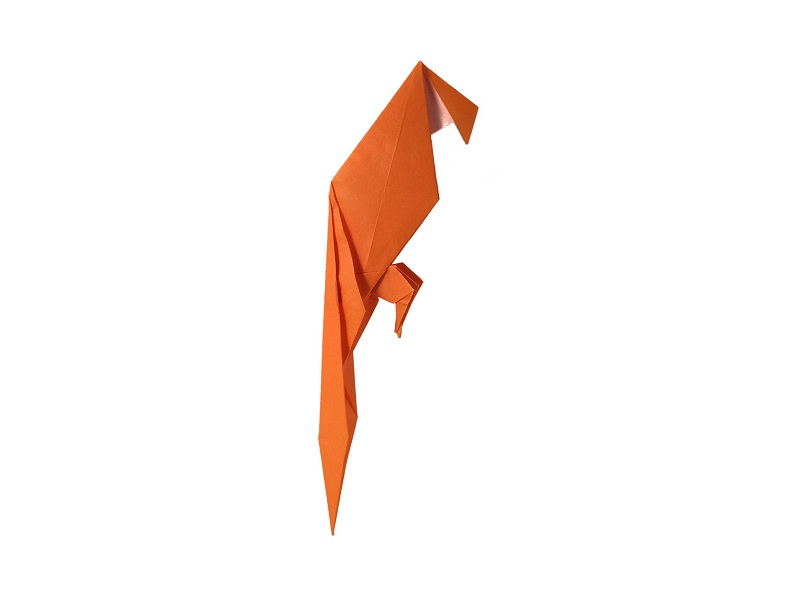 Mr. Praline: I wish to complain about this parrot what I purchased not half an hour ago from this very boutique.
Owner: Oh yes, the, uh, the Norwegian Blue…What's,uh…What's wrong with it?
Mr. Praline: I'll tell you what's wrong with it, my lad. 'E's dead, that's what's wrong with it!
Owner: No, no, 'e's uh,…he's resting.
Mr. Praline: Look, matey, I know a dead parrot when I see one, and I'm looking at one right now.
Owner: No no he's not dead, he's, he's restin'! Remarkable bird, the Norwegian Blue, idn'it, ay? Beautiful plumage!
From 'The Dead Parrot Sketch', Monty Python's Flying Circus, 1969
Robert Lang's Origami Parrot
Earlier this week I folded Eric Joisel's Dwarf which is complex and took ages to do, so I'm posting something simpler today – Robert Lang's Origami Parrot.  Lang is one of the most famous names in origami.  He is best known for his complex models and has created some of the most beautiful and detailed models ever devised.  I will be folding and reviewing some of Lang's more complex models on this site in the future.
Note: This post contains affiliate links.  See Disclosure below for more information.
The gallery on his website www.langorigami.com is worth viewing. Lang also wrote Origami Design Secrets: Mathematical Methods for an Ancient Art, which has become the standard book on learning origami design.  I will be reviewing this book later, so stay turned back then.
This paper parrot is a lot more simple than some of Lang's more famous designs, but that doesn't make it any less attractive.  I really like this one.  It looks very good as a model in its own right, but because of the long tail and the position of the feet, it sits well on an edge – such as a finger, or the rim of a glass.  Kids would find it fun if they were given a drink with a parrot sitting on it at a birthday party.
Folding Lang's Origami Parrot
This is a simple model. It can be folded by anyone that can understand how to do a reverse fold, so if you can fold a traditional crane, you can fold this. Any paper will do – I have folded this one out of ordinary 15cm x 15cm (6in x 6in) kami origami paper, coloured differently on each side.  It doesn't need to be two-colour paper as you only see the back of the paper around the neck, but I quite like it. I used orange because I always have lots of it left at the end of every box of paper. You could use some more expensive textured paper for this model, but as it is a representative design rather than a realistic one, it isn't really necessary. It takes about five minutes to fold this – maybe slightly longer for the absolute beginner.  If you are looking for a more complex origami parrot, you might enjoy the origami Macaw model.
Origami Parrot Diagrams
I found the origami parrot diagram for this model in an origami page-a-day calendar I was given a few years ago.  I've not found the origami parrot instructions anywhere else but I suspect these calendars recycle the models, in which case this may be the best place to find the diagrams.  The calendars are also great if you make the origami new years resolution to fold something everyday.
Get Involved
I'd love to hear your views on this origami parrot for beginners. Feel free to let me know what you think in the comments below, or you find can me on Instagram or Twitter. Check out my Pinterest boards too!
You can also subscribe to the mailing list by entering your email in the box below:
Disclosure: This post contains affiliate links. This means we will receive a small commission for some purchases made using links in our blog with no additional cost to you. Please be assured we would not promote any product unless we believe that our readers will also benefit. The commission does not influence the editorial content of this site.
Origami Expressions is a participant in the Amazon Services LLC Associates Program, an affiliate advertising program designed to provide a means for sites to earn advertising fees by advertising and linking to amazon.com, amazon.co.uk, amazon.ca. Amazon and the Amazon logo are trademarks of Amazon.com, Inc. or its affiliates.