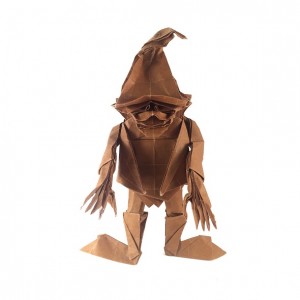 Snow White: Supper's not quite ready. You'll just have time to wash.
Dwarfs: [in unison] Wash?
Grumpy: [scoffs] I knew there's a catch to it!
Snow White & the Seven Dwarves, Disney, 1937
The Origami Dwarf Model
The Origami Dwarf is one of the best known and most loved models created by the origami master Eric Joisel, who sadly passed away in 2010. It's the second Joisel model I have featured on this site, the other being his Rat. Both the Rat and the Dwarf are typical of the imaginative, almost whimsical style that Joisel brought to origami design, which has never been matched by anyone else.  He was one of a kind, and one of my personal origami heroes.
Many of Joisel's designs have a cartoonish, almost caricature-like feel and his focus on the character of the model rather than a slavish focus on accurate representation makes them incredibly lifelike. Joisel folded a number of variations on the Dwarf, each with different clothes, hats, beads and boots and holding a musical instrument.  He called this the Dwarf Jazz Band.
I've been meaning to fold this model for some time, but haven't got around to it, partly because I knew it was going to take me a while to do, and partly because I wasn't sure I would be pleased with the result.  Joisel was a creative genius and I am not him.  That said, for a first attempt I am reasonably pleased with how this model has turned out.
Folding Joisel's Dwarf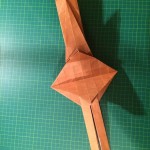 This model is not easy.  It is a complex model, and relies on accurate folding and strong shaping skills. The base is reasonably easy to precrease and collapse, based on a grid that is a multiple of 8×8. I folded this one using a 24×24 grid.
I recommend folding Joisel's Dwarf in stages. The Christmas Break gave me an ideal opportunity to fold this model over several days.  In total it took me about four hours, but I suspect it could be done considerably faster than this!
Selecting the right paper is critical to fold the Dwarf successfully. Alexander Kurth has a video tutorial for this model, and in the accompanying notes he recommends the following:
Self-made tissue foil with normal foil in it 30x30cm
Self-made unryu foil with thick baking foil in it 60x60cm (Kurth's personal preference for this model)
Chinese thin papers with MC 20x20cm
Elephant hide wet folded 50x50cm
Kurth does note that you could use thinner paper but it might need to be treated with acrylics to get it to hold its shape.
I have folded this one from a 60cm x 60cm (24in x 24in) sheet of brown tissue foil from origami-shop.com. I really like this paper and I think folds well, although I am inclined to agree with Kurth's recommendation.  Unryu or something similar would give the paper a nice texture, and self-made tissue foil would shape well and conceal unwanted creases on the final model, left from precreasing the base. I will be treating my tissue-foil model with preservative to ensure it retains its shape. I would recommend doing this with Kurth's recommended paper anyway as self-made papers can tend to deteriorate over time.
Brown tissue-foil, the paper I used for this model is available from origami-shop on this link
Unryu paper, which Kurth recommends for making your own paper for this model is available from origami-shop on this link
Origami Dwarf Diagrams
There are no diagrams available for Joisel's origami Dwarf. There is a crease pattern in the book Eric Joisel: The Magician of Origami which is available from origami-shop. Alexander Kurth, or Quietmaverick as he is known on YouTube, has a good series of videos showing how to fold the base and shape the final model. These video instructions are available here.
Is there anything you like or dislike about this model? Have you folded it before? Have you done any of the variations, such as folding it with a beret or a long beard? Please let me know in the comments below or you find can me on Instagram or Twitter. Check out my Pinterest boards too!
You can also subscribe to the mailing list by entering your email in the box below:

.
Thanks for reading!
R.