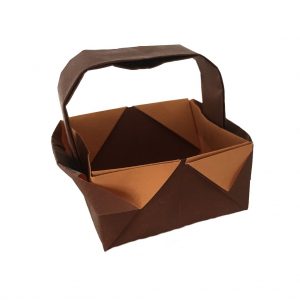 "Hey Boo Boo, let's go get us a pic-a-nic basket!"
Yogi Bear
Why the Traditional Origami Basket?
I went to Philharmonic in the Park in Central Park, New York City the other day. It was a beautiful day, so we took a picnic with us to enjoy before the music started. Perhaps it was sunstroke, or maybe I'm a complete basket case, but with that in mind, I thought I'd feature a picnic basket for this week's model and this is the closest I could think of.
Folding the Origami Basket
Like all the traditional origami designs, this is an easy model to fold and should be manageable for all abilities in about ten minutes. This is also a good origami model for children to try.
Two sheets of paper are needed – one square for the basket itself and one half square for the handle. Any paper will do – in the picture above I've used ordinary 15cm x 15cm (6in x 6in) kami, and a 15cm x 7.5cm (6in x 3in) rectangle for the handle  This produces a final 3D origami basket model that has a 5cm x 5cm (1in x 1in) base and is 7cm (2.75in) tall.  I recommend using paper that is coloured differently on each side as I think this gives a nice two coloured effect when folded.
Origami Basket Instructions
You can find the origami basket diagrams in my new book Origami Made Simple.  This book is aimed at beginners and includes step by step instructions for 30 traditional designs like this one as well as 10 of my own original designs. Because origami diagrams can be a bit daunting for people just starting out, there are written instructions that accompany each diagram to help explain each step.
Origami Made Simple will be published on April 14 and is available for preorder now here.
Alternatively, check out my origami basket video.  It shows you step by step how to make an origami paper basket, so you should be able to fold along.  I shot this origami video on a New York rooftop as I was travelling at the time. Origami is just as much fun outdoors, especially on a nice spring day!
Get Involved
I'd love to hear your views on this origami basket or other traditional origami models.  If you have folded this paper basket origami model before, or if you liked the video, please feel free to get in contact, either by commenting below, or find me on Instagram or Twitter. Check out my Pinterest boards too!
You can also subscribe to the mailing list by entering your email in the box below: