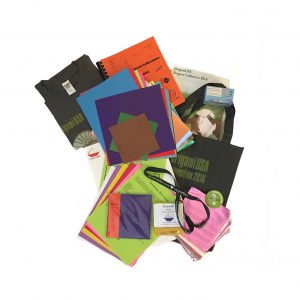 'Overall, I want you to discover the joy of creation by your own hand. …The possibility of creation from paper is infinite'
Akira Yoshizawa
While I was in New York in June this year, I thought I'd go to the US origami convention. It was too good an opportunity to miss. I've been to British Origami Society conventions before, but I've been told by several people that the OrigamiUSA conventions are a 'must see'. They are much bigger, with lots more attendees and classes. They were right! This year's convention was on 17 – 20 June at St Johns University in Queens – a new venue.  Previous conventions have been in Manhattan.

I really liked the venue. All convention locations were easy to get to, and the University Campus is well laid out. The flowers beds lining the paths looked glorious in the sunshine. Several people were commenting that it took them longer to get there than it had to previous locations. I got there from Midtown Manhattan in about an hour.
Friday Evening: Registration
After picking up my convention pack I went to the 'First Timer Orientation' session. This aimed to make sure that everyone attending their first OrigamiUSA convention were up to speed on how the convention works – particularly for ticketing (registering for classes). I didn't learn much that I hadn't already read on the website, but it was good to see so many other first timers there, including some from overseas. At least I wasn't the only one! After exploring the huge amount of goodies in my convention pack I went home, looking forward to the following day.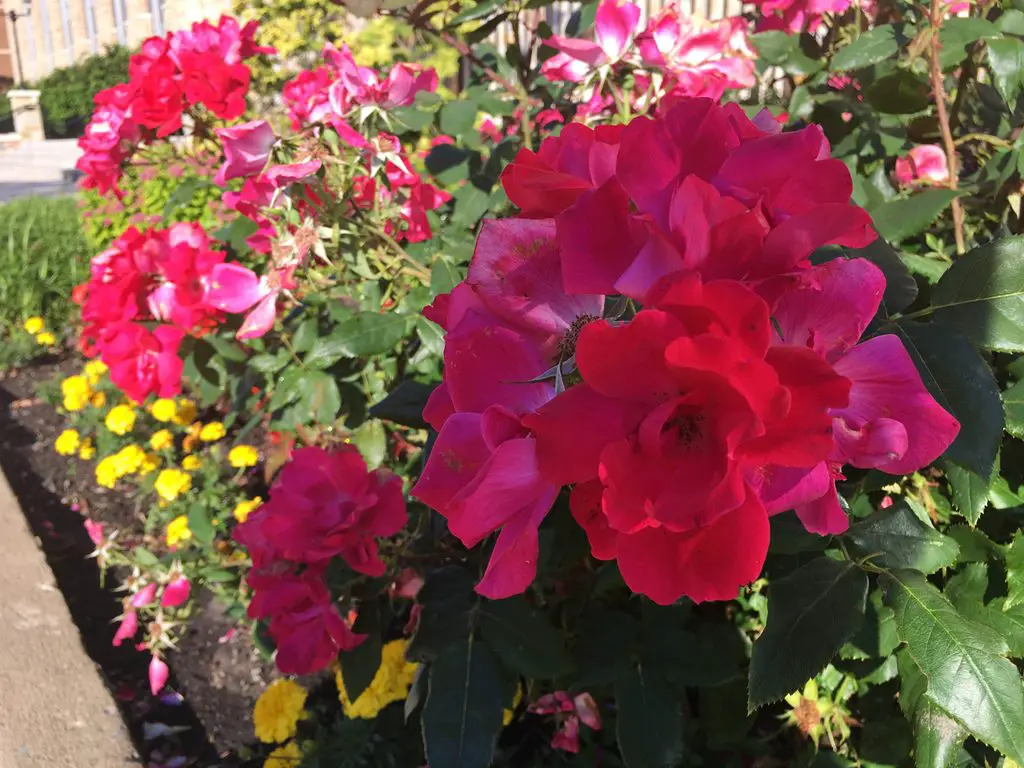 Saturday
Tickets for Classes
I turned up early so that I could visit the model stands and choose the models I wanted to fold. Even though I'd seen many of the designs on the website beforehand, it was still good to be able to see the models first hand. Convention volunteers were on hand to pass models over so you could have a closer look if you wanted.
I had been told that ticketing can feel a bit like organised chaos, and as a newbie – it did! People were coming and going in all directions. I had been allocated a low number, so I would get to choose my classes early. I made the mistake of sitting a long way back from the ticketing line, so it took me by surprise a bit when my number was called. Suddenly I was in the wrong place and numbers 41 to 60 were being called before I got there! Everyone is supposed to line up in numerical order though, so I found my place in the line, and got all the classes I wanted.
Classes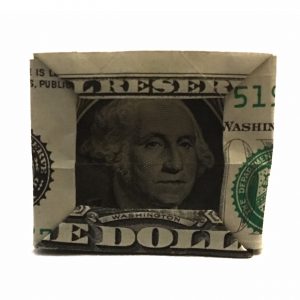 Ticketing lasted about an hour and classes started shortly after that. My first origami class was folding a One Dollar Bill into a framed picture of George Washington. I thought it was appropriate for my first US origami convention and Independence Day was just around the corner. Andrew Hans taught this design by Gay Merrill Gross.
After the first class I went to two classes on wet folding. This is a technique of wetting the paper and then folding it while it is still damp to produce gentle curves. I've experimented a bit with this technique before and I was interested in improving my ability. The first was a class exploring the technique by wet-folding simple traditional models, taught by Ros Joyce. I was surprised by how well you can wet-fold with delicate papers such as mulberry. Although I have always discounted wet-folding lighter papers, I will be trying this again. The next class was a wet-folded Longhorn Cow's skull, designed and taught by Talo Kawasaki. My partner, Anisa is a graduate of the University of Texas – the Longhorns – and she was pleased with the result.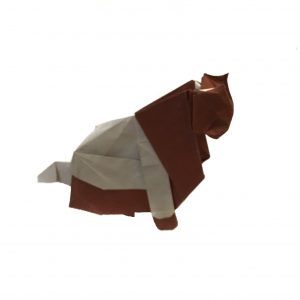 I bumped into Angela, Mark & Denver – some of the other Brits over lunch before attempting a more complex model in the afternoon: a Cat, designed and taught by Seth Friedman. I'm not sure I got the proportions quite right on this, so I'll be looking forward to the instructions or video that Seth said he's planning to do.
After Classes
One of the most fun parts of any origami convention is the time outside the organised classes. The models displayed in the Exhibition were of an incredibly high standard, particularly some of those that had been folded by children.  August Westphal for example, was exhibiting a crane designed by Nicolas Terry. August is 9 years old! After visiting the exhibition I had time to visit the shopping area and get some new books and papers.
There is plenty of time when people chat and teach each other how to fold a favourite model. Everyone I met was friendly and welcoming. Louise Oppenheimer Flax taught me how to make two of the origami boxes designed by Philip Chapman Bell that she had been teaching earlier in the day.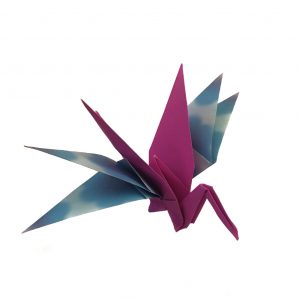 After dinner, the convention's special guests taught one of their own designs to all attendees. Tomoko Fuse taught a flapping crane – a crane with multiple wings. Kade Chan showed how to make a squirrel.
Monday
I couldn't attend on Sunday as I had other plans. My first class on Monday was a laser-scored pot, taught by Robert Lang. He has been using a laser to score the paper for some time as it makes for very precise creases. I didn't complete the pot in the class, but was quite pleased as I could transport the pre-creased paper and assemble it later, instead of risking it getting damaged on the New York subway. After Lang's class I attended one on making pins (badges in UK English) out of slide mounts. I finished off my US convention experience with a double session on origami design with Marc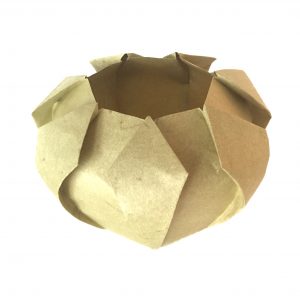 Kirschenbaum.
Overall
I really enjoyed my first US origami convention. The classes, facilities, exhibition and shopping resources were all excellent, and most of all, everybody was welcoming and friendly. My thanks to OrigamiUSA and all the convention volunteers for putting together a great event. If I can, I'll go back next year.
Did you go to the OrigamiUSA 2016 convention or are you planning to go in the future? You might also like to read about their virtual event that I attended – Foldfest 2021.  Let me know your thoughts, either by commenting below, or find me on Instagram or Twitter.