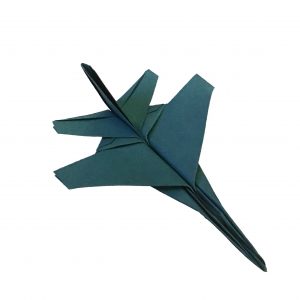 Rumack: Can you fly this plane, and land it?
Ted Striker: Surely you can't be serious.
Rumack: I am serious… and don't call me Shirley
Airplane! 1980
Note: This post contains affiliate links.  Please see disclosure for more information.
About the Origami F16 Aeroplane model
I was inspired to fold this model by a recent flight to New York that was delayed for several hours by a faulty plane. I thought I could find an origami model plane that, unlike the plane I was waiting for, might actually fly! There are several origami aeroplane models available that do fly, some of which are in Gery Hsu's book How to Make Origami Airplanes that Fly.
In the end I chose to fold this one, designed by Tadashi Mori because I liked the design, even though it doesn't actually fly. I've said before that birds and dragons make very good origami models because the wings give them a sense of movement and drama. I think the same is true of aeroplanes as well – particularly ones like this with its delta wing design.
This is an F16 Fighting Falcon, a multipurpose fighter aeroplane made by General Dynamics (now Lockheed Martin). Originally developed for the US military, it is still in use by the US armed forces and those of 25 other countries around the world.
More than 4500 have been made and as of 2015 it was the second most widely used military aircraft in the world.  Aeroplanes are not known the cheapest things in the world though, but by following Tadashi Mori's instructions you can have your own at a slightly cheaper price.
Note: If you are looking for easier origami plane models, check out my review of the Awesome Paper Airplane Book for Kids.
Folding The Origami F16
Tadashi Mori says that this origami fighter jet is not an easy model. I'd class it as a low intermediate. There are a few inside reverse folds and one open sink but all of these are very well explained by Mori. It takes about ten minutes to fold the F16.
The instructions say to start with a piece of ordinary printer paper. US readers please note that this means the standard A4 size used outside the United States of America, not the 8″ x 11″ letter paper that is common in the US. (You can create a piece of paper that has the right dimensions from a sheet of letter paper by cutting it to 7.7″ x 11″). As I am in America right now (yes, my flight did eventually get here) – I learned this the hard way!
Any colour paper will do, but it is worth thinking about the colour that the F16 would actually be, so something like a matte grey. I chose to fold the one above from green paper to make it look like it has been camouflaged. White paper is ok, but the final model can look quite lifeless.
Origami F16 Instructions
There is a video tutorial for the F16 on Tadashi Mori's YouTube channel. His channel is worth taking the time to explore, as it showcases a wide range of his designs for differing ability levels and subjects.
Get Involved
I'd love to hear your views on this origami aeroplane model. Feel free to let me know what you think in the comments below, or you find can me on Instagram or Twitter. Check out my Pinterest boards too!
You can also subscribe to the mailing list by entering your email in the box below:
Disclosure:
This page contains affiliate links and I may receive some small commission for purchases made through the links on this page. This hasn't affected my decision to recommend a product – I value my personal and professional reputation and would not endorse a product or supplier I did not believe in. There is no additional cost to you for purchasing through this page.
As an Amazon Associate, I earn from qualifying purchases.  Origami Expressions is a participant in the Amazon Services LLC Associates Program, an affiliate advertising program designed to provide a means for sites to earn advertising fees by advertising and linking to amazon.com, amazon.co.uk, amazon.ca. Amazon and the Amazon logo are trademarks of Amazon.com, Inc. or its affiliates.