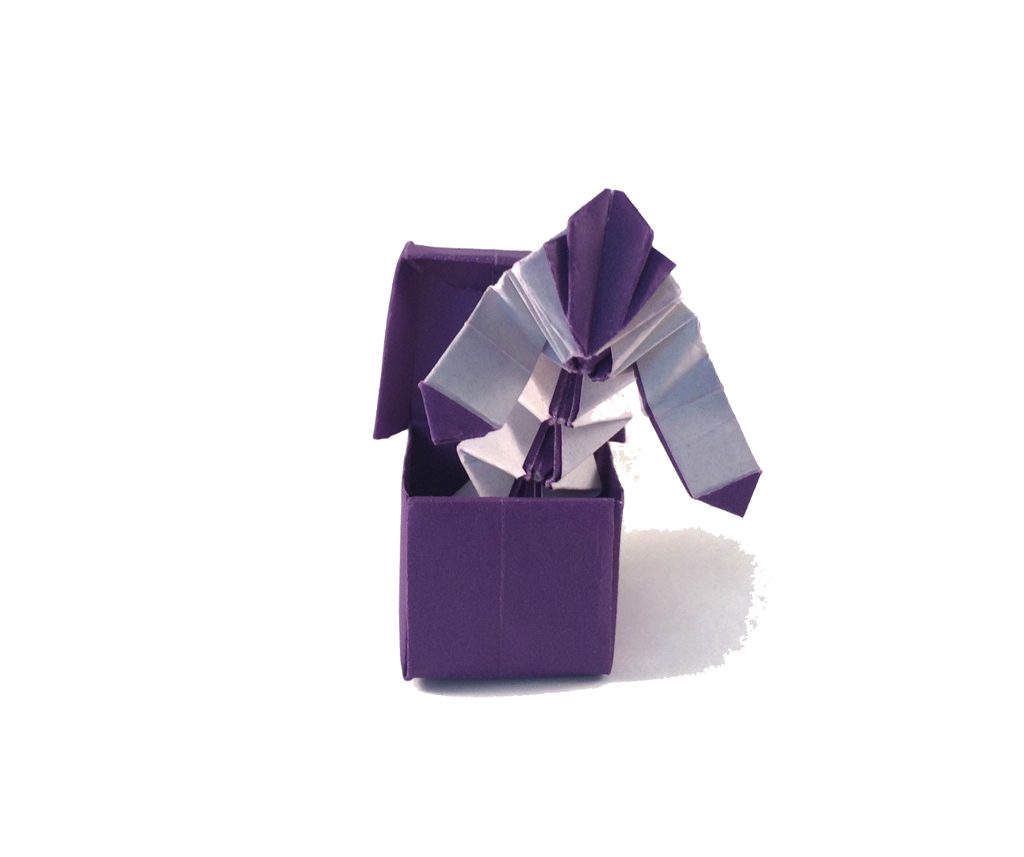 I used to have a Jack in the Box. Now I prefer my Jack in a bottle.
Anon.
About the Jack in the Box
There are several Jack in the Box origami models available, such as the one by Hugo Pereira, but this is my favourite, designed by Max Hulme. It has good clean lines, contrasting colours and the spring mechanism works well. An origami Jack in the Box always makes people smile! I was fortunate enough to attend a British Origami Society Convention a few years ago when Max taught this model.  Unfortunately, I made a complete mess of it at the time!
Note: This post contains affiliate links.  See Disclosure below for more information.
Folding the Origami Jack in the Box
The is an intermediate level model. Like all box-pleated models, accurate folding is important to get a good result. It uses a 1:2 ratio rectangle. The diagrams recommend a paper size of 15cm x 30cm (6in x 12in), which results in a box about 2.5cm (about 1in).
I made this one out a piece of kami, 10cm x 20cm (about 4in x 8in), which is a little small. Kami is probably not the best choice of paper for this model, as there are a couple of steps in the folding sequence which stresses the paper a bit. I'd suggest a paper with some longer fibres, which will cope better with the folding, and help maintain a good bounce in the spring mechanism. Paper that is coloured differently on each side is not essential but does make the final result look significantly better.
Diagrams for the Origami Jack in the Box
Diagrams for this model are in Eric Kenneway's book Complete Origami. Although out of print, this book isn't hard to get hold of – at the time of writing there were 17 copies for sale on Amazon.
The British Origami Society Library also has a copy that members of the Society can borrow.
Get Involved
I'd love to hear your views on this origami jack in the box. Do you like this model by Max Hulme or the one by Hugo Pereira? Feel free to let me know what you think in the comments below, or you find can me on Instagram or Twitter. Check out my Pinterest boards too!
You can also subscribe to the mailing list by entering your email in the box below:
Disclosure: This post contains affiliate links. This means we will receive a small commission for some purchases made using links in our blog with no additional cost to you. Please be assured we would not promote any product unless we believe that our readers will also benefit. The commission does not influence the editorial content of this site.
Origami Expressions is a participant in the Amazon Services LLC Associates Program, an affiliate advertising program designed to provide a means for sites to earn advertising fees by advertising and linking to amazon.com, amazon.co.uk, amazon.ca. Amazon and the Amazon logo are trademarks of Amazon.com, Inc. or its affiliates.