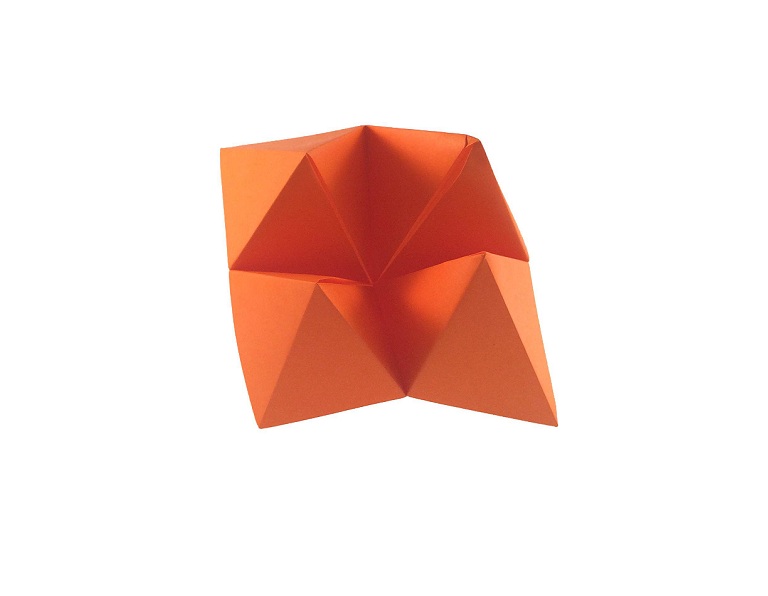 Just about everyone that's ever attended school in the UK or USA knows this model as the Traditional Origami Fortune Teller, or Cootie Catcher.  While it may have different names just like the pajarita, these days it's probably best known across the world as a playground toy.  In traditional origami, it's turned upside down and used as a Salt Cellar. I have no idea if anybody actually used it to put salt in, but that's it's purpose.
The paper origami fortune teller is very easy to make (if you can fold the four corners to the center you can make this), and any paper will do, provided there's enough blank space to write on each of the flaps.  Paper that is different colours on both sides might make it look a bit prettier when playing with it, but it really isn't necessary.  I made this one out of orange kami as I've always got lots of that lying around.
Difficulty: Simple, suitable for beginners or children
Paper: Any
Time to make: Less than five minutes
For instructions on how to play the fortune teller game, see this video.
Traditional Origami Fortune Teller Diagrams
| Step | Diagram |
| --- | --- |
| 1. Start with a Blintz Base | |
| 2. Turn the paper over | |
| 3. Blintz this side – fold all four corners to the centre | |
| 4. Form into a Preliminary Fold by bringing the four corners together | |
| 5. Open out the four flaps | |
| 6. Unfold to step 3 | |
| 7. Reopen each of the four flaps and write a different prediction on each half of the flap | |
| 8. Close the four flaps up again and write different numbers of each half of the outside of the four flaps | |
| 9. Reassemble the fortune teller and write colours on the four visible flaps | |
| 10. You have completed the Fortune Teller | |
Get Involved
I'd love to hear your views on this paper fortune teller.  Feel free to let me know what you think in the comments below, or you find can me on Instagram or Twitter. Check out my Pinterest boards too!
You can also subscribe to the mailing list by entering your email in the box below: