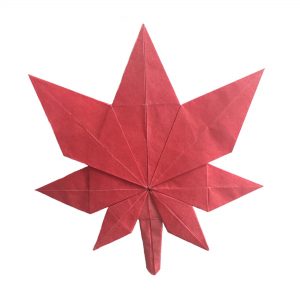 In a world darkened by ethnic conflicts that tear nations apart, Canada stands as a model of how people of different cultures can live and work together in peace, prosperity, and mutual respect
Bill Clinton
About the Origami Maple Leaf
Ok, I'm a bit late to the party with this one. A week late, but better late than never!
Last week was Canada Day, and the 150th anniversary of the Canadian Confederation. Happy Birthday Canada! What better model to fold in recognition of Canada 150 than an origami maple leaf – the symbol that appears on their flag?
There are several different origami maple leaf designs out there, but this is my favourite. It has a simple, bold shape and it's quite satisfying to fold. This design is by "Jassu" Kyu-seok Oh.
Folding the Origami Maple Leaf
This is an intermediate level design. If you are comfortable with open sinks and unsinks and you are able to fold accurately, you should have no problem folding this successfully. If not, the instructions for this one are pretty clear, so this is a good way to start!
I recommend using paper that is coloured the same on both sides to avoid a stripe up the middle of the stem. You could use a green, yellow or brown for this model to give it a nice organic 'leafy' feel, but I felt it had to be red really, in reference to the Canadian flag. I used a 30cm x 30cm (12" x 12") sheet of red tissue foil, purchased from the Origami Shop – click here to check prices and availability. This produced a Maple Leaf that is just under 15cm x 15cm (6"x6"). IT takes about 45 – 50 minutes to fold the origami Maple Leaf.
Origami Maple Leaf Instructions
The tutorial video below is produced by Sara Adams of Happyfolding.com. This is one of her older ones, so it's not as good as her more recent ones, but the quality is still very good and the video is easy to follow. The tutorial is split into five videos of 10 minutes each. For more videos from Sara, check out her website or YouTube channel
Get Involved
I'd love to hear your views on this. Feel free to let me know what you think in the comments below, or you find can me on Instagram or Twitter. Check out my Pinterest boards too!
You can also subscribe to the mailing list by entering your email in the box below: