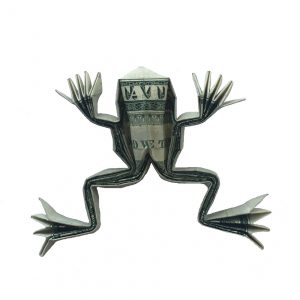 Frog, n. A reptile with edible legs….The frog is a diligent songster, having a good voice but no ear….the music is apparently by that eminent composer, Richard Wagner
-Ambrose Bierce, The Devil's Dictionary
Discovering the Money Origami Frog
I've really started to appreciate money origami over the last couple of years. A large part of this is that most money origami is designed to be folded from US dollar bills which are a different size to the bank notes here in the UK. Generally speaking I can't be bothered to trim paper to different shapes and sizes before I start – that's why most of the models featured on this blog tend to be made from square paper.
Recently though, I've spent quite a lot of time in New York, visiting Anisa of Two Traveling Texans and as a result I've had a lot more dollar bills to play with. I've discovered I quite like folding money as the designs on the notes can look really interesting on the finished model.  This design is by Rudolf Deeg, a German origami artist I've not come across before. He has some beautiful designs on his Flickr page. I was introduced to this model at a London Origami Mini Meeting by someone who had folded it recently and explained the folding sequence.
Making the Money Origami Frog Jump
The paper that bank notes are made from is designed to be durable which is fantastic for models like this money origami frog. There's a degree of tension in the legs, so if you squeeze them together against the body, the dollar origami frog will jump (well, slide anyway) across the table.
Folding the Money Origami Frog
This is not a hard model to fold, although it's a bit fiddly! The detailed pattern on a dollar bill can make it difficult to see where the fold lines are, which can make accurate folding a little challenging.  Nevertheless, if you've done anything box pleated before, this model should be pretty simple to make. I'm giving it a low intermediate grade.  It takes about half an hour to fold.  With the rear legs splayed out, the completed Money Origami Frog is about 6cm (around 2.5") wide, and about 4cm (approx. 1.5") long.
If you think this one is a bit difficult, you could try folding this traditional frog instead or some other easier money origami models like the money origami duck, dollar bill cross, or the money origami clothes.
Money Origami Frog Instructions
The following tutorial video, showing how to make this dollar origami frog model is available on the Cool Origami Easy Tutorial by Yakomoga YouTube Channel.  For more information about Rudolf Deeg and his origami, see his Flickr page.
Get Involved
I'd love to hear your views on this dollar bill origami frog or other money origami designs. Feel free to let me know what you think in the comments below, or you find can me on Instagram or Twitter. Check out my Pinterest boards too!
You can also subscribe to the mailing list by entering your email in the box below: