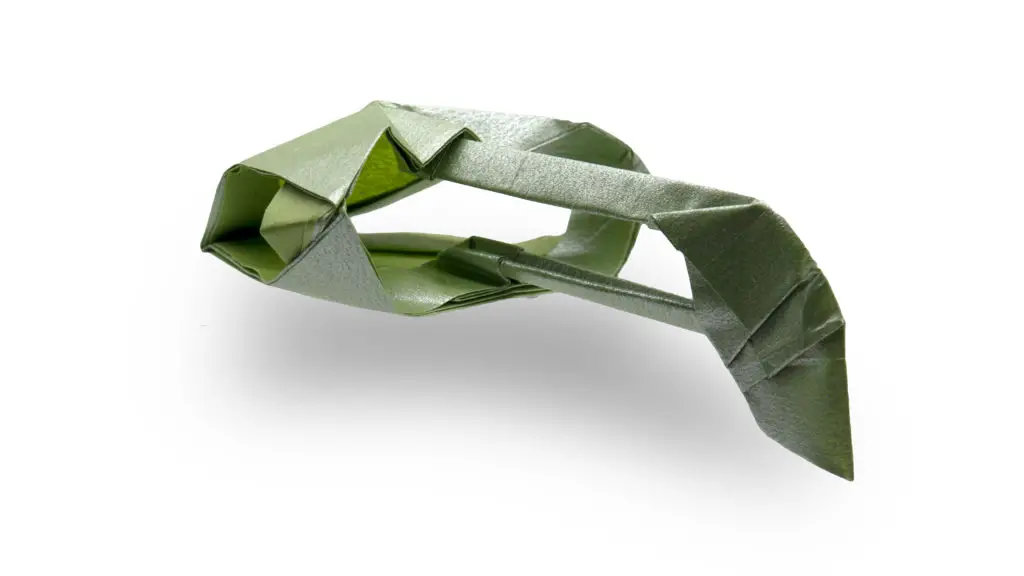 "Everyone remember where we parked"
-Captain Kirk, Star Trek IV
Ok, so what's a Romulan Warbird?
As you might have guessed from the quote at the top of the page, it's a Star Trek reference. Romulans are one of the races in the Star Trek universe, and the Warbird is the name they give to a class of ship.
There are actually various different models of Romulan Warbird in Star Trek. People who know about these things will probably be able to point out the differences between them and which one this is. I have no idea!
Note: This post contains affiliate links.  Please see disclosure for more information.
What about the Starship Enterprise then?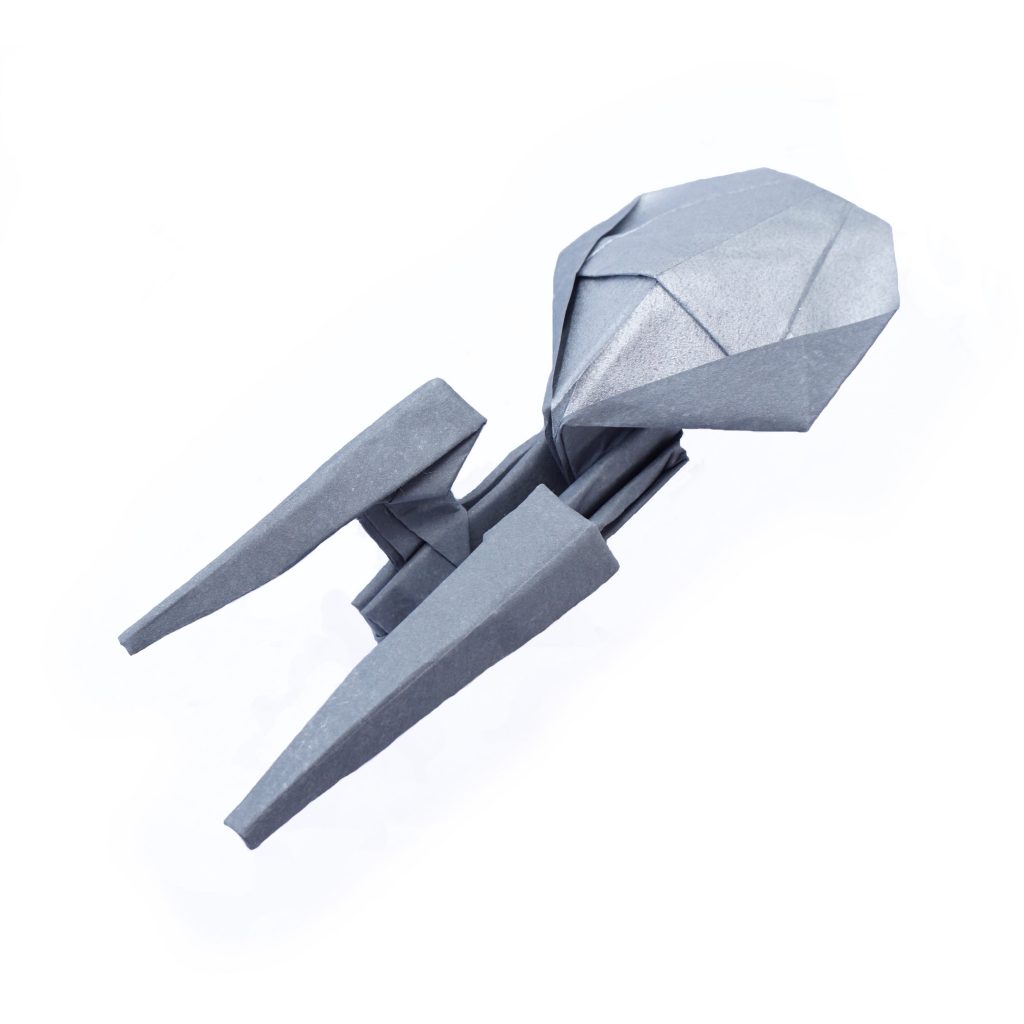 This isn't the first Star Trek model I've folded. I've also done a Starship Enterprise as well – which was equally as generic as this origami Romulan Warbird. If you're interested in folding this Romulan ship, you might also like to like to make the Enterprise as well to go with it.
Actually I'd recommend doing that one first, because it's easier than this one. There's more information on the Starship Enterprise model and the video instructions for that here.
Why you should eat chocolate before folding the Romulan Warbird
Like the model of the Starship Enterprise I mentioned earlier, this origami Romulan Warbird was designed by Larry Hart & Ash Malik. Larry said that when he was designing this one, the challenge was to get those big looping wings, and that meant folding from a rectangle, rather than a square.
The next question was what shape should the rectangle be – how long should the long sides be, and how short should the short sides be?
Larry found that the perfect shape rectangular piece of paper was a Kitkat wrapper! The four bar ones (like this), not the two bar ones. How he came to this conclusion, I have no idea. By eating a lot of chocolate I guess. So if you want to fold really small red & white origami models of a Romulan Warbird, eat a lot of Kitkats. Just don't blame me if it stuffs up your diet plans.
Folding the Romulan War Bird
This is a box-pleated design and I consider it to be a high intermediate level model.  There is nothing overly complex about the folding sequence but like any other box-pleated design, accuracy in folding is required.
It's pretty forgiving when it comes to paper choice, but I'd recommend something reasonably thin and strong. I've used metallic paper from the Origami Shop for this, but some tissue foil sandwich paper would be good as well.  Check out the options here.
I like the metallic paper as I think the finish gives it a nice finish that is, well for want of a better word – metallic! The paper I used was 30cm x 7.5cm (12in x 3in) and the final model was about 10cm long, about 10cm wide, and stood about 5cm tall. It took around half an hour to make.
Instructions for folding the origami Romulan Warbird
I made a video showing how to make this, with Larry's permission. Sadly, he passed away before I got around to it and never saw the finished video. Still, this one's for Larry.
It's on my YouTube channel and I've embedded it here for convenience.  I explain each fold step by step, but if you get stuck let me know in the comments and I will try to help.
If you prefer folding from diagrams, these are included in the June 2019 edition of the British Origami Society magazine which is free for members.
I hope you enjoy folding this origami version of a Romulan Warbird – and the Starship Enterprise that goes with it.
Get Involved
I'd love to hear your views on the paper Romulan Warbird and other Star Trek origami models.  Feel free to let me know what you think in the comments below, or you find can me on Instagram, Facebook, or Twitter. Check out my Pinterest boards too!
You can also subscribe to the mailing list by entering your email in the box below:
Disclosure:
This page contains affiliate links and I may receive some small commission for purchases made through the links on this page. This hasn't affected my decision to recommend a product – I value my personal and professional reputation and would not endorse a product or supplier I did not believe in. There is no additional cost to you for purchasing through this page.
As an Amazon Associate, I earn from qualifying purchases.  Origami Expressions is a participant in the Amazon Services LLC Associates Program, an affiliate advertising program designed to provide a means for sites to earn advertising fees by advertising and linking to amazon.com, amazon.co.uk, amazon.ca. Amazon and the Amazon logo are trademarks of Amazon.com, Inc. or its affiliates.