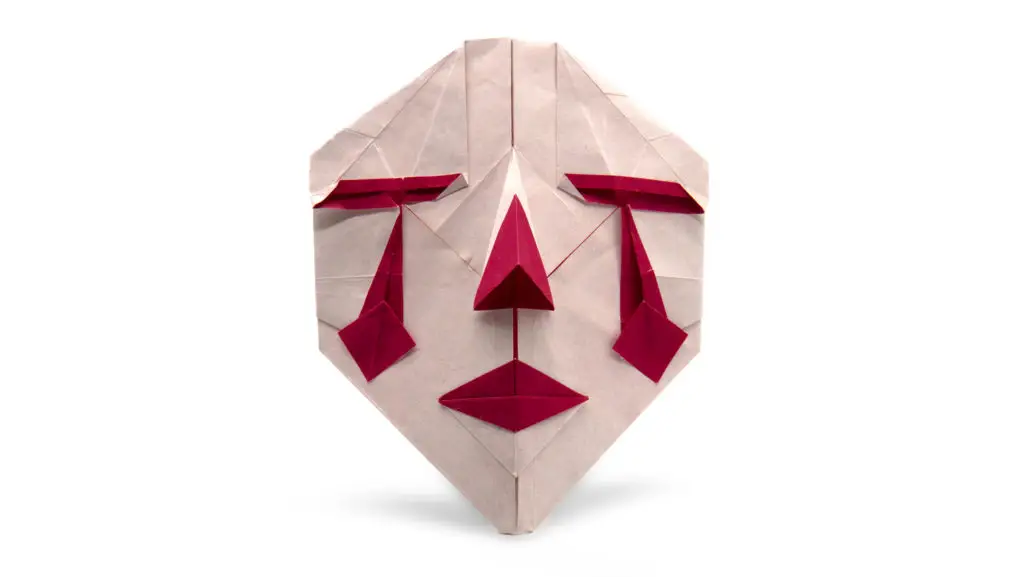 "Hey. You know what the shark said to the clown?"
"No."
"You taste funny."
― Ted Bell, Spy
Send in the Clowns!
A clown has to be one of the most recognisable figures in the world. Whether it's a circus performer, a children's entertainer, a Hollywood villain, the bad guy in a horror novel, or the face of a fast food chain, a clown is an iconic concept.
Note: This post contains affiliate links.  Please see disclosure for more information.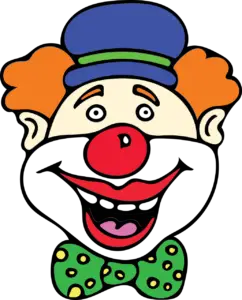 It's no surprise that origami has its own version. Actually there are several origami clowns – such as Eric Joisel's Arlecchino and Columbine models, and Quentin Trollip has an excellent origami clown, but those are all for another day.
This Origami Clown Mask was designed by Hideo Komatsu. It's actually the second version of his Clown Mask – he revised it as the original version didn't have coloured lips.
I should have featured more Komatsu models on this site before. I like the way he designs his models. There's an efficiency and logic to the folding sequences of his designs that feels smooth and natural. Surprisingly, the only one I've spoken about so far is a squirrel model, which Dennis Walker taught me at an origami convention several years ago. It was about time I put that right.
Dennis also taught me Komatsu's model of a tiger at the same convention, but we were using the wrong paper so the final result was awful! The paper was orange on both sides so the tiger had no stripes, and the legs weren't strong enough to hold the tiger's body weight. They just splayed out at the sides so it looked like a cartoon tiger than had just fallen off a cliff and went 'splat' on the ground. Let's just ignore that one and pretend I never mentioned it.
Diagrams for Hideo Komatsu's Origami Clown Mask 2
You can find the diagrams for this model in the book The Works of Hideo Komatsu, published by Origami House.  It's written in Japanese but everything is translated to English.
Before this came out it was one of the most eagerly anticipated origami books in recent years. I had spoken to several people that kept saying they wished Komatsu would get around to producing a book and were delighted when it was finally announced.
This is the first model I have folded from this book (other than the ones I was taught at the conventions), and so far the book is living up to the hugh expectations.  Stay tuned as I will be writing a full review once I have had time to fold more.

The easiest way of getting a copy of The Works of Hideo Komatsu is to order from the Origami Shop here. Alternatively, you can order direct from origamihouse.jp if you prefer. 
If you're interested in folding Hideo Komatsu's original clown mask, the diagrams for that are in Tanteidan Magazine, issue 47.  I haven't folded this one because although I do subscribe to Tanteidan, I haven't got that issue.
Copies of back issues are available from the Japan Origami Academic Society (JOAS) here if you take out a subscription.  Note that it is written in Japanese, but comes with a English insert.
Witch Mask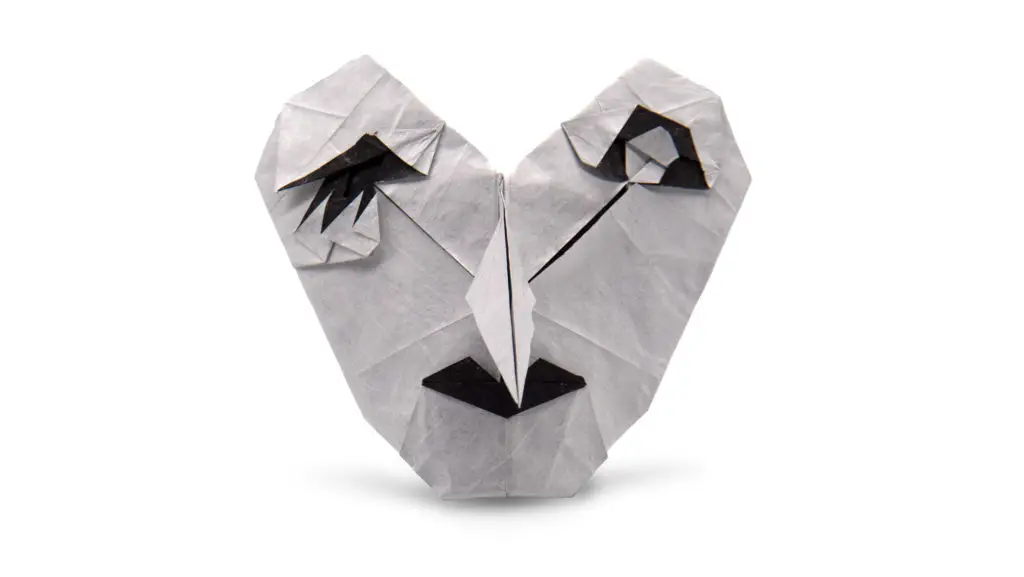 As well as the origami clown, Komatsu's book also features an origami Witch Mask. There's a picture of the Witch next to the Clown in the book, and both are featured on the back cover. Unfortunately, while the book contains a quick note that it is possible to vary the folding sequence for the Clown and create different styles of mask, there are no instructions for the Witch mask in the book!
While I appreciate he's trying to encourage individual folding development, some instructions would have been nice. Then again, maybe that's just me being lazy. I had to go to a back issue of Tanteidan Magazine to get the instructions for this one – and this time I did have it. The diagrams are in Issue 148.  This is also an intermediate level model.
Alternatively, if you want to fold a different type of witch, check out this origami witch face.
Folding the Origami Clown Mask
This is a relatively simple design to make.  Komatsu gives it two out of five stars for difficulty, so I will classify it as an intermediate level model.
There is nothing particularly complex about the folding sequence so provided you can fold accurately and you get the precreasing right, you should have no problems with this model. There are 61 steps to the folding sequence, so you should be able to finish it in half an hour or so. 
The recommended paper size is 15cm x 15cm (6in square), and coloured on one side. I made this one out of a sheet of origami paper that was 30cm square. I originally wanted something 20cm square, but I didn't have it. The final mask was about 13.5cm (5.25in) wide and just under 17cm (about 6.5in) tall.

I made the Witch mask out of a 20cm sheet of foil sandwich paper because that's all I had that was black on one side and white on the other! The final result is pretty good though. The finished mask is 11cm (just over 4.25in) wide and about 10cm (4in) tall.
The eyes for the Witch Mask are a bit more complex than those on the Clown Mask so there are twice as many steps in the Witch Mask's folding sequence. As a result it will take a bit longer to make. It's worth it though. The two together look pretty good.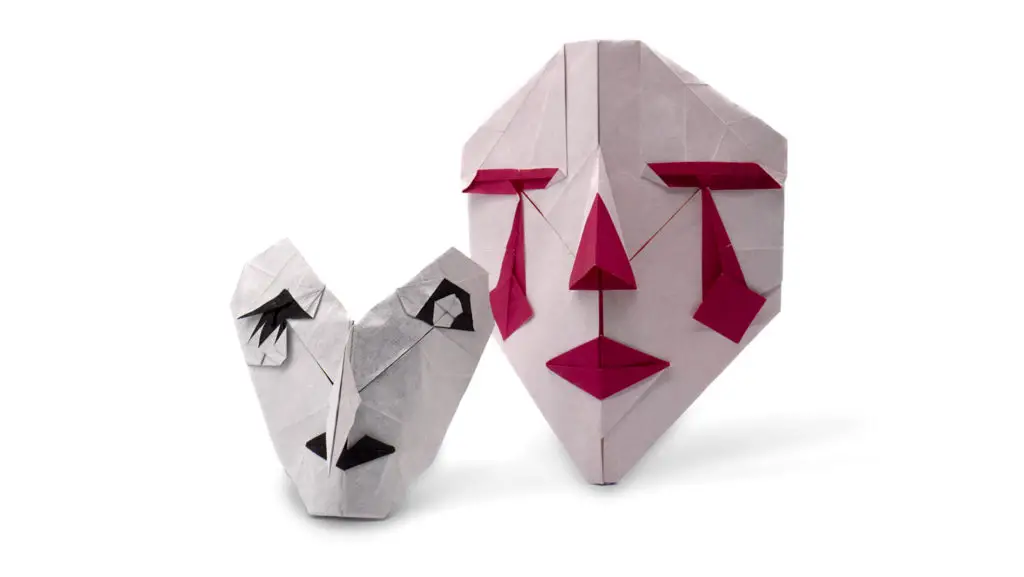 Get Involved
I'd love to hear your views on the paper clown mask and witch mask.  Feel free to let me know what you think in the comments below, or you find can me on Instagram, Facebook, or Twitter. Check out my Pinterest boards too!
You can also subscribe to the mailing list by entering your email in the box below:
Disclosure:
This page contains affiliate links and I may receive some small commission for purchases made through the links on this page. This hasn't affected my decision to recommend a product – I value my personal and professional reputation and would not endorse a product or supplier I did not believe in. There is no additional cost to you for purchasing through this page.
As an Amazon Associate, I earn from qualifying purchases.  Origami Expressions is a participant in the Amazon Services LLC Associates Program, an affiliate advertising program designed to provide a means for sites to earn advertising fees by advertising and linking to amazon.com, amazon.co.uk, amazon.ca. Amazon and the Amazon logo are trademarks of Amazon.com, Inc. or its affiliates.