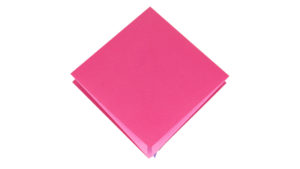 Origami bases are often the starting point of models and projects.  The Preliminary Fold, or origami Square Base is one of a group of traditional bases that are used in both traditional and more modern origami design.  A few more folds and it becomes the bird base. 
TIP: Although it is very simple to fold, make sure you get the creases the right way round, otherwise you will end up with the Square Base's close relative – the Waterbomb Base, which uses the same creases, just reversed.
How to Fold a Preliminary Base
| Step | Diagram |
| --- | --- |
| 1. Start with square of paper, coloured side up | |
| 2. Fold the paper in half diagonally and unfold | |
| 3. Fold the other diagonal and unfold | |
| 4. Turn the paper over | |
| 5. Fold the paper in half, edge to edge and unfold | |
| 6. Fold the other edge to edge and unfold | |
| 7. Turn the paper over | |
| 8. Bring the four corners together. You are not looking to create any new folds here. You are collapsing the paper on the folds you have already made | |
| 9. Squash the base flat. You have completed the Preliminary Fold | |
Get Involved
I'd love to hear your views on the preliminary base.  Have you folded any models that use it? Feel free to let me know what you think in the comments below, or you find can me on Instagram or Twitter. Check out my Pinterest boards too!
You can also subscribe to the mailing list by entering your email in the box below: