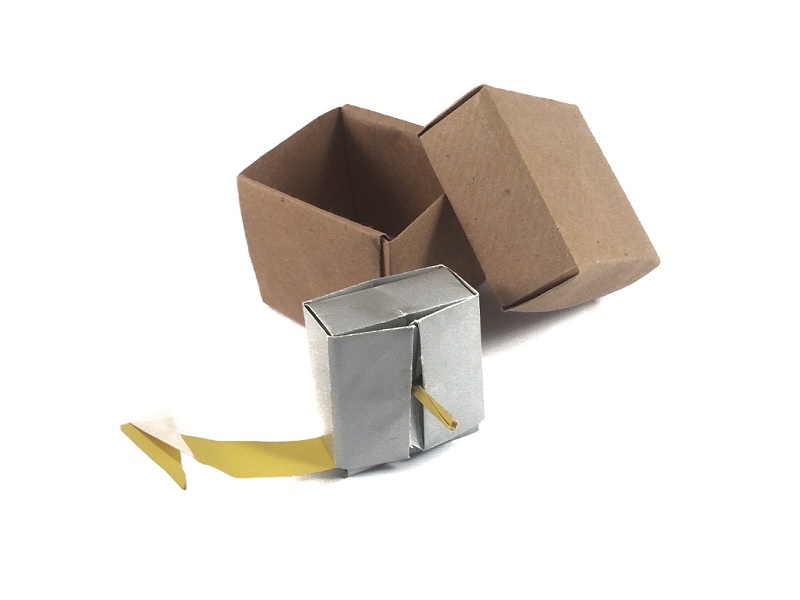 Giles Towning's Retractable Tape Measure is one of those origami designs that fits into the category of 'quirky and fun'. It's fully working – the tape can be extended and wound back in again by turning the handle. If you mark out a scale in either centimetres or inches on the tape you could successfully use it for measuring – although this does effectively mean using a tape measure in order to make a tape measure!
Origami Tape Measure Diagrams
Diagrams for this origami tape measure model can be found in the Towning's booklet Origami Under Construction, sold by British Origami Society Supplies. This version is made from three pieces of paper, however, he also has diagrammed a version using two pieces in his other booklet – the similarly titled Origami Construction, also available from the BOS.
Origami Under Construction contains a variety of models, mainly (but not completely) on the construction theme, such as a length of Road, a Spanner, an Adjustable Wrench, and a House Brick! Bizarrely it also includes diagrams for a Dalek (one of the monsters from the iconic BBC series Doctor Who), although I have no idea what this has to do with construction!
Like all the models in both these booklets, this Retractable Tape Measure is pretty simple to fold. I was at a British Origami Society Convention a few years ago when Giles Towning taught how this design, and that is what is pictured here (for an insight into what goes on at one of these events, check out my review of the 2015 Autumn Convention).
You could use kami to fold this model, but I would recommend something slightly thicker for the actual case so that the final outcome has the strength and rigidity needed in an action model. In the UK, the classic retractable tape measure that most people are familiar with is made by Stanley. It has a chrome-plated steel case and a steel tape, painted yellow.  The colours of paper Towning provided for us to use reflect this, and I would recommend following his advice to make the model as realistic as possible. This three-piece version uses two rectangles of paper for the case, and one for the tape and handle.  Towning recommends the following sizes:
Case Part A:  6cm x 15cm
Case Part B:  6cm x 12.2cm
Tape:  1.2cm x 3m
It is not a difficult model to fold and takes about 45 minutes.
I'll leave the final comment to the designer, Giles Towning.  As it says on the back of Origami Under Construction:
"Once you have mastered origami, you will no longer walk the streets in fear of leaflet distributors, as it turns them into automatic vending machines for your artistry."
Paper: 2 rectangles of grey or silver paper for the case, something thicker than kami.  A long strip of kami or something similar for the tape
Difficulty: simple
Time to fold: 45 minutes
Get Involved
I'd love to hear your views on this origami tape measure.  Feel free to let me know what you think in the comments below, or you find can me on Instagram or Twitter. Check out my Pinterest boards too!
You can also subscribe to the mailing list by entering your email in the box below: