What happens when you gather a whole load of people who are nuts about origami in one place for two days with stacks of paper? Suddenly there's enough little paper animals to fill Noah's Ark, a whole garden of flowers, and loads of small paper modules just waiting to be made into a multi-coloured dodeca-icoso-tetra-hedra-lo-don. In short: A Convention!
The British Origami Society organises two a year, as well as numerous 'mini-meetings' up and down the country.  The 2015 Autumn Convention was held at Essex Business School, University of Essex in Colchester, Friday 4 – Sunday 6 September 2015. I could only attend for the final day due to other commitments, but as this was my first convention for about 9 years, it gave me a gentle way of easing myself back into the Convention setup.
The Convention programme followed the tried and tested formula for BOS Autumn Conventions: four folding sessions a day with slots aimed at the beginner, intermediate and advanced folder, plus an additional workstream run by the Convention's Special Guest(s). There were two guests at this convention: Carmen Sprung and Sebastien Limet. As usual, there was a model Exhibition, the BOS Library was open, as was BOS Supplies – selling a range of books, BOS publications, and paper. The Society AGM was held on the Saturday, and the Exhibition Review on Sunday.
The venue was good. It was comfortable, well-spaced and well laid out. I don't know what the accommodation was like as I didn't stay, but if it was as good as the food that was served, I imagine those that stayed over had a comfortable night.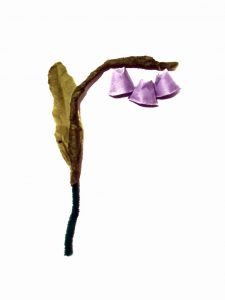 Numbers seemed slightly down on previous conventions I've attended. I don't know if this was because I was only there on the Sunday, and whether there were more people on Saturday, or just my memory playing tricks on me as it's been so long since my last Convention. I can imagine the location of the Convention could possibly have affected the number of attendees: The Society moves its conventions around the country to share the travel burden. Members of the BOS are spread all over the country, and East Anglia is sometimes felt to be a bit too far to travel to. There were more than enough to make the convention successful, give it some atmosphere and make the folding sessions good fun.
The first part of the day was the Welcome and Exhibition Review. This is always one of my favourite parts of a convention, when you get to see what other people have been folding and the exhibitors say a few words about them. There's always something in the Exhibition that reminds you about something you've been meaning to fold, or inspires you to try something new. There was an undercurrent of crackling and rustling in the background during this session which made me smile to myself. I'd forgotten that sound. Origami people are all the same – just can't put that paper down…
It was interesting to her from the special guests. There is a stark contrast between their approaches to origami design. Carmen Sprung exhibited a number of modular models (mainly stars), with variations on strong geometric patterns. Her designs are very striking. Sebastien Limet's designs are more artistic. They show an influence of the fantasy genre, and a playful, almost lyrical approach to origami design. I hope he gets around to producing a book soon because I want to try to fold some of his creations!
After the Exhibition Review came the folding sessions. The first model I folded was some bluebells, listed under 'simple'. The model was designed and taught by Emily Monaghen. This was a change to the advertised session, which was flags. Initially I thought this was a bit of a shame as I was looking forward to doing flags, but the instructions for these were included in the Convention Pack so I'm looking forward to trying these at some point. I enjoyed the session folding bluebells.
The bluebells are heavily based on the traditional Cup model, with only one additional fold. I'm not sure how far they actually constitute 'origami', as in the course of making the model we used paper, a pipe-cleaner, papier mache, glue, scissors, and a needle and thread! Normally I'm a bit of a purist when it comes to origami techniques and left to my own devices this would probably be enough for me to put me off the model, but I'm glad I went to the class as it is a very pretty design. We all had a laugh making the bluebells, we got glue all over the place and stained our fingers green from the tissue paper. I might try making these with my children. They will love it. I am unlikely to abandon my approach to origami on the back of this model though.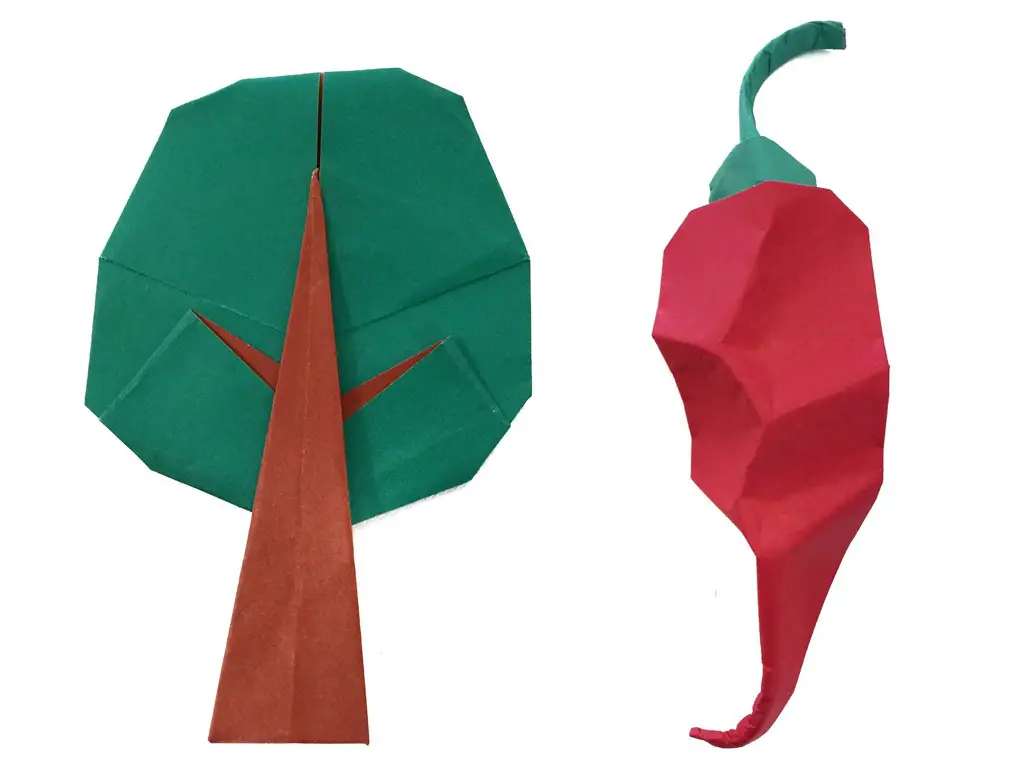 In the second session I folded a Chili Pepper, one of Leyla Torres's designs, and a tree by Nguyen Hung Cuong, both taught by Erica Tomson. Instructions for both these models are available on Leyla Torres's website. Both of these were fun to make. The chili peppers make good earrings (as modelled by Erica) so I can see someone in my family getting a pair for Christmas!
The third model was a Crane, designed by James Minora Sakoda and taught by Agnes Mackonyte. There is no shortage of crane models in the origami canon, but this one is particularly appealing, with a graceful curved neck and thin legs. I don't think the paper chosen does this model justice, so I will be remaking this model later with some thinner paper. The pearlescent effect was nice, but it was a bit prone to paper creep. Diaz recommends folding his Crane out of tissue paper treated with PVA and that might work for this one as well.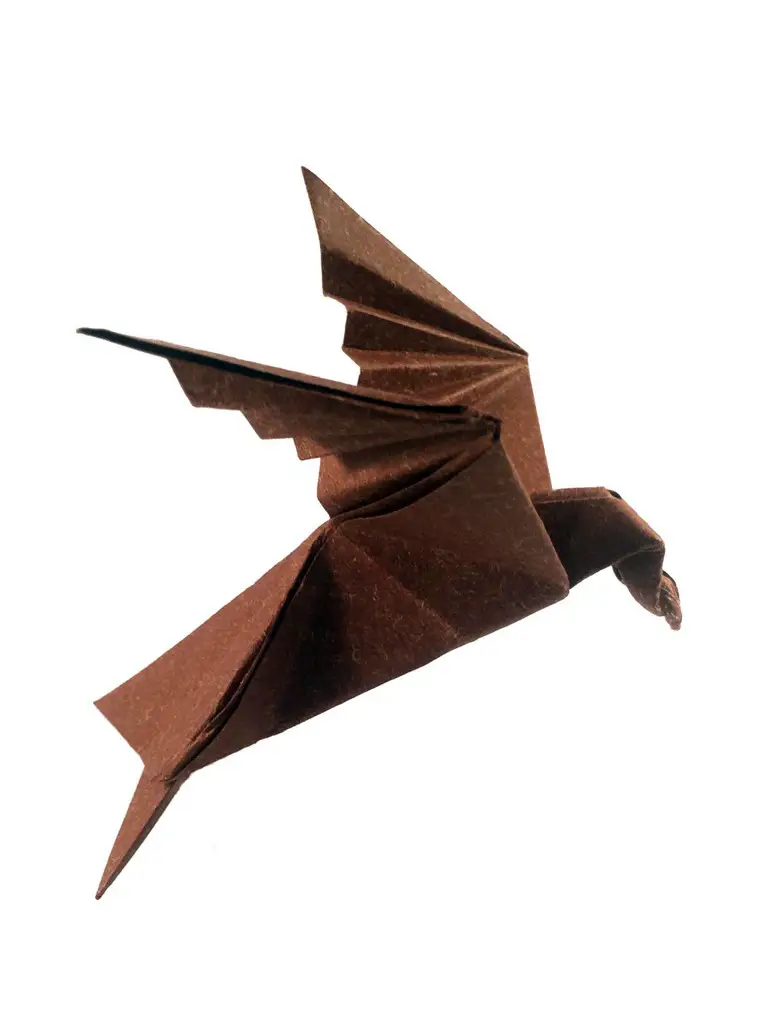 In the final session, Tony O'Hare taught two of his own designs – a Red Kite and a Flapping Parrot. A Red Kite is a bird of prey commonly found in Wales with a distinctive forked tail. Tony acknowledged that the paper he'd chosen was the perfect colour, but in retrospect might have been a bit thick. Nevertheless, I was pleased with the result and the pleats in the wings give a real sense of drama to this model. I will be remaking this one out of some thinner paper as well. The flapping parrot was exactly what you'd expect really. It looks like a parrot and flaps its wings when the tail is pulled. I can see my kids enjoying this one as well.
I had a really enjoyable convention. My only disappointments were that I didn't get to any of the folding sessions run by the special guests, but that was partly because I was only there for one day. The Guests have provided diagrams for the models they taught at the Convention so I will give these a go in my own time. It may have been my first convention for several years, but it felt like I'd hardly been away. I met up with a few people I'd not seen since my last convention trip and enjoyed folding some interesting models that left alone, I probably wouldn't have picked.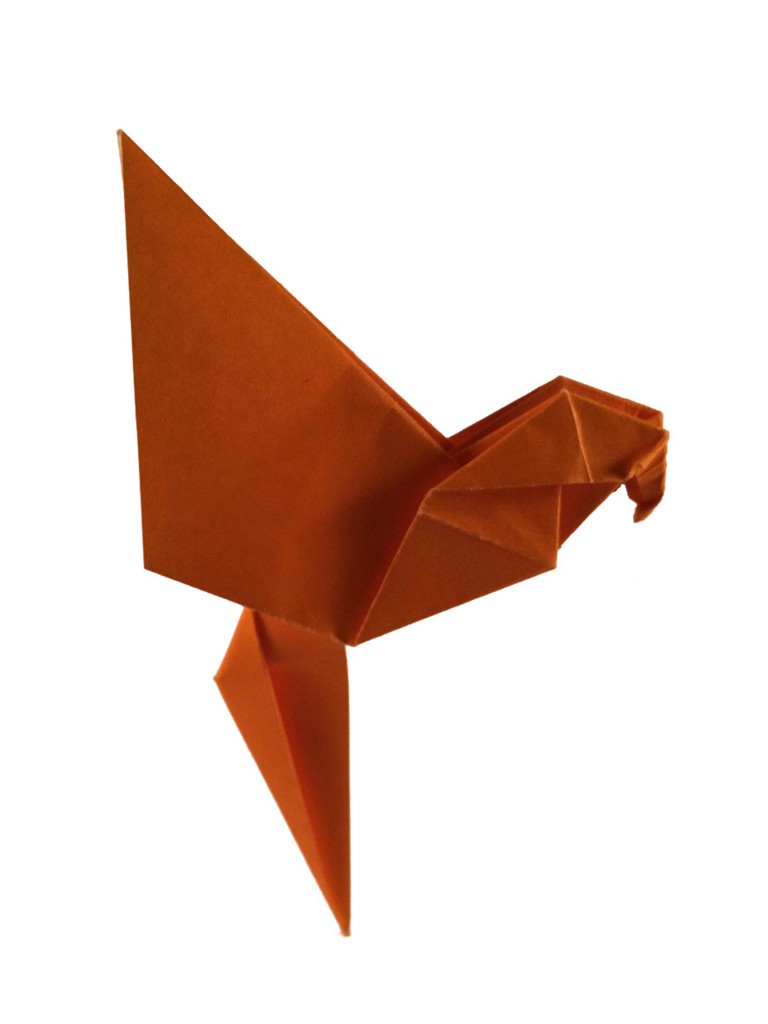 Thank-you to the British Origami Society for the 2015 Autumn Convention and to all the volunteers who put their time and effort into making the event a success. It takes a lot of effort by volunteers to organise and run the event, the Convention Pack, the folding sessions, the supplies shop, library and exhibition. See you at the one in the Spring!
More information on the British Origami Society, its activities and how to get involved are available on their website.
You might also like to read my review of the 2017 50th Anniversary BOS Convention or the 2020 BOS Virtual Convention.