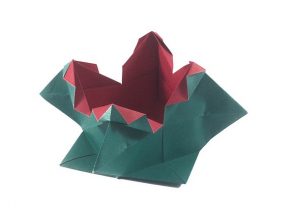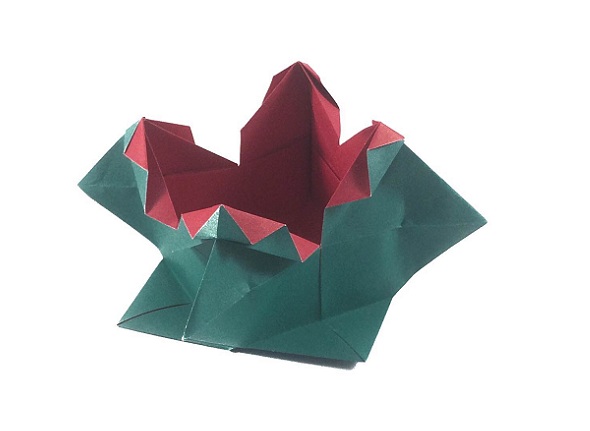 "Ma Mama always said, life was like a box of chocolates. You never know what you're gonna get."
-Forrest Gump
For Day 15 of World Origami Days 2015, I have made a traditional fancy origami box. This is a very simple traditional model, and another one that is good to make with children.  It takes about five minutes to make, but actually looks like it takes a lot longer!
Note: This post contains affiliate links.  Please see disclosure for more information.
Origami Boxes
One of the widest fields of origami design is boxes.  There are hundreds of them!
This is partly due to the work of Tomoko Fuse, who has written numerous books on origami boxes. (You might enjoy this one.) Her designs tend to be modular (using more than one piece of paper), and decorated with strong geometric patterns. For an example of a Tomoko fuse box, see my post – Solve those present-wrapping blues with an origami box.
I like reviving older origami models that have fallen out of favour, so although there is a wide variety of origami boxes out there, this easy Decorative Box doesn't seem to get the recognition it deserves.
It's a traditional design that goes by several names.  I've seen it called several things, including 'Traditional Box', 'Decorative Box, 'Fancy Box', or even 'Spanish Box'! Whatever it's called, it's quite a striking little design and would be ideal for things like loose change, or rings.
Folding the Decorative Origami Box
Like all traditional designs, this is very simple to fold.  It's basically a blintz base folded on both sides of the paper and opened up. It is suitable for beginners and would make a good activity for children.
Any square piece of paper will do, but origami paper that is different colours on each side is recommended. (Order more origami paper here.) A 15cm x 15cm (6in x 6in) sheet will produce a Decorative Box that is 8.5cm x 8.5cm (3.5in x 3.5in) and 4cm (1.5in) tall.
Intructions for Folding the Fancy Origami Box
I created this video to show how to fold a fancy origami box step by step.   You can also follow the diagrams below.

Diagrams for the Fancy Origami Box
| Step | Diagram |
| --- | --- |
| 1. Start with a Blintz Base | |
| 2. Turn the paper over | |
| 3. Fold all corners into the centre to blintz again | |
| 4. Like this | |
| 5. Fold the corners to the outside edge | |
| 6. Turn over | |
| 7. Fold the corners to the outside edge on this side and unfold | |
| 8. Pleat the triangles up to the fold you just made | |
| 9. Like this | |
| 10. Open up the centre at the same time as squeezing each corner in turn | |
| 11. You have completed the Fancy Box | |
Get Involved
I'd love to hear your views on this traditional origami box.  Feel free to let me know what you think in the comments below, or you find can me on Instagram or Twitter. Check out my Pinterest boards too!
You can also subscribe to the mailing list by entering your email in the box below:
Disclosure
This page contains affiliate links and I may receive some small commission for purchases made through the links on this page. This hasn't affected my decision to recommend a product – I value my personal and professional reputation and would not endorse a product or supplier I did not believe in. There is no additional cost to you for purchasing through this page.
As an Amazon Associate, I earn from qualifying purchases.  Origami Expressions is a participant in the Amazon Services LLC Associates Program, an affiliate advertising program designed to provide a means for sites to earn advertising fees by advertising and linking to amazon.com, amazon.co.uk, amazon.ca. Amazon and the Amazon logo are trademarks of Amazon.com, Inc. or its affiliates.