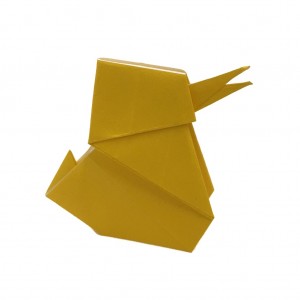 Having planned to post something completely different today, I woke up this morning and realised that it is Good Friday today.  I thought I should really share some Easter origami ideas! With that in mind, today's model is the Origami Easter Chick, designed by Kuniko Kasahara.
This is an easy model that everyone should be able to make by following the video on the link below. The origami baby chick might be a fun thing to make with children over the Easter weekend – and it will take their minds off all that chocolate.
How to make an Origami Chick
This Easter chick paper model is derived from the Fish Base, with the two short points forming the tail, and the two longer points become the head and the beak by pleating once on the outside to make the head, and once on the inside to create the beak. It takes about five minutes to make from start to finish, perfect Easter origami for beginners.
Any paper will do, although yellow would probably work best, and for the best results, it should be the same colour on both sides. I've used ordinary 15cm x 15cm (6in x 6in) origami paper, or kami, white on one side and the white shows through on the head.
Origami Easter Chick Diagrams
I folded this model using the video tutorial on Mica's Paper Crafts's YouTube Channel. The origami chick instructions are very clear and simple to follow. Give this easy Easter origami project a go – maybe not with chocolately fingers though!
Other Easter Origami Ideas
If you are looking for other Easter origami projects, I have featured some other models on my blog that can work.  The Origami Rabbit by Jun Maekawa can make a good Easter Bunny.  If you are looking for more Easter origami for kids, have them try making the traditional origami basket, which can also work as an origami Easter basket.  You can also find more traditional origami for kids here.
Happy Easter everyone!
Get Involved
I'd love to hear your views on this origami chick or other Easter paper crafts. Feel free to let me know what you think in the comments below, or you find can me on Instagram or Twitter. Check out my Pinterest boards too!
You can also subscribe to the mailing list by entering your email in the box below: