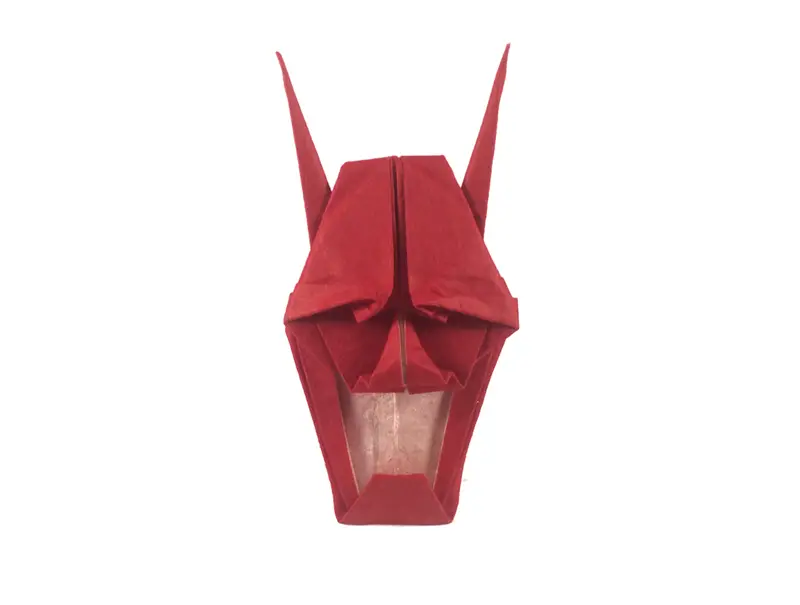 This model is called a Female Demon, although for the life of me I can't see what's supposed to be feminine about it!
Note: This post contains affiliate links.  See Disclosure below for more information.
It's quite a simple model, folded from a Bird Base.  You can use just about any sort of paper to fold this because it's so simple, although I'd recommend a paper that is coloured differently on each side to make sure the mouth stands out well.  I tend not to use Kami for designs which are supposed to represent a living thing because I think this paper can look quite lifeless.  For this model, I've stuck two different coloured sheets of lokta together which gives it the organic feel I was looking for.  You can fold this model in five to ten minutes.
The diagrams are available in the book Origami by Toyoaki Kawai, so I assume they created this design as well.  The book is out of print, but there are a few copies on Amazon for sale for very little money.  
The British Origami Society also has a copy available for loan to society members.
Difficulty: Simple
Paper: Any, two coloured is recommended
Time to fold: ten minutes
Get Involved
I'd love to hear your views on this. Feel free to let me know what you think in the comments below, or you find can me on Instagram or Twitter. Check out my Pinterest boards too!
You can also subscribe to the mailing list by entering your email in the box below:
Disclosure: This post contains affiliate links. This means we will receive a small commission for some purchases made using links in our blog with no additional cost to you. Please be assured we would not promote any product unless we believe that our readers will also benefit. The commission does not influence the editorial content of this site.
Origami Expressions is a participant in the Amazon Services LLC Associates Program, an affiliate advertising program designed to provide a means for sites to earn advertising fees by advertising and linking to amazon.com, amazon.co.uk, amazon.ca. Amazon and the Amazon logo are trademarks of Amazon.com, Inc. or its affiliates.