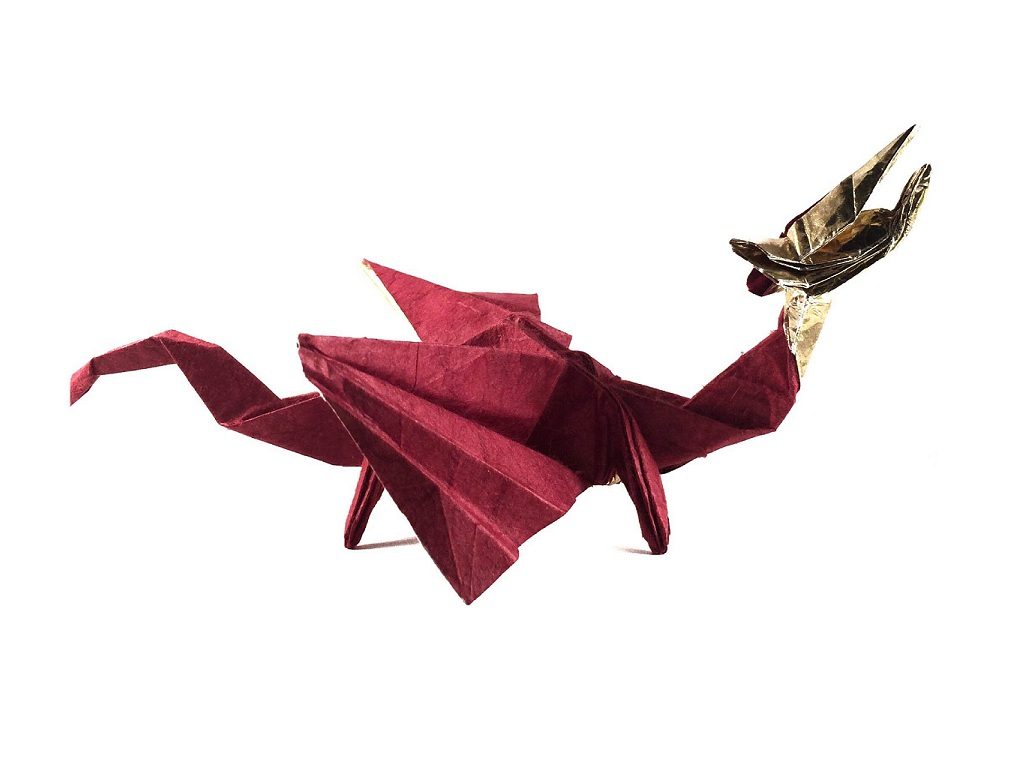 Oh everybody loves an origami dragon! There are some things that always look good in origami models, such as pleated wings, and horns.  This makes the dragon an ideal subject. Many different origami model dragons have been created, varying wildly in complexity and style, some with four legs, some with two, some with wings, some without. Did you know the collective noun for a group of dragons is a 'blaze'? I quite like that.
Note: This post contains affiliate links.  See Disclosure below for more information.
The KNL Dragon was designed by Robert Lang, who took his inspiration from two earlier designs: the Dragon designed by Robert Neale, and the Dragon's Head designed by Kuniko Kasahara. This is where Lang chose the name from – the initials of the designers that contributed to the final model.
How to Fold the KNL Dragon
The KNL Dragon diagrams can be found in Lang's excellent book, Origami Design Secrets Second Edition, which explains how to design origami models systematically, using a number of different techniques.  I will be reviewing this book in a forthcoming post.
This model is included as an example of the 'grafting' technique, whereby extra paper is effectively added to, or grafted onto a base to create additional points that can be used for adding detail.  In the KNL dragon, the main body of the dragon is derived from a bird base, but by folding the base from only part of a square, extra paper is available on two sides of the square to create the head and wings, as the picture shows.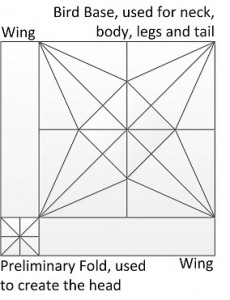 The KNL dragon instructions don't have the complete crease pattern, just enough to show the grafting of a small Preliminary Fold onto one of the points of the Bird Base.
The KNL dragon is an intermediate level model, which makes use of the Open Sink fold in a couple of places.  It takes about an hour to fold.  The model needs quite thin paper as the layers get quite thick by the end.  Some people fold it successfully out of standard Kami paper, but I've never managed to get an effect that I was happy with using this paper.  Tissue foil works well, or something equally thin.  The paper size needs to be at least 20cm x 20cm (approx. 8in x x8in) – preferably larger.
Any colour paper will do, although I personally think it looks good folded from red, green, or silver. Both sides of the paper will be visible in the final model. This one is folded from 30cm x 30cm (approx. 12in x 12in) red lokta which gives the model a more organic feel than plain paper, and backed with gold tissue paper. I think this gives it a bit more drama with a golden head and neck, and golden backs to the wings.
Difficulty: Intermediate
Paper: Something thin, like tissue foil.  At least 20cm x 20cm
Time to fold: Just over an hour
Get Involved
I'd love to hear your views on this KNL Dragon.  You may also like to check out a traditional origami dragon, baby origami dragon, or other origami dragon models that I have covered on the blog.  Feel free to let me know what you think in the comments below, or you find can me on Instagram or Twitter. Check out my Pinterest boards too!
You can also subscribe to the mailing list by entering your email in the box below:
Disclosure: This post contains affiliate links. This means we will receive a small commission for some purchases made using links in our blog with no additional cost to you. Please be assured we would not promote any product unless we believe that our readers will also benefit. The commission does not influence the editorial content of this site.
Origami Expressions is a participant in the Amazon Services LLC Associates Program, an affiliate advertising program designed to provide a means for sites to earn advertising fees by advertising and linking to amazon.com, amazon.co.uk, amazon.ca. Amazon and the Amazon logo are trademarks of Amazon.com, Inc. or its affiliates.