The British Origami Society Convention
Every six months, paper folders from all over the country, and some from around the world congregate together somewhere for the biannual jamboree that is the BOS Origami Convention! This September's convention was a special one as it was a celebration of the 50th anniversary of the British Origami Society: 1967 – 2017.
Note: This post contains affiliate links.  See Disclosure below for more information.
Unlike most origami societies, the BOS has two conventions per year, instead of just one. That means that not only is the British Origami Society the first organised society to get to the ripe old age of 50, it's also the first to get to 100 conventions. With that in mind, the organisers wanted this anniversary convention to be a bit bigger, and a chance for the BOS to celebrate its birthday. The 2017 BOS Convention, Autumn 2017 took place at the Crowne Plaza Hotel, Stratford upon Avon from 1st to 3rd September – three days instead of the usual two.
A lucky break!
I didn't think I was going to be able to go at first – I thought was going to be out of the country with Anisa from TwoTravelingTexans.  When our plans changed, I tried to register but the origami convention was sold out.  I put my name down on the reserve list and kept my fingers crossed.  I was number three on the list.  This was the 50th anniversary convention and I really wanted to be there. Luckily for me, somebody dropped out and I jumped at the chance to go.
Anticipation and An Opportunity Missed
There is usually a special guest (sometimes two) at the BOS Origami Convention, but this time there were four – some of the biggest names in origami: Robert Lang, Tomoko Fuse, Paul Jackson, and Giang Dinh. I was particularly excited to see Giang Dinh was going to be there as he produces some of the most beautiful, expressive and artistic models I've ever seen. I hoped I'd be able to go to a class taught by him.
When I got to the origami convention, I discovered that the BOS were trying out a new system for signing up to classes. They had sent out a survey beforehand asking people for their preferences and I hadn't seen it. Giang Dinh was going to be teaching his Dreaming Cat – a model I really like – and all of the spaces in the class were already gone! That will teach me to read my emails properly! Oh well, I'd see if someone could teach me it later. I found out afterwards that the model is in the convention pack, so I can give it a go. In retrospect, this was a good way of allocating classes and I hope they continue with it in future. I'll fill in the survey next time!
Origami Convention Highlights
As usual, there was a convention pack, including a variety of papers so you don't have to bring anything with you.  People do of course, but that's personal choice. This year the convention pack included a self-asssembly plastic box to put folded models in, which I thought was a great idea.
I didn't actually fold that much on Friday. Robert Lang's talk on the practical applications of origami was as fascinating as ever. I spent most of the day chatting and catching up with friends! I did fold Neal Elias's elephant, taught by Dave Venables. As you can see, it's got a bit battered on the trip home, but I shall make another one at some point.
I also made a wobbly Elvis Head, taught by the designer – Giles Towning.  This is a fun model and Giles has given me permission to make a video tutorial for it, so watch out for this on the blog soon. I never produce a tutorial video for a model without permission from the creator, so thanks Giles! For more information on why this important, see my post on origami copyright.
Saturday's folding highlight was Hideo Komatsu's Rabbit, as taught by Dennis Walker. This is a model I've folded before but I like Hideo Komatsu's designs and Dennis is a good teacher. I did try and make a bust of Shakespeare in Max Hulme's class, but it didn't come out very well!  It's a great model, but I need a lot more practice before I'm prepared to put up a photo of it.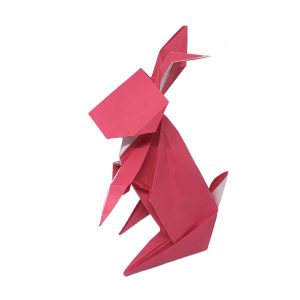 During the day, a few members of the BOS that are active on Twitter got together to put names to faces. It was nice to meet everyone – including Clarissa, who was at her first origami convention.  She picked a good one to start with! The BOS Twitterati are shown in the picture below. Thanks Nick for organising this.
I also had time to visit the library and the supplies shop on Saturday.  I remember walking into Supplies with the intent to only buy paper to replenish some of the stuff I've run out of.  Just paper. Nothing else. I bought four books! These are available from BOS Supplies, or the British Origami Society Amazon shop: The Origami of Neal Elias compiled by Dave Venables, Origami for Christmas by Paul Hanson, Origami Construction IV by Giles Towning, and Max Hulme's Origami Train Set.
Saturday night was the Gala Dinner.  It was good to hear some of the history of the BOS from the people who were there at the beginning, and others that were influential along the way. The entertainment was as mad as could be expected from this crowd! A selection of musical numbers and, because we were in Stratford-upon-Avon, a one-act Shakespeare play, written by Tony O'Hare and starring Paul Jackson as Will I. Am – a famous playwright and parchment folder. As usual, chatting, folding and drinking carried on long after the organised entertainment had finished and the bar was open.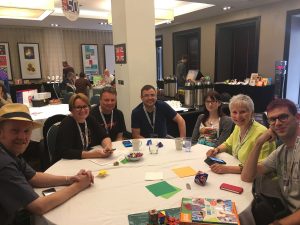 To me, one of the highlights of any convention is the model Exhibition Review on Sunday morning. Usually this is an opportunity for people who have contributed something to the exhibition to say a few words. This model collection at was one of the strongest I've seen at any origami convention.  It was one of the largest, and the standard was incredibly high. Because it was so huge, the exhibition organisers picked their top ten models to highlight.  How they picked ten, I have no idea! There were beautiful tessellations, amazing masks, and interesting displays from all the special guests. Giang Dinh's were a highlight for me.
Giang Dinh taught another class on Sunday, so I got to go to that one, instead of the class I missed the previous day. I was glad I went. We had a go at another cat design instead of the Dreaming Cat and a Penguin. He specialises in wet folding (folding with the paper slightly damp to get more organic curves), so although we were working with dry paper, I could see how the model is supposed to look. I will give these models another go at some point.

I rounded off my Autumn 2017 BOS Origami Convention with another Neal Elias model – a peacock taught by David King.  We ended up rushing a bit because we were running out of time and I was helping out some other people in the class. As a result my peacock's tail isn't quite finished, and the head is wrong. The Origami of Neal Elias has the instructions in it though, so I can give this model another go. (Check out how my Origami Peacocks turned out on my second try.)
Final Thoughts
As usual, the end of the convention came far too soon – even for a three day one! Despite the full days and very late nights over a beer or three, there's always someone you didn't get to meet up with, or something you didn't get to fold. This was a great convention. I caught up with friends, made new ones, folded some interesting models and had a laugh along the way.
My thanks to all the organisers and the volunteers that put together a great convention.  This was an excellent way to celebrate 50 years of the British Origami Society. See you at the next BOS Origami Convention in six months!
My thanks to all the organisers and the volunteers that put together a great convention.  This was an excellent way to celebrate 50 years of the British Origami Society. See you at the next BOS Origami Convention in six months!
Want to come along to the next one?
You can find details of how you can get involved in the next convention on the British Origami Society website.  You don't have to be a member, but if you're interested in finding out more about membership, you can do that here. There are a range of membership packages available.
Also check out my review of the Origami World Marathon, hopefully there will be more similar events soon!
Get Involved
You find can me on Instagram or Twitter. Check out my Pinterest boards too!
You can also subscribe to the mailing list by entering your email in the box below:
Disclosure: This post contains affiliate links. This means we will receive a small commission for some purchases made using links in our blog with no additional cost to you. Please be assured we would not promote any product unless we believe that our readers will also benefit. The commission does not influence the editorial content of this site.
As an Amazon Associate, I earn from qualifying purchases.  Origami Expressions is a participant in the Amazon Services LLC Associates Program, an affiliate advertising program designed to provide a means for sites to earn advertising fees by advertising and linking to amazon.com, amazon.co.uk, amazon.ca. Amazon and the Amazon logo are trademarks of Amazon.com, Inc. or its affiliates.