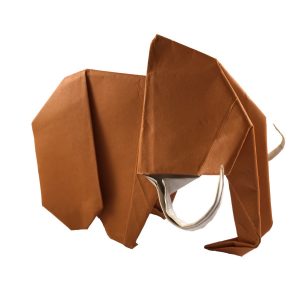 Answer: A fancy car with shaggy upholstery and a big trunk!
Why the Origami Mammoth?
When I was at the OrigamiUSA convention, I couldn't resist buying a couple of books. I can never have too many origami books and there were plenty to choose from.  I bought a copy of The Beauty of Origami by Mokoto Yamaguchi, as it has an interesting and varied selection of models from several different designers. I like my origami books to look good. Origami is a visual medium, so I don't think it's unreasonable for a book of origami designs to be well presented, made with good quality paper, with attractive diagrams, and pictures that show the models off at their best. The Beauty of Origami is a very attractive book.
Although a lot of the designs in it are very complex, I decided to ease myself in gently.  Instead of leaping ahead to some of the spectacular models later in the book, I decided to fold one of the first designs, Makoto Yamaguchi's Origami Mammoth. I like the strong, uncluttered lines of this model.  It's a very simple shape that distills the basics of what makes a Mammoth into the design and still manages to feel vaguely whimsical and fun. Somehow it looks like it's smiling.
Folding the Origami Mammoth
This is a low intermediate design, so if you can fold something simple and fancy a step up, this is a good model to choose. Yamaguchi Makoto gives it two out of five stars for difficulty.  There's nothing terribly complicated about this Mammoth – the most difficult step is probably folding the tusks. This is done using a rabbit-ear fold, which is a fairly standard origami technique.
I've made the model in the picture above out of a sheet of kami, or origami paper with sides measuring 24cm x 24cm (9.5in x 9.5in). This produced a final model that is 8cm (about 3in) tall, and 11 cm (approx. 4.25in) long from tusk to tail. You can use any paper that is brown on one side and white on the other (for the tusks), but if you have got something with a bit of texture to it, then so much the better. It is supposed to be a 'woolly' Mammoth after all.
Origami Mammoth Instructions
The origami mammoth diagrams for this model are available in Yamaguchi Makoto's book The Beauty of Origami, available from origami-shop.com.
Get Involved
I'd love to hear your views on this origami mammoth.  Feel free to let me know what you think in the comments below, or you find can me on Instagram or Twitter. Check out my Pinterest boards too!
You can also subscribe to the mailing list by entering your email in the box below: