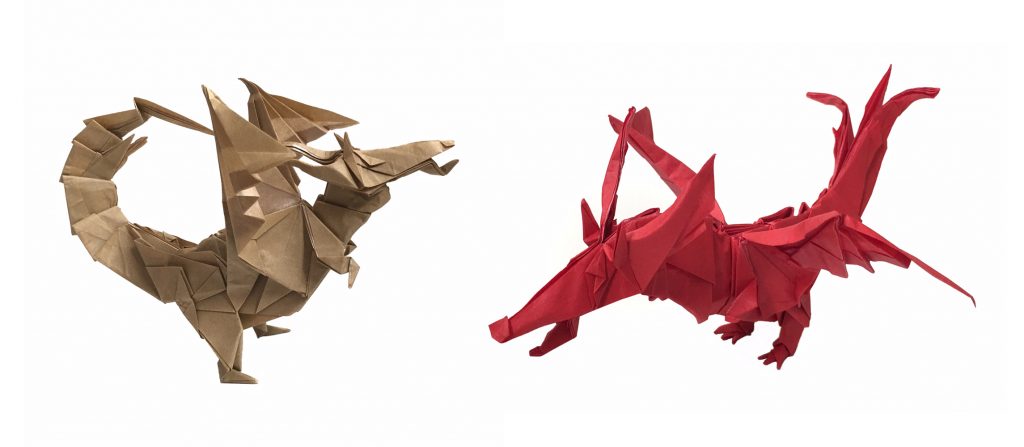 Be kind to Dragons, for thou art tasty when roasted, and good with ketchup
Sherrilyn Kenyon, Dragonswan
About the Fiery Dragons
I've reviewed a dragon model on this site before, so why am I doing them again when there are so many other origami subjects and models out there? There's a couple of reasons really. Firstly, because they are Kade Chan models and I really like his designs. He taught a squirrel design at the OrigamiUSA Convention. Also, these are Fiery Dragon versions 1 & 2. Putting them both together is a good way of showing how origami designers develop their models over time. Finally, because as I have said before, things with wings and spikes and horns generally make good origami designs and I think both of these look great.
The dragon folded from brown paper is Fiery Dragon v1. The red one is Fiery Dragon v2.
Differences between the two Dragons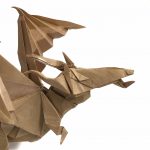 Although the heads and tails on the two dragon are slightly different, the most obvious way v2 improves on version 1 is the feet. Version 2 has three toes on each foot which adds a satisfying level of detail over the earlier version, which has the kind of basic triangular foot shape you find on so many origami models. For those people that know about origami design, Kade Chan achieves this by building a couple of paper grafts into the base.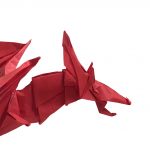 I like the heads of both origami dragons, and I'm not sure which head I prefer, although I've folded the lower jaw better on V2. The horns on the two dragons are different, but I like both of them! I really can't pick between the two.
I can choose between the tails though. I quite like the idea of the three pronged tail on version 2, but I think the tail on the first version is better. The pleats make it feel more scaly and tactile. That might be partly down to the pose of the model though. I tried to give Fiery Dragon version 1 a dramatic stance to show off the tail, while version 2 stands lower in a more menacing way.
If you are looking for more dragons to fold, check out the Pure Origami book by Red Paper.
Folding the Fiery Dragons
These origami dragon models are not for the beginner. These are complex models, requiring a high degree of accuracy and understanding of origami techniques to complete – particularly open sinks. I do recommend folding both of them, particularly if you are interested in designing your own models. As you fold the second one, you can see how Kade Chan has modified the folding sequence to achieve the changes to the design. It's a fascinating insight into the creative process of one of the best origami designers in the world.
Both these models need a fairly large piece of reasonably thin paper. I made both of these out of 60cm x 60cm (24in x 24in) tissue foil from origami-shop.com. It took me about an hour to fold Fiery Dragon Version 1, and about 2 hours to fold v2.
Origami Dragon Instructions
Kade Chan has made a video showing how to fold version 1 of the Fiery Dragon. The video is reasonably clear, although it is quite fast-paced, so you may well have to pause the video and replay a couple of times on some of the fiddly bits.
Tadashi Mori has put together a video showing how to fold Fiery Dragon version 2, with the kind permission of Kade Chan. This video is well-paced and well explained. This is probably one of the clearest videos I have seen from Tadashi Mori
Get Involved
So which Fiery Dragon do you prefer? Or maybe you like this cute origami baby dragon. Feel free to let me know in the comments below, or you can find can me on Instagram or Twitter. Check out my Pinterest boards too!
You can also subscribe to the mailing list by entering your email in the box below: