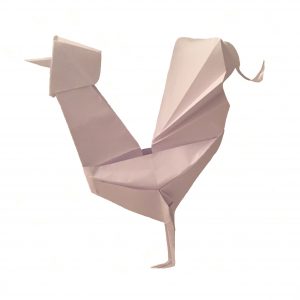 "Said the little red rooster to the little red hen,
You haven't laid an egg in God knows when."
Said the little red hen to the little red rooster,
"You don't come around as often as you uster."
Anon.
Yes, I know that's quite possibly the worst joke I've used on any blog post so far, but admit it – it made you smile!
The Origami Rooster and the Chinese Zodiac
January 28, 2017 marks the start of the year of the Rooster in the Chinese zodiac, so I thought I'd mark it with this Origami Rooster design. There are video instructions available for this one, so you can fold your own. I have no idea who's model this is, so if someone would like to let me know the name of the designer, I will happily credit them here.
There are twelve animals in the Chinese Zodiac.  The most recent occurrences of each of them are shown in the table below. Last year was the year of the monkey.  You can work back from there to find out the animal for the year you were born, or you can look it up on this helpful tool on the TravelChina.com website.
According to the same site, "the Rooster is almost the epitome of fidelity and punctuality. For ancestors who had no alarm clocks, the crowing was significant, as it could awaken people to get up and start to work". People born in the Year of the Rooster tend to be independent, warm-hearted and quick-minded. They can also be impatient and critical.
Folding the Origami Rooster
[one_fourth]
The guideline I tend to use for deciding whether something is a simple design or not is the traditional origami crane. The crane is generally seen as a simple design, so I ask the question 'is this easier or harder to fold than the traditional crane?'
In the case of the Origami Rooster, it's about the same. There are a few more folds, but they aren't any harder. It even uses a stretched version of the same base the Crane is made from – the Bird Base.  Stretching a Bird Base is very simple – take hold of the two flaps that form the wings and pull them apart. Any paper will do for this model. I've used a sheet of my 30cm x 30cm (12in x 12in) practice paper I bought from origami-shop.com as I wanted a nice white origami Rooster. This produces a Rooster that stands 18cm (7in) tall and is 15cm (6in) from beak to tail feathers.
| Jan 29 2006 – Feb 17 2007 | Dog | Jan 23 2012 – Feb 09 2013 | Dragon |
| --- | --- | --- | --- |
| Feb 18 2007 – Feb 06 2008 | Pig | Feb 10 2013 – Jan 30 2014 | Snake |
| Feb 07 2008 – Jan 25 2009 | Rat | Jan 31 2014 – Feb 18 2015 | Horse |
| Jan 26 2009 – Feb 13 2010 | Ox | Feb 19 2015 – Feb 07 2016 | Goat |
| Feb 14 2010 – Feb 02 2011 | Tiger | Feb 08 2016 – Jan 27 2017 | Monkey |
| Feb 03 2011 – Jan 22 2012 | Rabbit | Jan 28 2017 – Feb 15 2018 | Rooster |
Origami Rooster Instructions
There is a video tutorial for this model available on YouTube. It lasts 26 minutes and takes a long time to explain each step clearly, so you should be able to fold along without pausing the video. The second time you fold it, you should be able to make an origami Rooster in half that time!
Get Involved
I'd love to hear your views on this origami rooster.  Feel free to let me know what you think in the comments below, or you find can me on Instagram or Twitter. Check out my Pinterest boards too!
You can also subscribe to the mailing list by entering your name in the box below: