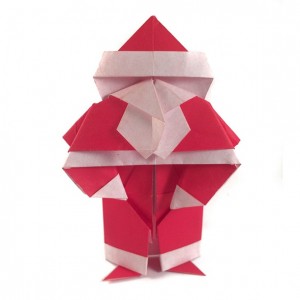 He was dressed all in fur, from his head to his foot,
And his clothes were all tarnished with ashes and soot.
A bundle of Toys he had flung on his back,
And he looked like a peddler, just opening his pack.
His eyes-how they twinkled! his dimples how merry!
His cheeks were like roses, his nose like a cherry!
His droll little mouth was drawn up like a bow,
And the beard of his chin was as white as the snow.
Taken from A Visit from St Nicholas , also known as 'Twas the Night before Christmas, by Clement Clarke Moore.
The Origami Santa Claus Model
With Christmas just around the corner, I thought it was time for another origami Santa Claus.  I have written about an origami Santa model before: Paul Hanson taught how to fold his version at the British Origami Society London Mini-Meeting in November. This one by David Brill is one of my favourite Christmas models to make because the Santa Claus has a more traditional appearance. Everybody has their own mental picture of what Santa should look like, and this is the closest I have found that fits my own idea. The beard is an interesting bushy shape, and there is the hint of a cape as part of the coat, which also has a white hem at the bottom. It won't be the last Santa Claus design to feature on this blog though.
Note: This post contains affiliate links.  See Disclosure below for more information.
Folding Santa Claus
David Brill's Origami Santa is an intermediate level model. There is nothing mind-blowingly complex about it, but it does rely on knowing how to do a colour change, and the odd swivel fold & rabbit fold. Any paper that is red on one side and white on the other will do. I have used ordinary kami origami paper for the model pictured here.  It uses a rectangular piece of paper, with a side ratio of 2:1.
Brill recommends a minimum size of 30cm x 15cm (12in x 6in). I think this is probably a good recommendation – I folded this one from slightly smaller paper –  24cm x 12cm.  It wasn't a problem, but probably a little small for someone folding this for the first time. It can look very good if you make it a lot bigger, although large origami models can be difficult to fold as the paper becomes unwieldy.  I once made a 4ft tall version to stick on the office wall, using a large rectangle made from red foil gift wrap paper.  That looked very impressive and several people wanted to take it home in January.
Origami Santa Claus Diagrams
Diagrams for this are in David Brill's book Brilliant Origami. It is out of print, but there are copies available through both Amazon.
The British Origami Society has a copy in the Library for loan to members.
Good luck folding it!
He sprang to his sleigh, to his team gave a whistle,
And away they all flew like the down of a thistle.
But I heard him exclaim, 'ere he drove out of sight,
"Happy Christmas to all, and to all a good-night!"
Get Involved
I'd love to hear your views on this origami Santa or any other origami Christmas models like the origami Christmas tree. Feel free to let me know what you think in the comments below, or you find can me on Instagram or Twitter. Check out my Pinterest boards too!
You can also subscribe to the mailing list by entering your email in the box below:
Disclosure: This post contains affiliate links. This means we will receive a small commission for some purchases made using links in our blog with no additional cost to you. Please be assured we would not promote any product unless we believe that our readers will also benefit. The commission does not influence the editorial content of this site.
As an Amazon Associate, I earn from qualifying purchases.  Origami Expressions is a participant in the Amazon Services LLC Associates Program, an affiliate advertising program designed to provide a means for sites to earn advertising fees by advertising and linking to amazon.com, amazon.co.uk, amazon.ca. Amazon and the Amazon logo are trademarks of Amazon.com, Inc. or its affiliates.