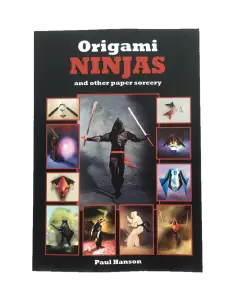 It's sort of magic, but it's not magic like it's a trick. You turn an ordinary square or whatever you've got into something really cool and clever. It's a type of alchemy, in which you make gold out of garbage.
Paul Jackson, Origami Artist
This week's blog post is Origami Expression's first ever Giveaway Competition! The origami artist Paul Hanson has generously provided one copy of his newly published book, Origami Ninjas and Other Paper Sorcery, to give away to readers of this blog. I also interviewed about his approach to origami, his background, and the book.
Note: This post contains affiliate links.  See Disclosure below for more information.
The Author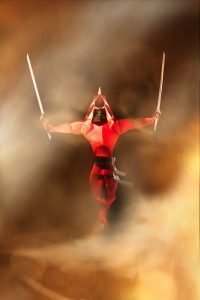 Members of the British Origami Society will be familiar with Paul Hanson. He has been an active member of the BOS for many years and currently serves as its Publications Officer, curating, promoting and making available the many booklets and resources available from BOS Supplies. He also helps run the London Origami mini-meetings that take place at on the second Saturday of every month at Royal Festival Hall in London. These sessions are open to all, regardless of origami experience or ability.
Interview with Paul Hanson
I recently spent some time talking to Paul about his origami and the book Origami Ninjas and Other Paper Sorcery. Here is a recording of this interview:
The Book
There is an interesting selection of models in Origami Ninjas and Other Paper Sorcery. Paul is particularly interested in human figures and there are a number in the book – not just the Ninja referenced in the title, but also models such as a Dark Wizard and Art Deco Angels. There are also several masks to be folded, like the Elserealm Superhero Mask, and the Face of the Deamon.
One of the most interesting sections in the book is towards the back, where Paul looks at the importance of an understanding of human anatomy to creating realistic figures in origami. He provides a detailed exploration of the relative proportions of limbs and how this differs for both male and female figures.
As well as human figures, the book contains several whimsical designs such as a flying pig, jokingly called If Pigs Might Flap. There is a Bird Base Dragon, which is Paul's vision of what a traditional origami dragon might look like.  Although most of the designs in the book are aimed at the intermediate folder, there are also some that are accessible to the beginner. This provides a good progression for novice folders to progress to some of the harder models included.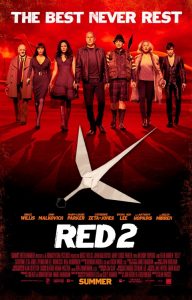 Fans of the film RED 2 will remember that at one point a martial arts specialist folds an origami knife and uses it to stab someone. Paul created this model for the film, and the folding instructions are included in the book. For more information on how he got involved in this film and the model design – watch my interview with Paul!
The Giveaway
Paul has generously provided a signed copy of Origami Ninjas and Other Paper Sorcery to give away to readers of Origami Expressions, along with a bookmark for a free download of the accompanying Android app.
How to Enter
To be in with a chance of winning, simply subscribe to the mailing list by entering your email address in the box below and clicking the button.
To keep things fair for those people who subscribe to the list hoping to win this giveaway, anyone currently on the mailing list that wants to be entered in the giveaway will need to email me separately to confirm they are interested.
This giveaway competition will be open for two weeks until midnight UK time on 28 September 2016. The winner will be chosen at random by someone other than me, and announced on this blog during week commencing 3rd October 2016.
 .
Where to Buy the Book if you don't win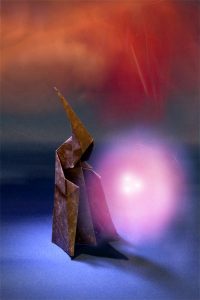 Origami Ninjas and Other Paper Sorcery is available on Amazon.
For more information about Paul Hanson and his work, please visit his website www.sorceryoforigami.co.uk
If you have any questions or comments about the Giveaway, please let me know in the comments below, or you can email me, or find me on Instagram or Twitter. Thanks for reading, and good luck!
Disclosure: This post contains affiliate links. This means we will receive a small commission for some purchases made using links in our blog with no additional cost to you. Please be assured we would not promote any product unless we believe that our readers will also benefit. The commission does not influence the editorial content of this site.
Origami Expressions is a participant in the Amazon Services LLC Associates Program, an affiliate advertising program designed to provide a means for sites to earn advertising fees by advertising and linking to amazon.com, amazon.co.uk, amazon.ca. Amazon and the Amazon logo are trademarks of Amazon.com, Inc. or its affiliates.