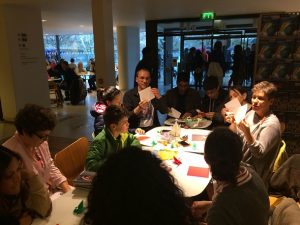 If you'd been in the café at the The South Bank Centre in London on Saturday afternoon, you might have noticed a group of people sitting round several tables all pushed together and hunched over bits of coloured paper and plastic boxes of folded models. The British Origami Society London Mini-Meeting!
This was my first British Origami Society Mini-Meeting. These are informal regional gatherings organised by members of the BOS that take place around the UK on a monthly basis and fill the gaps between Conventions.  Check out my reviews of the British Origami Society 2015 Autumn Convention and the British Origami Society's 50th Anniversary Convention.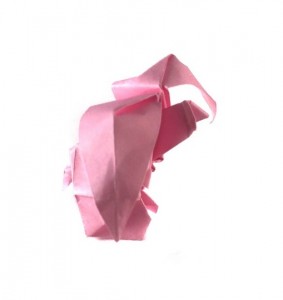 The London Origami Mini Meetings was scheduled to place in the café area in The South Bank Centre between 2 & 5 pm on Saturday 14 November. It operates as a kind of drop-in session – I was the fifth person to arrive, but over the course of the next few hours several more people came and went, so that by the time I left at about 5.20 there were still about 14 people there, folding and chatting, with very little sign of things wrapping up any time soon.
A Mini-Meeting really does have something for all ages and levels of origami ability. Among the people that attended the origami club meeting were children who had come along with their parents. Some people had never folded anything before, others weren't familiar with how to fold from diagrams. There were also people that fold extremely complex models, and others that design their own models and brought examples along.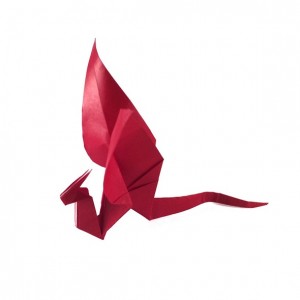 The first model we folded was something of a mystery. We have no idea whose design this is! London Origami had a stand at Comic Con in October and somebody had left this little pig with big flappy ears behind. Paul Hanson reverse-engineered this model and taught it at the Mini-Meeting. It's a fun little design. It's not visible in the picture, but I added a slight crimp to the body which I think helps with the body shape I'd like to tell you where to get diagrams for this, but I have no idea! If you are reading this and it is your design, please do get in contact.
Paul also taught his Bird Base Dragon.  AS the name suggests, this is based on the traditional Bird Base.  Although dragons are a popular subject in origami, there doesn't seem to be a traditional one. This is Paul's vision of what a traditional origami dragon might have looked like if there was one. I think this was my favourite model of the day. Simple, effective, dramatic. There were a couple of Christmas-themed models: Kaya taught Paul's Santa Claus, and Paul showed how to fold his Art Deco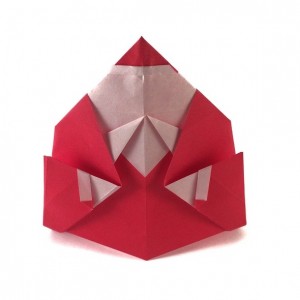 Angel. I haven't got a photo of the Angel because I accidently left it behind, but there is a video tutorial to make it on YouTube. Diagrams for both the Bird Base Dragon and Santa Claus will be in Paul's book – expected to be published next year.
I taught a Lafosse butterfly, before three of us learned to fold Mark Bolitho's Diplodocus.  There were two or three other groups around the table folding different things. A commercial agreement prevented Mark from disseminating the instructions, but these should be available at some point.
It was a fun afternoon and I will definitely be going back. If I can arrange it, I will be staying later next time as it definitely didn't finish at 5pm – no matter what the website says!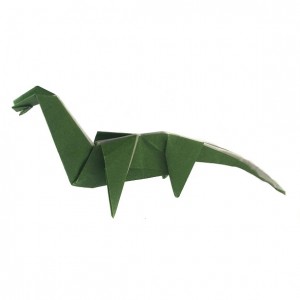 More information on the British Origami Society and Mini Meetings around the country is available on this link.
Further info about the London Origami Mini Meeting in particular is available here.
One of the members of the British Origami Society is trying to get a Mini Meeting started in East Anglia. If you live in the area and are interested in coming along, please get in contact and I'll pass on your details.