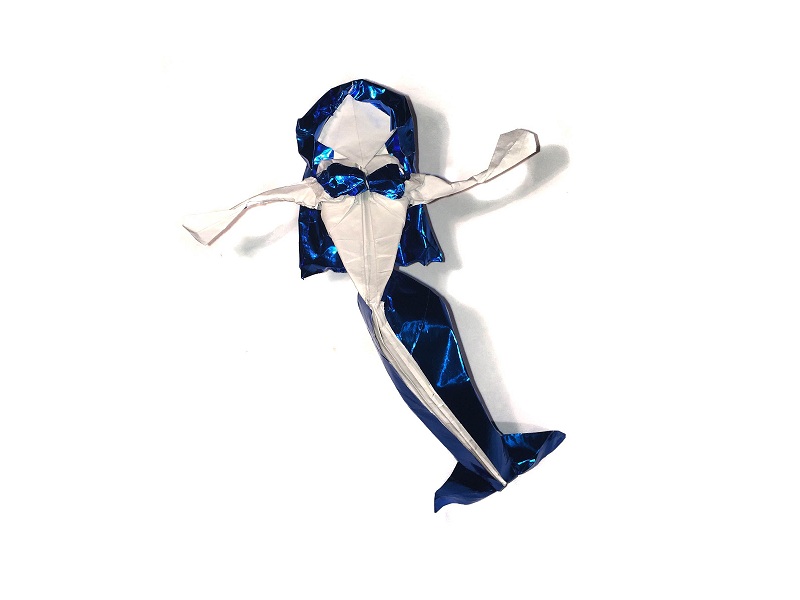 "If you shut your eyes and are a lucky one, you may see at times a shapeless pool of lovely pale colours suspended in the darkness; then if you squeeze your eyes tighter, the pool begins to take shape, and the colours become so vivid that with another squeeze they must go on fire. But just before they go on fire you see the lagoon. This is the nearest you ever get to it on the mainland, just one heavenly moment; if there could be two moments you might see the surf and hear the mermaids singing."
Peter Pan, J.M. Barrie
This model is called Little Mermaid, designed by Quentin Trollip. I am a fan of Trollip's designs, they tend to be interesting to fold and the final outcome is usually worth the effort. That is definitely the case here – the final model is graceful, dramatic, and slightly fun. It reminded me of the mermaids in Peter Pan.
It is a complex model and not one for the beginner! It took me several attempts to make this successfully to a standard I was happy with. Diagrams are available in Trollip's book Origami Sequence, published by Nicholas Terry, the man behind Origamishop.com. This book is available from Origami Shop, or the British Origami Society Library has a copy available for society members to borrow.
In the notes that accompany the diagrams, Trollip acknowledges that this design took some time to develop and there are several unorthodox steps in the origami mermaid instructions which are needed to get the colour changes for the bra and body. He's right, some of the steps are unusual and I'd love to know the thought process that got him to this design. It does make it a very interesting model to fold. Trollip estimates that this model will take 2 hours to fold. This seems about right, although I tended to break this up into separate half-hour segments.
Trollip recommends either foil paper or for best results, wet-folding 60 – 100gsm paper for this model. Kami is not suitable. It needs a square piece of paper measuring at least 40cm (16in), and a different colour on each side. I have used foil paper bought from Origami Shop, although home-made tissue foil might work well. I am not generally a great fan of folding with tissue foil as I think the foil tends to shine through the tissue paper and give it a slightly shiny quality but that might work with this model and give it a bit of an 'aquatic feel'. The foil paper I used is a bit harsh and metallic really and doesn't feel organic enough. As tissue-foil is relatively cheap to make, I would recommend practicing folding with this before making the final version out of more expensive paper.
Paper: Foil paper, tissue foil or wet-folded 60 – 100gsm (best)
Difficulty: Complex
Time to fold: Approx 2 hours
Get Involved
I'd love to hear your views on this origami mermaid model.  If you would like to fold more Quentin Trollip models, check out the origami skull or the origami watch.  Feel free to let me know what you think in the comments below, or you find can me on Instagram or Twitter. Check out my Pinterest boards too!
You can also subscribe to the mailing list by entering your email in the box below:

Postscript:
Since publishing this and posting a picture of it on my instagram page, another Instagram user @Thunderbirdice suggested that a rainbow of mermaids would look good on a blue background to represent water.  This is a really good idea and one I will be following up on sometime over the next couple of weeks.  You might like to try this idea?
Watch this space for my mermaid rainbow!
Disclosure
This page contains affiliate links and I may receive some small commission for purchases made through the links on this page. This hasn't affected my decision to recommend a product – I value my personal and professional reputation and would not endorse a product or supplier I did not believe in. There is no additional cost to you for purchasing through this page.