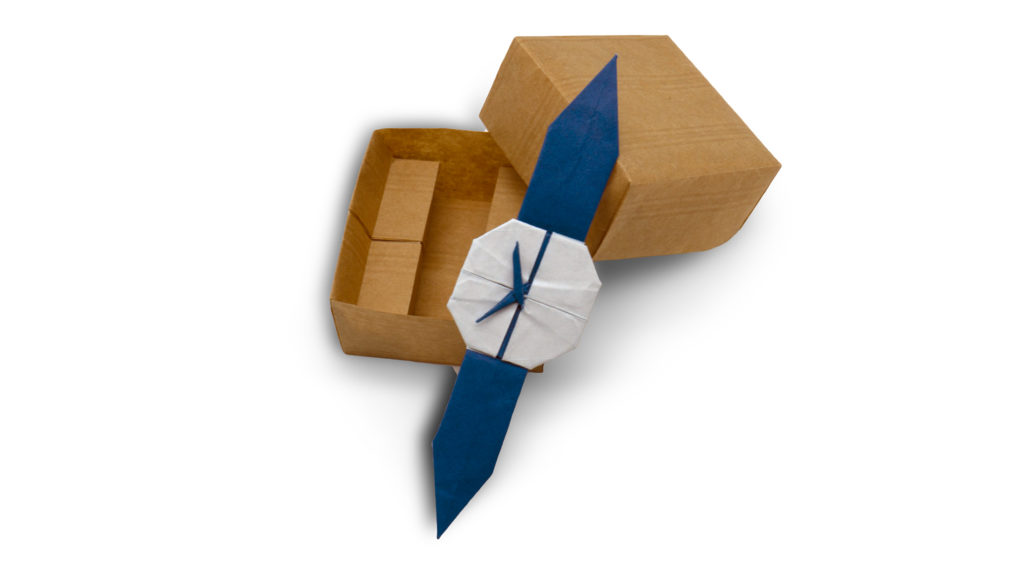 "Either this man is dead or my watch has stopped"
–Groucho Marx
Time flies…
One of the problems with trying to write a blog about origami and make sure it's updated on a regular basis is that you have to have something to write about. That means finding something to fold, making it, getting everything ready, and putting up the blog post before starting the process all over again. Sometimes, it's a bit of a challenge, particularly if it's a busy week with lots of other things going on.
Flicking through my origami books this week looking for inspiration I was aware that time was not on my side. I needed to find something interesting and quickly. That's when I saw this origami watch – appropriately enough it's called Time to Fold, which is something I haven't had a lot of this week.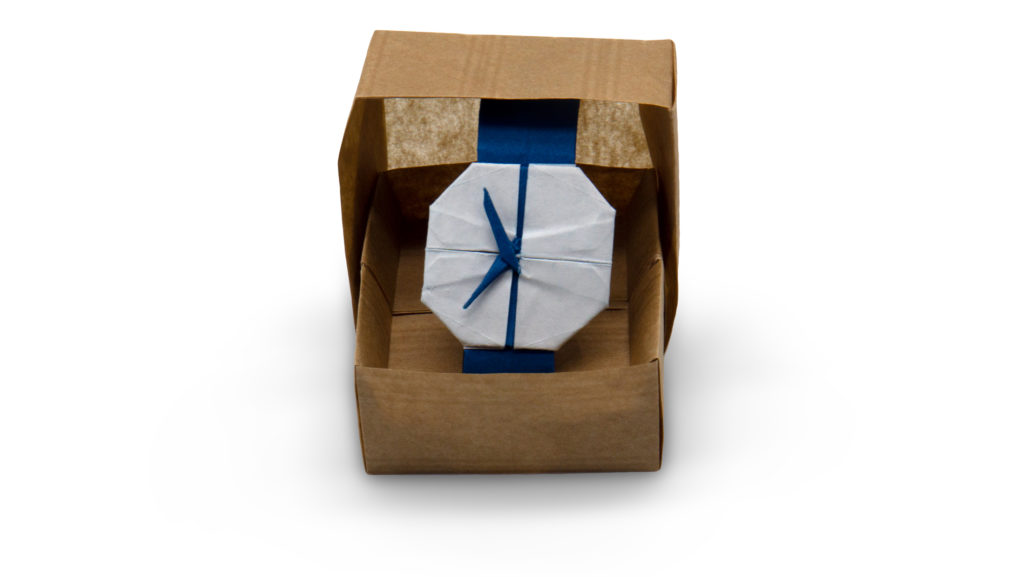 About Time to Fold An Origami Watch
This is an origami design by Quentin Trollip. I've featured several of his designs on here before, including a skull and a mermaid, which is one of my favourite origami models. This origami watch is a lot simpler than some of his other works. It's a low intermediate model, derived from a fish base.   Trollip made the origami watch look realistic but I do wish the straps were a bit longer.  You can try to balance it on your wrist but it won't wrap all the way around unless your arm is the size of a toddler.
You can make this model in about 10 minutes, which is another reason why Time to Fold is a very good title for this design. It doesn't take very long to make! Any paper will do, as long as it's a different colour on each side. I've used ordinary 15cm x 15cm (6in square) kami for this model. The end result is an origami watch that has a strap length of 14cm (5.5in) and a clock face with a diameter of 3.75cm (about 1.5in).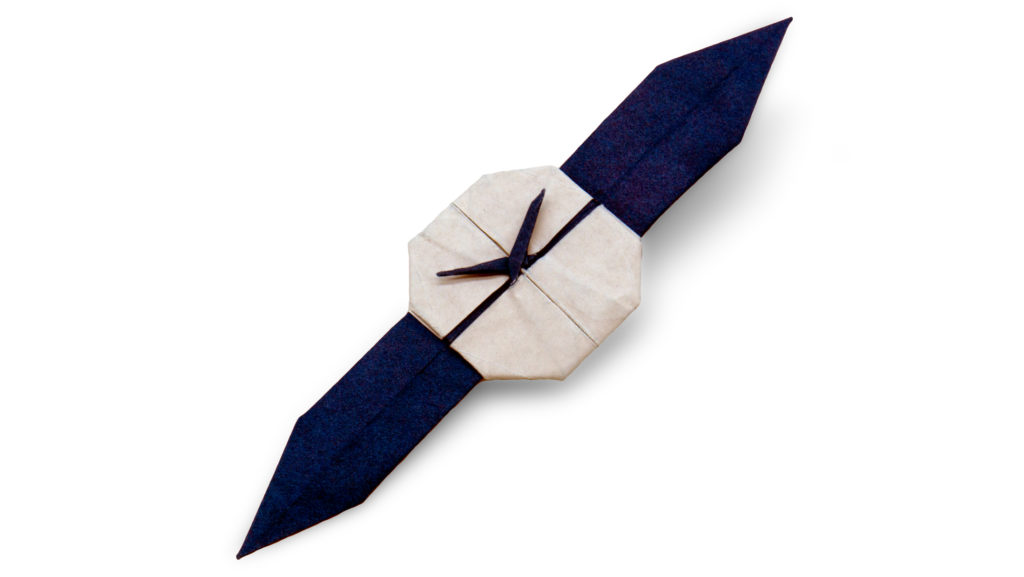 The Watch Box
Oddly, the box the origami watch sits in is actually harder to make than the watch itself, although I'd still say it's an intermediate level design. If you can manage a closed sink you can fold this box. If you've never done a closed sink before, don't worry it's not as difficult as it sounds. It just means to turn the point inside out.
Any paper will do, but black or brown gives a nice finish. If you've made the watch out of a 15cm square of kami, use a 24cm (9.5in) square sheet of paper for the box and an 18cm (7in) square for the lid.  You can get the paper I use from Amazon here.
Time to Fold Diagrams
You can find the instructions for the origami watch and the box in the booklet Quentin Trollip Selected Works, published by the British Origami Society. This is available to purchase through BOS supplies, operated by Color Tree.
Making Time to Fold isn't going to get you any more Time to Fold, but at least you know your watch will be right twice a day.

Get Involved
I'd love to hear your views on this origami watch.  Feel free to let me know what you think in the comments below, or you find can me on Instagram or Twitter. Check out my Pinterest boards too!
You can also subscribe to the mailing list by entering your email in the box below:
Disclosure:
This page contains affiliate links and I may receive some small commission for purchases made through the links on this page. This hasn't affected my decision to recommend a product – I value my personal and professional reputation and would not endorse a product or supplier I did not believe in. There is no additional cost to you for purchasing through this page.
As an Amazon Associate, I earn from qualifying purchases.  Origami Expressions is a participant in the Amazon Services LLC Associates Program, an affiliate advertising program designed to provide a means for sites to earn advertising fees by advertising and linking to amazon.com, amazon.co.uk, amazon.ca. Amazon and the Amazon logo are trademarks of Amazon.com, Inc. or its affiliates.