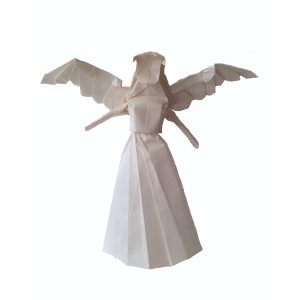 "In Heaven, an Angel is nobody in particular."
-George Bernard Shaw
About the Origami Angel
Most people have probably put up and decorated their Christmas Tree weeks ago. If (like me) Christmas has caught you by surprise this year and you're looking for something a little different for the top of the tree, you might like to think about an origami Angel. I chose Angel 3.0, designed by Tadashi Mori. I like the proportions of this model. It feels simple, uncluttered.
Folding the Origami Angel
I'm not really sure I've done this model justice. Tadashi Mori's picture looks more graceful than mine, and the wings are a more even shape. That said, for a slightly rushed first attempt, it's not bad, and it make a very good origami Christmas tree topper!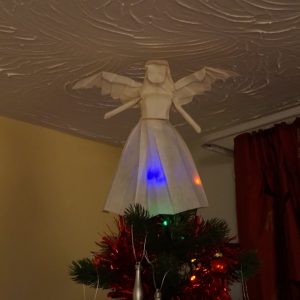 It's a box pleated model, based on a 24x24grid. The origami angel instructions are interesting though, and the box pleating basically comes to light as you fold the model, rather than starting with 'fold a 24×24 grid'. This allows for the model to evolve as the folding sequence progresses.
Although it's an intermediate level design, there's nothing disastrously complex in it, and if you're familiar with the types of sinks and stretches you typically find in box pleated models, you should have nothing to fear here.
I folded this one out of a 60cm x 60cm (about 24in x 24in) sheet of tissue foil from The Origami Shop – check here for prices and availability. This produced an Angel that is about 28cm tall – the perfect size for my Christmas Tree. I would recommend 30cm x 30cm as a minimum size, or 20cm x 20cm if you have very dextrous fingers. Much less than this and the details could be difficult to manage. Tadashi Mori's video is about 45 minutes long, but he folds faster than I do, so I did it in about an hour and a half.
If you are looking for a simplier model, check out this easy origami angel that was used in the Wing and a Prayer art installation at Ripon Cathedral.
Origami Angel Instructions
Tadashi Mori made a video tutorial showing how to make this origami angel model – Angel 3.0.
Get Involved
I'd love to hear your views on this origami Christmas angel model.  Feel free to let me know what you think in the comments below, or you find can me on Instagram or Twitter. Check out my Pinterest boards too!
You can also subscribe to the mailing list by entering your email in the box below: