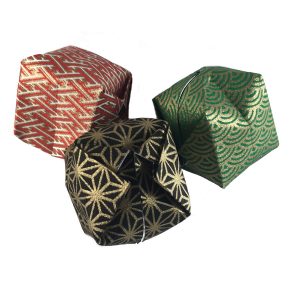 The kid next door just challenged me to a water fight! So I thought I'd tweet this while I wait for the kettle to boil…
Anon.
About the Origami Waterbomb
This is an origami Waterbomb, sometimes referred to as a Balloon. It's one of the best known traditional models, probably because it's quite fun to fold. The last step calls for you to blow into the top to inflate it.
Origami Waterbombs can be used for water fights (obviously), by filling them with water through the hole at one end. They also make surprisingly good baubles to hang on a Christmas Tree especially if you use nice Christmas origami paper! They are also a lot cheaper than the ones you find in a store.
Even by the standards of traditional models, Waterbombs are easy to make. This could be a fun thing to do with children in the run-up to Christmas – make the origami Christmas Baubles for the tree.
Folding Origami Waterbombs
This is such a famous origami model, that it has its own base named after it – the Waterbomb Base. This base consists of mountain folds across the diagonals, valley folds joining opposite sides, and collapsed into a triangular shape.
Each origami Waterbomb takes less than five minutes to fold, which is a good thing if you're planning to make enough 3D origami ornaments to decorate a tree with!
Any paper will do. You might like to experiment a bit though if you are planning to fill the waterbomb with water and throw it. Bear in mind that whatever paper you use will go soggy in a few seconds, but you want something that is reasonably pliable so that it disintegrates on impact.
If you're planning on making Christmas Tree baubles, a shiny Christmas origami paper would be good. Preferably something reasonably robust if you want to keep them for another year! A standard sheet of 15cm x 15cm origami paper will produce an origami Waterbomb that is about 4cm (1.5in) on all sides.
After you have put your Origami waterbomb baubles on the tree, consider making this origami angel for the topper.
Instructions To Fold an Origami Bauble
I have made a video showing how to make this Origami bauble:
Get Involved
I'd love to hear your views on this. Feel free to let me know what you think in the comments below, or you find can me on Instagram or Twitter. Check out my Pinterest boards too!
You can also subscribe to the mailing list by entering your email in the box below: