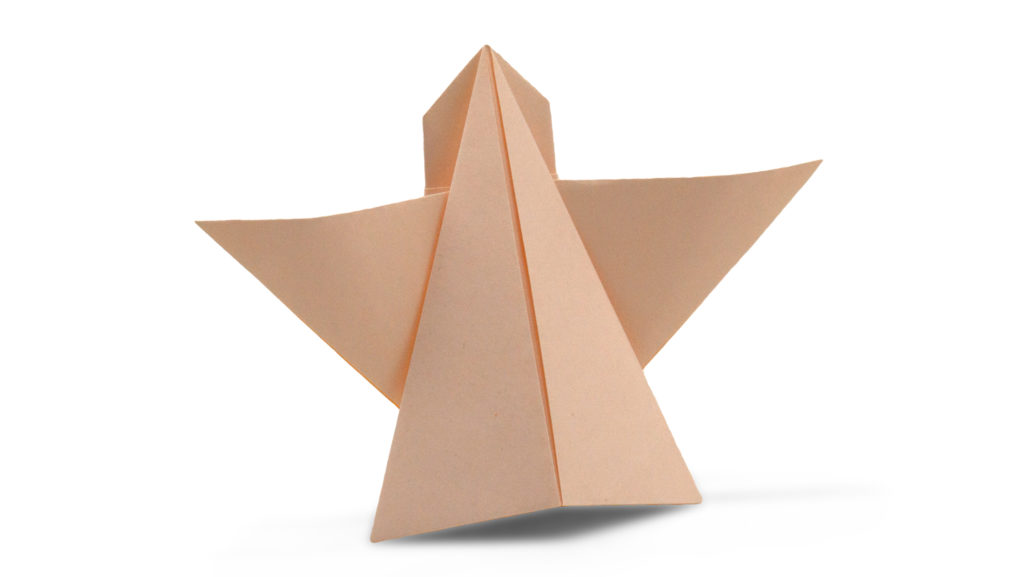 "When angels visit us, we do not hear the rustle of wings, nor feel the feathery touch of the breast of a dove; but we know their presence by the love they create in our hearts."
-Mary Baker Eddy, Author
2020 has been a hard year for everybody. Coronavirus has taken the lives of too many people and pretty much everyone has had their life disrupted. The blanket lockdowns across many countries might have been lifted, but virus has not gone and we are still grateful to the key workers who continue to put themselves in harms way to take care of us during this difficult time.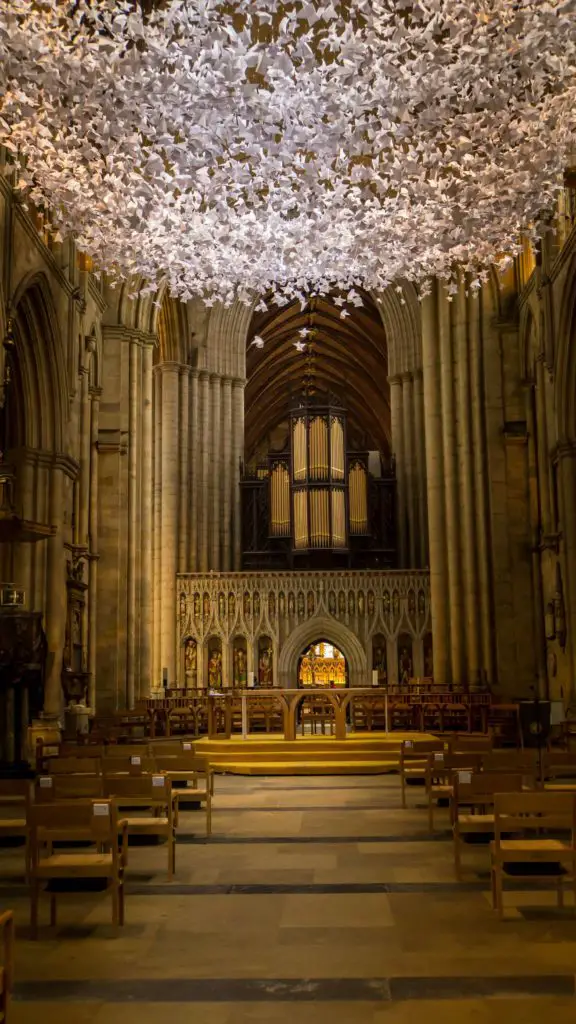 That's the rationale behind the origami art installation entitled "A Wing and a Prayer" at Ripon Cathedral featuring 10,000 origami angels. It commemorates loved ones and pays tribute to key workers, particularly the Yorkshire Air Ambulance Service that has lost nearly £450,000 of income during lockdown.
About a Wing and a Prayer
The project began during the early days of lockdown in England. Over 100 volunteers and 300 children folded more than 10,000 angels that are now on display in Ripon Cathedral.  The origami angels were tied to a net which was then lifted 50 feet above the nave by the volunteers.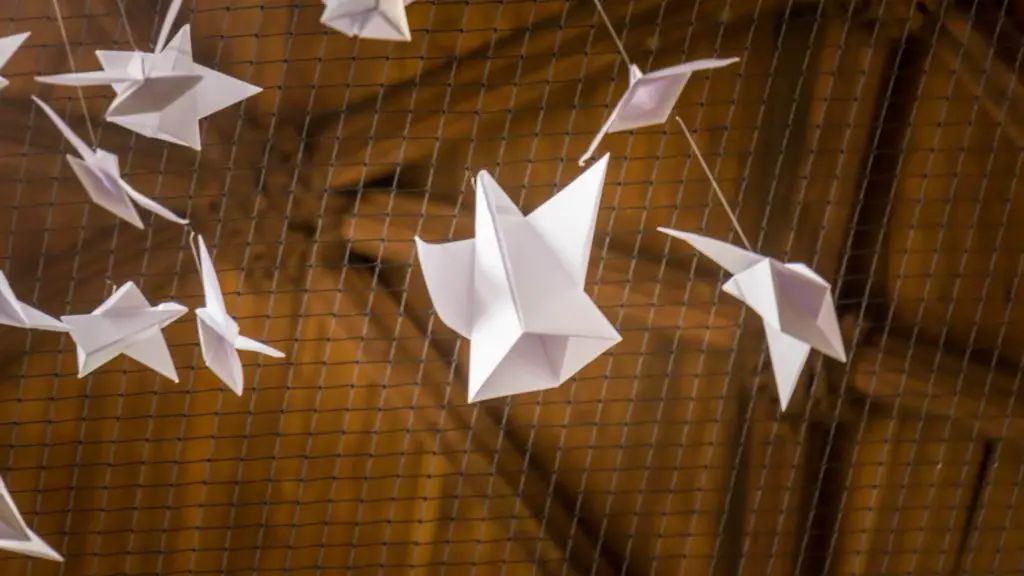 Unlike the Origami Doves at Salisbury Cathedral, there was no artist behind this installation.  It uses a simple origami model that looks quite remarkable when displayed in large numbers in a historic cathedral.  The artwork is on show now through the end of October 2020.
Like the Salisbury exhibit, the installation at Ripon is both awe-inspiring and uplifting – perhaps even more so because all the models were made by volunteers. If you look closely, you can see all the little imperfections in each angel, reminding you that behind every one is a real person. You're left wondering how many angels they made, whether that was their best one or whether they got better over time. The white colour of the angels contrasts with the building's stone, creating a very dramatic effect.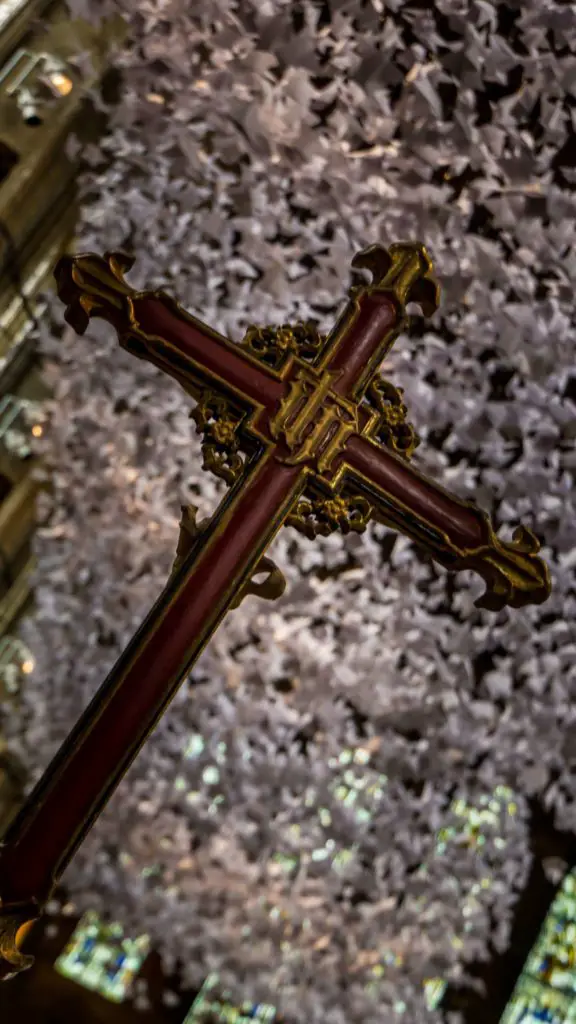 Supporting a Wing and a Prayer
It's free to visit Ripon Cathedral and see the angels above the nave, but they do welcome donations either in the collection boxes provided, or online. The money goes to the Yorkshire Air ambulance and to cover some of the restoration work needed in the Cathedral.  As of August 13, 2020, they had raised £ 140,000. If you are not able to visit in person but still want to make an online donation, you can do so here.
The Origami Angel
The model used for the Wing and a Prayer installation was created by the Danish artist Hans Dybkjær.  He makes the design available on his website for non-commercial use through a creative commons non-commercial use licence. The artist is credited on the web page for the exhibition on the Ripon Cathedral. It's good to see that the artist is named – not just for copyright reasons, but because this is an exhibit that focuses on community and the power of bringing people together. It would be a shame if the artist, one of the people that had made the whole thing possible had been missed out of that.
Installations of massed origami models do make very good displays but I would encourage everyone planning to create an installation like this to either use a traditional model, or approach the artist in advance as origami designs are considered a creative work and subject to copyright. An organisation like the British Origami Society may be able to put you in touch with the designer if you can't find their website.
You can find the instructions to fold this origami angel here.  This model works best if you use white paper.  You don't need anything fancy, even printer paper cut into a square will work. I've used an ordinary sheet of origami paper for this one that was white on one side and a light pastel orange on the other. The colour shone through the paper a bit, which is why my angel isn't white. My 15cm x 15cm (6in a side) square produced an angel that stands 7.5cm (3in) tall, with a wingspan of 11cm (4.25in). It took me about 5 minutes to fold this model.
Advanced folders may also enjoy this more complex origami angel model.
Visiting Ripon Cathedral
The Cathedral Church of St Peter and St Wilfrid is well worth a visit at any time, but definitely while the origami angel exhibition is on. There has been a place of worship on this site since the 660s and the cathedral we can see today was built between 13th and 16th centuries.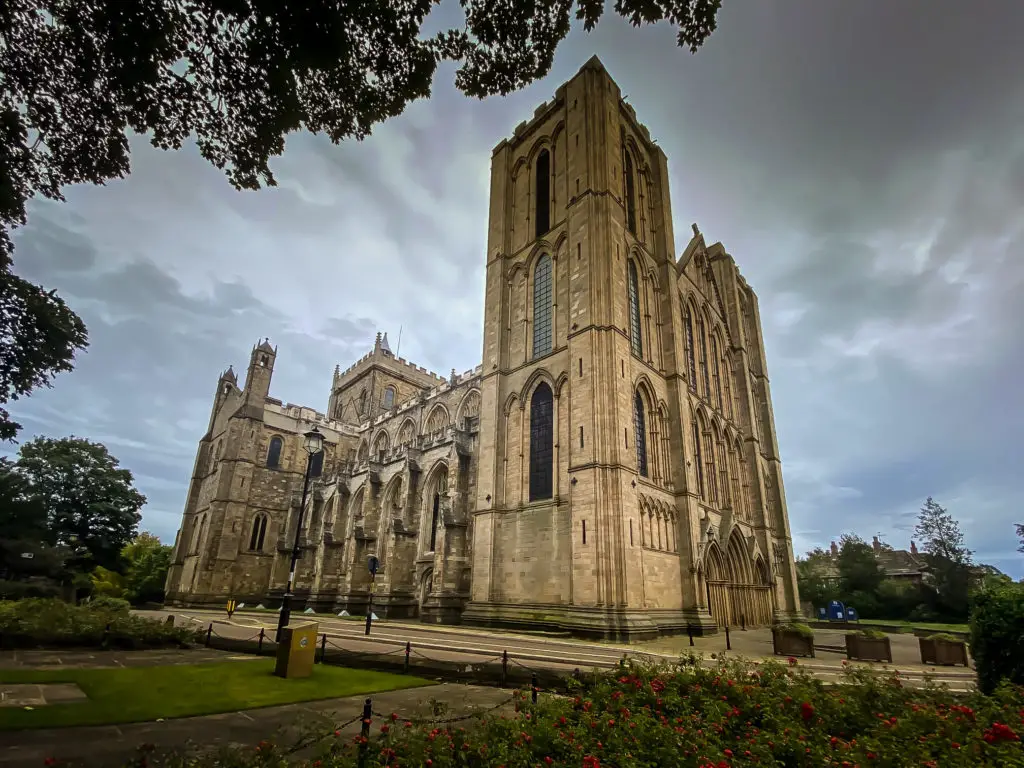 Ripon is a small city in Yorkshire, England.   It is best to drive as the nearest train station is Harrogate 11 miles away.  It is free to go inside the Cathedral and there is a pay and display car park close by.  Some parts of the Cathedral, including the 7th-century crypt, are closed due to coronavirus. That's a shame as I thought it was interesting when I visited on a previous trip. It's a good reason for going back if you can't take in the crypt on your first visit!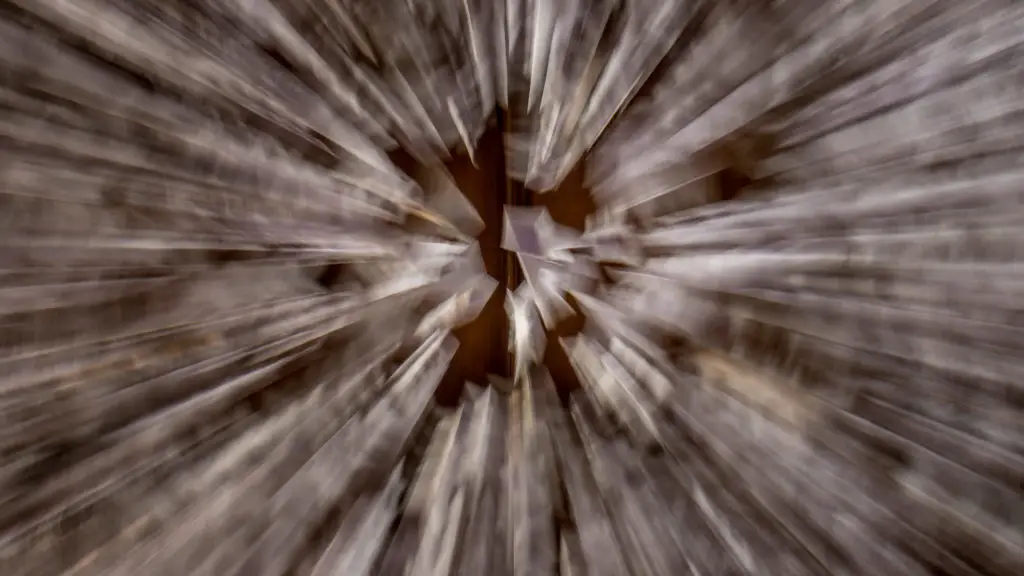 Get Involved
I'd love to hear your views on this origami art installation.  Feel free to let me know what you think about the origami angels at Ripon Cathedral in the comments below, or you find can me on Instagram or Twitter. Check out my Pinterest boards too!
You can also subscribe to the mailing list by entering your email in the box below:
Disclosure:
This page contains affiliate links and I may receive some small commission for purchases made through the links on this page. This hasn't affected my decision to recommend a product – I value my personal and professional reputation and would not endorse a product or supplier I did not believe in. There is no additional cost to you for purchasing through this page.
As an Amazon Associate, I earn from qualifying purchases. Origami Expressions is a participant in the Amazon Services LLC Associates Program, an affiliate advertising program designed to provide a means for sites to earn advertising fees by advertising and linking to amazon.com, amazon.co.uk, amazon.ca. Amazon and the Amazon logo are trademarks of Amazon.com, Inc. or its affiliates.