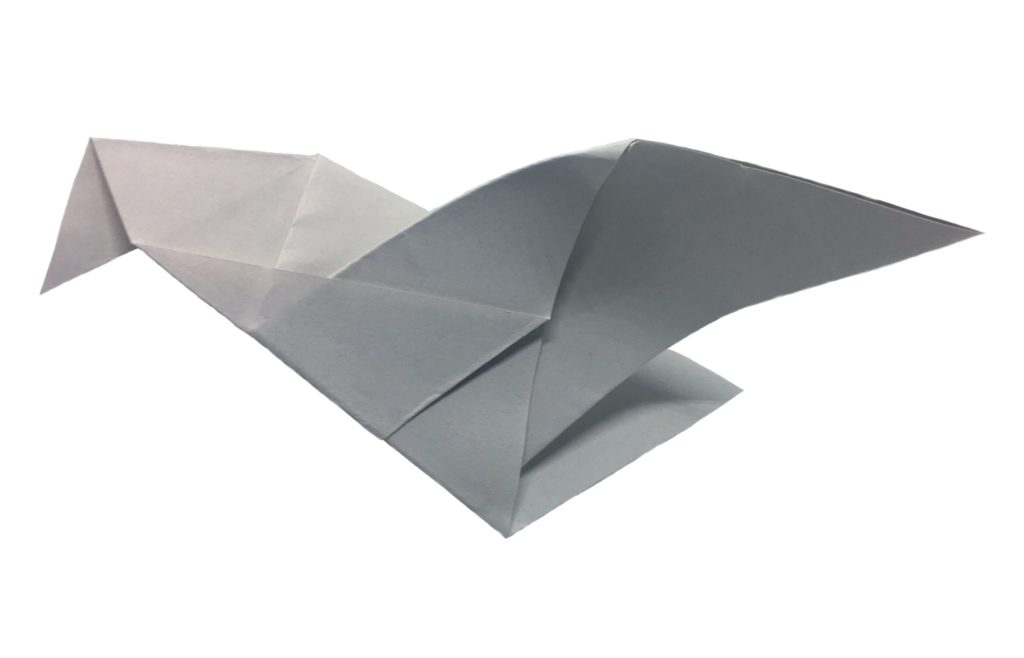 "Peace is not something you wish for. It's something you make, something you do, something you are, and something you give away."
-John Lennon
About Salisbury City of Doves
Following successful installations at the Abbey of Dormition in Jerusalem, Heiliggeist Church in Munich, St Joseph's Church in Burghausen City and St Martin in the Fields, London, German artist Michael Pendry has brought his popular art installation to Salisbury Cathedral.
Called Les Colombes, Pendry's exhibit is a collection of 2,500 white traditional origami doves, suspended above the Nave of the Cathedral, resembling a flock of birds in flight. Pendry hung each dove himself over a period of several hours.
The original aim of bringing Les Colombes to Salisbury was as part of the Cathedral's New Dawn series of events to mark the centenary of the end of World War One. Pendry encourages communities where Les Colombes is exhibited to fold their own origami doves. In Salisbury, this has become the centrepiece of a community project called Salisbury City of Doves.  People are encouraged to write an inspirational message, or a message of hope on a sheet of paper, fold it into a dove and either hang it up or give it to a loved one.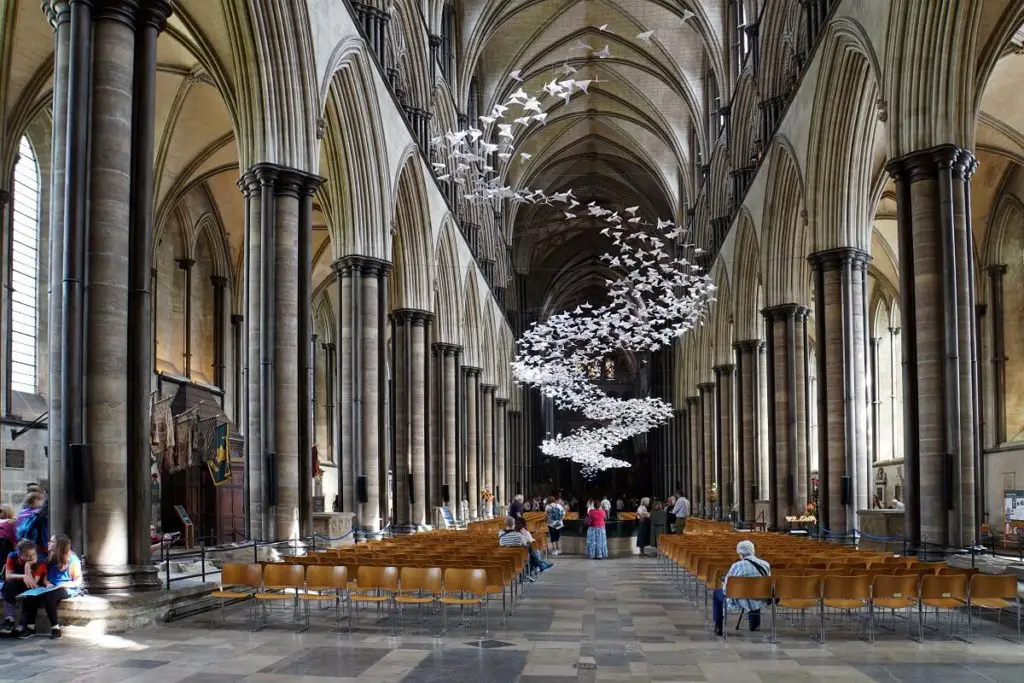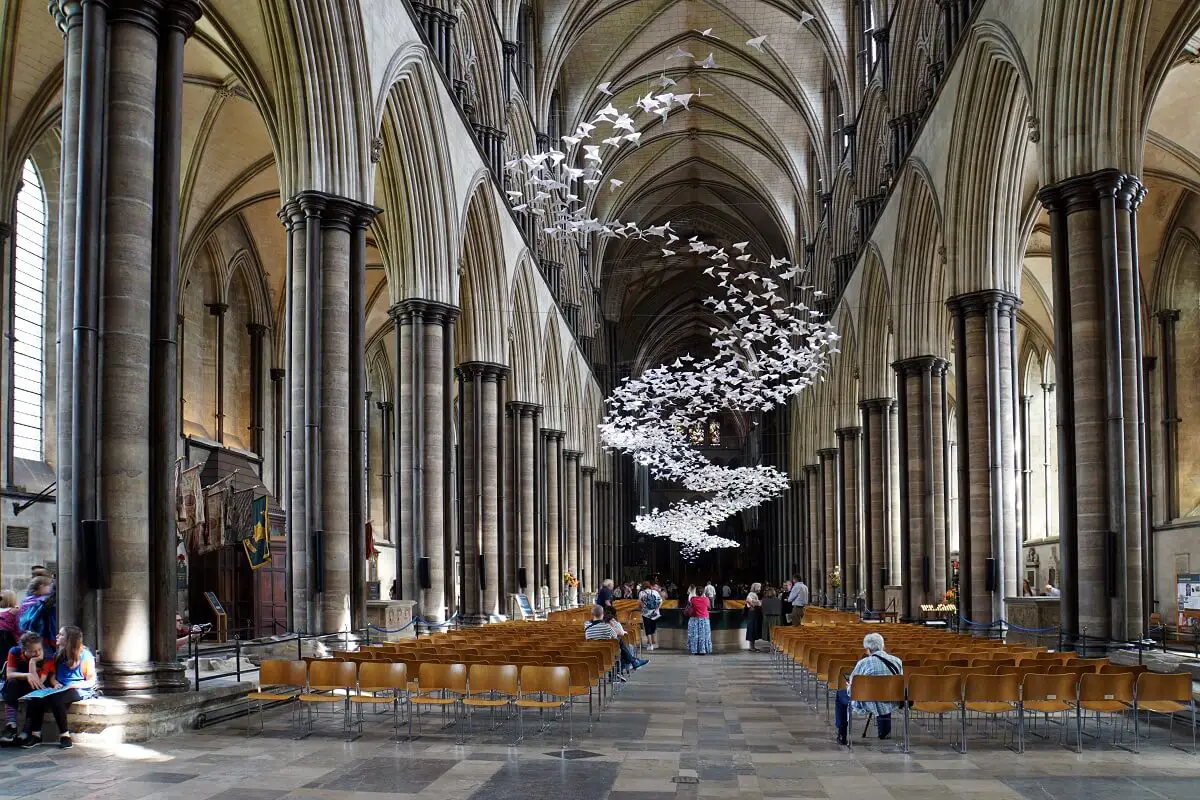 Our Visit to Salisbury
When my wife and I heard about the origami doves in the Cathedral, we decided it was time for a trip to Salisbury. My wife runs the travel blog Two Traveling Texans and I had recently taken her to Wiltshire to see Stonehenge, Avebury and other megalithic sites in the area.  She said she wanted to go to Salisbury, but we didn't have time in that trip.  Salisbury City of Doves was the perfect excuse. The city seems to have taken the City of Doves theme to heart – or at least the shops have! Several of the stores had doves in their windows.
The installation in the Cathedral is impressive. I'm a big fan of origami done on a large scale and this exhibition doesn't disappoint. Somebody said it's best viewed from the very back of the cathedral, and that's the best way of seeing the whole thing, but I actually preferred wandering along underneath the doves and seeing them reflected in the spectacular font in the middle of the nave.
From certain angles, you can see the reflection of the doves against a backdrop of the stained glass windows. Beautiful. For more information about our trip to see Les Colombes at Salisbury Cathedral, or to plan your own trip, visit the blog post on the Two Traveling Texans website, where you'll find a video showing the exhibit.
The Les Colombes installation will be available to view at Salisbury Cathedral until 22 July 2018. Late night viewings are running on Thursday 14 June, Thursday 28 June, and Thursday 12 July, from 18.15 to 21.30.
If you enjoyed this exhibit, be sure to check out my post about the origami angels at Ripon Cathedral, from 2020.
Origami Dove Instructions
If you'd like to fold your own dove like those in the Salisbury City of Doves project, I've made an origami dove video tutorial showing how to make one.   Of course, you can use any color paper you like, but I think this one looks best in white – just use the white side of colored paper. (Get more origami paper here) If you fold an origami dove, make sure you tag it #SalisburyCityofDove and put it on Instagram.
I'll leave the final word to the artist, Michael Pendry:
"Although the doves are folded by different people, in their unity they stand for a fundamental human right – the right to peace and freedom. The time has come to declare ourselves and to stand up for this! May the flock of doves grow, from place to place, from country to country, and across all borders. Peace, freedom, and sustainability in a world of change and disturbance are the key themes of my installations."
Get Involved
I'd love to hear your views on this origami dove.  If you are interested in folding other origami birds, check out my posts about the origami flapping bird, traditional origami crane, or origami macaw.  Feel free to let me know what you think in the comments below, or you find can me on Instagram or Twitter. Check out my Pinterest boards too!
You can also subscribe to the mailing list by entering your email in the box below:
Disclosure
This page contains affiliate links and I may receive some small commission for purchases made through the links on this page. This hasn't affected my decision to recommend a product – I value my personal and professional reputation and would not endorse a product or supplier I did not believe in. There is no additional cost to you for purchasing through this page.
As an Amazon Associate, I earn from qualifying purchases.  Origami Expressions is a participant in the Amazon Services LLC Associates Program, an affiliate advertising program designed to provide a means for sites to earn advertising fees by advertising and linking to amazon.com, amazon.co.uk, amazon.ca. Amazon and the Amazon logo are trademarks of Amazon.com, Inc. or its affiliates.