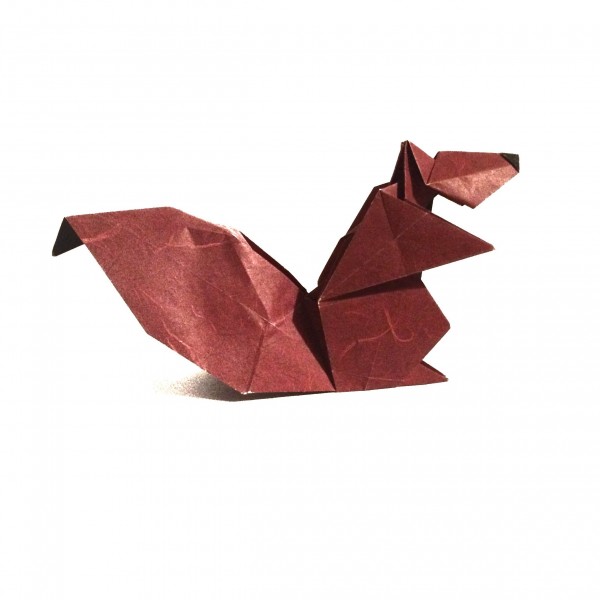 My chosen model for day 5 of World Origami Days 2015 is Hideo Komatsu's Origami Squirrel.
About the Origami Squirrel
I am a big fan of Hideo Komatsu's work, and this is one of my favourite designs.  Like a lot of origami models, it's quite angular, with a lot of straight lines and edges, but it is also realistic, representative, and quite cute at the same time.  
Hideo Komatsu has managed to pull off this trick a number of times – notably with his owl and rabbit models as well as this Origami Squirrel.  I'll be featuring both the owl and the rabbit on this site in a future post.
Folding Hideo Komatsu's Origami Squirrel
This model is of intermediate difficulty. It takes about half an hour to 40 minutes to fold.  Apparently, it is possible to fold this from standard 15cm x 15cm kami, but I never have and I wouldn't like to try it! I recommend something slightly larger – a square that is at least 20cm (7.8in) per side. Kami would do, but the final result would be quite disappointing as the paper would appear flat and lifeless.  I have folded this out of tracing paper, and lokta that has been backed with tissue paper to give the squirrel a black nose, and also kraft brown wrapping paper – also backed with tissue paper. 
I'm not sure of the name of the paper used for the model in this picture. It was given to me by Dennis Walker who shared the origami squirrel instructions several years ago at a British Origami Society Convention. I understand that this paper is no longer available, which is a shame as it remains the best result I have got from folding this design.
If you want to fold more models by Komatsu, check out the origami clown mask and witch mask.
Origami Squirrel Instructions
You can find the origami squirrel diagram in the book Works of Hideo Komatsu, which is published by Origami House. This book is available from Origami Shop. They also produce a factsheet with paper recommendations for each model in the book.
Difficulty: Intermediate
Time to fold: 30 – 40 minutes
Paper: Lokta, at least 20cm x 20cm (7.8in x 7.8in)
Get Involved
I'd love to hear your views on this origami squirrel. If you are looking for an easier squirrel model, check out the origami flying squirrel.  Feel free to let me know what you think in the comments below, or you find can me on Instagram or Twitter. Check out my Pinterest boards too!
You can also subscribe to the mailing list by entering your email in the box below: