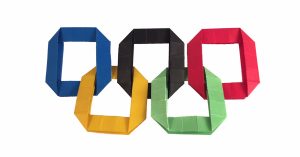 I was not talented enough to run and smile at the same time
Emil Zatopek (champion Czechoslovakian distance runner, when asked about unusual facial expression when running)
Note: This post contains affiliate links.  Please see disclosure for more information.
Origami Olympic Rings
I think it's pretty obvious why I decided to fold the Olympic Rings this week – the Rio 2016 Olympic Games starts today! This model is my own variation on the Origami Olympic Rings model on AliveOrigami's YouTube Channel (picture below). Although it's very obviously the Olympic Rings, there were a couple of things I didn't like about this design. It's purely personal preference of course and I'm sure plenty of people that would disagree with me, but the things I wasn't happy with were:
It uses two pieces of paper per ring, and slides one half inside another.  Although this is an inherently a modular design as the rings are all different colours, I thought this was cheating a bit somehow. Each ring should be folded as a ring, a single piece. It also felt a little bit flimsy.
As you can see from the picture taken from the video, the proportion of the rings doesn't look right.  Each ring is very thick, and the hole in the middle is quite small in comparison
In the official Olympic Rings logo, the rings only touch where they link together.  Other than that, the rings are not connected.
I thought I could solve all three of these problems by adjusting the size of the paper the model is made from, and relocating the folds to make both halves out of a single piece of paper, with a short additional length to tuck one end inside the other.
Folding the Origami Olympic Rings
This is a very simple model, that can be made in less than 30 minutes.  It takes about 5 minutes to fold each ring, and there are five rings.  Once all the rings are folded, it takes about two to three minutes to assemble them into the Olympic Logo.
Each ring is made from a rectangular strip of paper with a ratio of 4:1 for the sides.  The easiest way of achieving that is to fold a square of paper into four equal strips and cut off the one you want to use.
Any paper will do – provided of course you use the right colours for the Olympic logo. I've made the one in the photo from strips cut out from ordinary 15cm x 15cm (6in x 6in) origami paper.  If you are looking for paper to make this model, I recommend paper from Folded Square.  I find their paper to be good quality and the color does not come off when you fold it.  You know you found good origami paper when you fold the black and you don't see white on the creases. Click here to check price and availability on Amazon. 
Origami Olympic Rings Instructions
I hesitate to call this my own design as it has been heavily adapted from somebody else's, and I'm quite sure I'm not the only person to have thought of making them in this way. That said, unless someone believes otherwise, I am going to say this is my variation on the previous model, and I've decided to make a video showing how to fold the origami Olympic rings.  You can find the origami Olympic Rings video below.

Get Involved
I'd love to hear your views on these origami Olympic rings. Feel free to let me know what you think in the comments below, or you find can me on Instagram or Twitter. Check out my Pinterest boards too!
You can also subscribe to the mailing list by entering your email in the box below:

Happy folding!