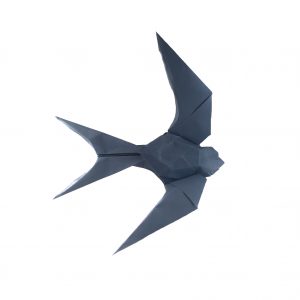 King Arthur: The swallow may fly south with the sun or the house martin or the plover may seek warmer climes in winter, yet these are not strangers to our land?
Soldier #1: Are you suggesting coconuts migrate?
King Arthur: Not at all. They could be carried.
Soldier #1: What? A swallow carrying a coconut?
King Arthur: It could grip it by the husk!
Soldier #1: It's not a question of where he grips it! It's a simple question of weight ratios! A five ounce bird could not carry a one pound coconut.
Monty Python and the Holy Grail
About the Origami Swallow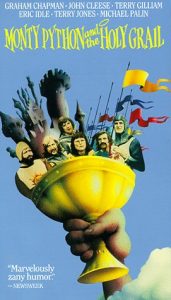 The question 'What is the air-speed velocity of an unladen swallow?' is a plot point from the film Monty Python and the Holy Grail. The question is never satisfactorily answered, but apparently the answer depends on whether it's an African or European Swallow.
Having folded the Olympic Rings last week, this time I've gone back to my obsession with origami models that have wings and tails and other pointy bits that make such dramatic origami designs.  This Swallow, designed by Gen Hagiwara is one of the best I've seen as it really captures the beautiful curved wings and tail feathers.
Folding the Origami Swallow
This is an intermediate level design.  Not one for beginners, but anyone that can manage reverse folds and rabbit ears should have no problem with this model.  Folding accuracy is key to making sure that the wings and tails have good, sharp points, but the real secret to this design is in the final shaping.  Time spent here on curving the body, wings and tail will be well spent, and this relies more on personal taste and feel rather to get the detail rather than complex origami technique.
Gen Hagiwara recommends a 20cm x 20cm (7.8in x 7.8in) sheet of Yohishi, Tant, Biotope or Tissue Foil paper.  I folded this one out of a 35cm x 35cm (13.7in x 13.7in) sheet of Tant, which produced a final model with a wingspan of 29cm (11.5in), and 21cm (11.25in) from end to end. It takes about 40 minutes to fold.
Origami Swallow Instructions
Diagrams for Gen Hagiwara's Swallow are in his book #8 Spirits of Origami, published by Origami-shop.com.  This is his first book, covering his designs from 2006 – 2015.  I have also written about the origami snake, an origami turkey, and origami flying squirrel models from this book.
Like all of the Passion Origami Collection of books published by The Origami Shop, this book is absolutely beautiful. Nicolas Terry clearly goes to great lengths to make sure the books he publishes are very high quality. These hard back books are made from crisp, good quality paper, and the diagrams are always excellent. There are glossy pages of colour photographs of all the models at the front of the book that provide real inspiration when flicking through and looking for something to fold.  These books are as good to look at as they are to fold from, and Spirits of Origami, like the other Passion Origami books I own, is one of the finest in my collection.
You can find two more intermediate level swallows to fold in the Pure Origami Book by Red Paper.  It's another one of the Passion Origami books.
Get Involved
I would love to hear your thoughts on this Origami Swallow model.  Leave me a comment or you find can me on Instagram or Twitter. Check out my Pinterest boards too!
You can also subscribe to the mailing list by entering your email in the box below: