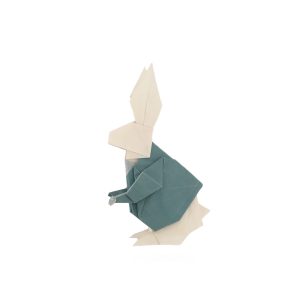 ' "Oh my ears and whiskers, how late it's getting!" '
The White Rabbit, Alice in Wonderland, by Lewis Carroll.
About the Origami Rabbit in Wonderland
Alice in Wonderland is a fantastic book. It's a really good story which is just as charming to read as an adult as it is when you are younger. There are several characters from the book that have become icons of popular culture, including the Mad Hatter, the Cheshire Cat, and of course, the White Rabbit. He pops up (or should that be hops up?) at various points in the book, but the first time Alice sees him he takes a pocket-watch from his waistcoat and hurries off, worried about being late.
Carroll never actually says what colour the White Rabbit's waistcoat is, and although in the Disney adaptation his waistcoat is red, the White Rabbit is often depicted wearing blue.  When I saw this model it made me smile. It's instantly recognisable and I knew I had to fold it.
I'm not generally a fan of multi-piece models. I have nothing against them, I just prefer designs that can be folded from a single sheet of paper.  Sometimes though, you come across a model that is just too good to ignore.  Yoshihisa Kimura's fairy is one of these, the Panda from Yamaguchi Makoto is another, so is this Rabbit in Wonderland, designed by Keigo Matsuta.
Folding the Origami Rabbit in Wonderland
This is a low intermediate level model.  Frankly the hardest part about it is finding a sheet of paper that is blue on one side and white on the other, for making the waistcoat and arms. There are a couple of rabbit ear folds in this design, but nothing complex, and nothing that's going to be outside the capability of most low intermediate folders.
The model needs two sheets of paper. The first sheet is for the rabbit's waistcoat and arms. It needs to be blue on one side and white on the other. You might have to make stick two sheets of paper together for this. The second is for the main body of the rabbit, and should be white on both sides. Only one side of this sheet of paper is visible in the final model, but it's a good idea to make sure it's the same colour on both sides to avoid any unsightly strips of a different colour showing around the model. Both sheets of paper need to be square and the same size.
The model in the picture above is made from three sheets of tissue foil purchased from the Origami Shop (click here for price and availability). Two of these, one blue and one white sheet have been stuck together to get the white and blue the model needs. The third is plain white. This paper is 30 cm x 30cm (12" x 12") and creates an origami Rabbit in Wonderland model that stands 20cm (8") tall, and is 11.5cm (4.5") wide from fingertips to tail. It takes about half an hour to 45 minutes to fold this model.
Diagrams
If you want to make your own origami Rabbit in Wonderland, you can find the diagrams in Yamaguchi Makoto's book The Beauty of Origami. This is available from The Origami Shop – Check here for price and availability. If you do decide to get the book and fold it, I'll leave you with the grave advice from the King in Alice in Wonderland: 'Begin at the beginning and go on to the end; then stop'
Get Involved
I'd love to hear your views on this.  Feel free to let me know what you think in the comments below, or you find can me on Instagram or Twitter. Check out my Pinterest boards too!
You can also subscribe to the mailing list by entering your email in the box below: