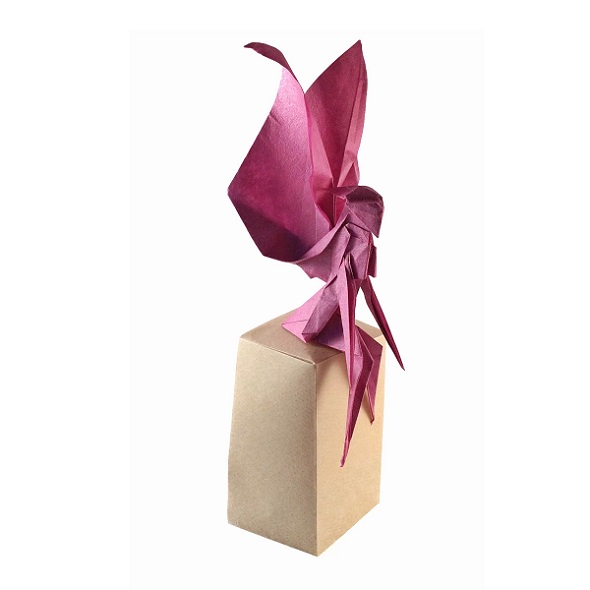 We call them faerie. We don't believe in them. Our loss.
Charles de Lint
About the Origami Fairy
World Origami Days 2015 day 12 and the model I've chosen is an Origami Fairy designed by Yoshihisa Kimura.
Having said yesterday as part of my post on Giles Towning's Bulldozer that I'm not really a fan of multi-piece origami models, this is the second one I've featured in as many days! This design needs two squares of paper – one for the body, arms and legs, and a second one for the wings and head. Both pieces are the same size.
Folding the Origami Fairy
This is an intermediate level model.  It is not particularly difficult to make and there are not really any difficult steps.  There are a few moves that don't have reference points and you have to use your judgment, but this is the only complication. It takes about half an hour to fold this origami fairy.
This model needs reasonably thin paper.  Kami will do, although it doesn't produce the best effect. Something slightly thinner would work better – perhaps even some tissue paper that has been treated with PVA glue, as this would make the wings slightly translucent. I have made this out of Korean hanji paper which is slightly textured and makes the model come alive a bit more than kami. Foil paper would also work well and give it a slightly shimmering effect. Thin pearlescent paper would also work well. The paper used needs to be coloured the same on both sides. It takes about 30 minutes to fold this origami fairy.
Origami Fairy Instructions
Diagrams for this fairy model are available in NOA Magazine, issue 202. NOA Magazine is the monthly publication of the Japanese Origami Association. The origami fairy diagrams can also be found in OrigamiUSA Convention pack, 1992.
There is also a YouTube video explaining how to fold the Origami Fairy, produced by Yakomoga Origami.  I have deliberately not included a link to this video as the designer has not given permission to make it. I did note that in the description, Yakomoga Origami offered to remove the video if the designer requests it, but as a matter of principle, this site will not include links to any resource that infringe origami copyright – no matter how well-intentioned.
Get Involved
I'd love to hear your views on this origami fairy model. Feel free to let me know what you think in the comments below, or you find can me on Instagram or Twitter. Check out my Pinterest boards too!
You can also subscribe to the mailing list by entering your email in the box below: