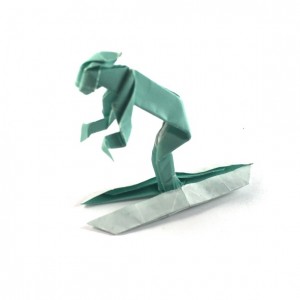 The problem with winter sports is that — follow me closely here — they generally take place in winter.
Dave Barry
The Origami Skier Model
I'm with Dave Barry on this one (see above quote). I'm not a great fan of being cold. That said, I've never been skiing and I'd love to try it at some point.  Even if I hate it, at least I can say I went.  For now though, this little guy is about as close as I am going to get.
Note: This post contains affiliate links.  See Disclosure below for more information.
This is quite an old model, designed by Robert Harbin.  It is based on Neal Elias's well-known Figure Base, which he used for creating origami human figures.  Elias's design The Last Waltz, previously featured on this blog also uses his Figure Base.  That model uses two Figure Bases joined together – one for the female dancer and one for the male.
I decided to fold the origami skier partly because I have a friend who does like skiing, and partly because I wanted to explore the capabilities of the Figure Base. I am hoping to use it as the starting point for one of my own designs later this year.  More on that another time.
Also, I think that there is a tendency for some older origami models to get overlooked these days in the quest for ever greater realism or technical prowess, and that's a shame.  Origami designs like Harbin's Skier still have value and should be celebrated rather than forgetting them altogether.
Folding the Origami Skier
One of the drawbacks of the Figure Base is that it can lead to either the arms or the legs being out of proportion.  This Skier gets round that by using the extra paper in the legs to make the origami skis. It's an interesting idea and one I think I might play with a little more.
It is pretty forgiving when it comes to paper.  I have folded this one out of an ordinary sheet of 15cm x 15cm (6in x 6in) origami paper or Kami. It has come out ok, but I think that it could have benefitted from some more shaping, and maybe some different paper would have helped with that.  Some metallic kami maybe like this paper from Amazon. It takes ten minutes or so to fold.
It is an interim level origami model.  For people looking to move on from models like the traditional Crane or Frog, this would be a good one to choose. The Figure Base uses the Elias Stretch – a way of turning the middle one of three adjacent points to create two longer ones. This is used extensively in other more complicated designs.
Origami Skier Diagrams
Diagrams showing how to fold the Origami Skier are available in Harbin's book More Origami: The Art of Paper Folding No.2.  This is the second of a series of four books on Origami written by Harbin.  It has been out of date for years but there are always copies available on Amazon for just a few pence. Many people started folding using Robert Harbin Origami books (including me).  If there is any such thing as a classic origami book, these four are it. I recommend them for everyone.
Get Involved
I'd love to hear your views on this Origami Skier or any other winter origami models. Feel free to let me know what you think in the comments below, or you find can me on Instagram or Twitter. Check out my Pinterest boards too!
You can also subscribe to the mailing list by entering your email in the box below:
Disclosure: This post contains affiliate links. This means we will receive a small commission for some purchases made using links in our blog with no additional cost to you. Please be assured we would not promote any product unless we believe that our readers will also benefit. The commission does not influence the editorial content of this site.
Origami Expressions is a participant in the Amazon Services LLC Associates Program, an affiliate advertising program designed to provide a means for sites to earn advertising fees by advertising and linking to amazon.com, amazon.co.uk, amazon.ca. Amazon and the Amazon logo are trademarks of Amazon.com, Inc. or its affiliates.